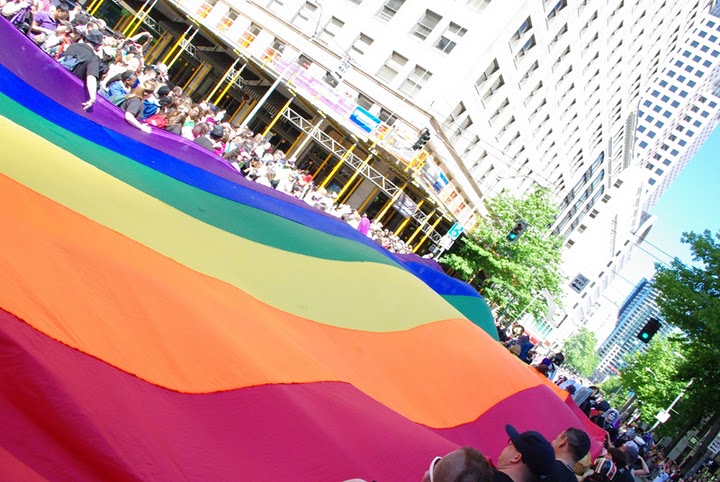 Every year, there's some sort of hoo-haw in regards to celebrating Gay Pride in Seattle. We've suffered through the following in the last ten years or so:
"Moving Pride from the Hill to Downtown" Gate

"SO&P's Money Woes After the Move Downtown" Gate (since resolved)

The stupid "We're gonna have a dumbass, competitive Hill event called 'Queerfest' that nobody will come to and which will eventually help destroy the Seattle Lesbian & Gay Center" Gate

"The Space Needle raised the flag one year, then finked out about it the next year" Gate

The not interesting "The Pride Parade charges politicians more money" Gate…which no one gave a damn about
We have a sneaky suspicion that the Space Needle will NOT fly the Pride Flag again this year…frankly, our beloved tourist trap and iconic skyline symbol that resembles a pepper mill from "Star Trek: The Original Series" is ever so slightly obstinate about listening to the will of the people. And, they don't really have to…few folks realize it, but the Space Needle is a PRIVATELY OWNED CORPORATION that sits on public land, and they can do whatever the hell they want…even when it's hella annoying and inconsistent from year to year.
However, the City of Seattle DOES listen to the will of the people, (well, not when it came to the Monorail, but that's another discussion…) and the Seattle LGBT Commission has been working with the Mayor's Office to come up with a Pride-y and Flag-y moment to (almost) rival the Space Needle. (We have to point out that few tourists take photos of City Hall…we also suspect that a surprisingly large amount of Seattle residents don't even know the location of City Hall…) On Saturday, June 1, at 3:30pm, the LGBTQ Pride flag will be raised above Seattle City Hall…FOR THE FIRST TIME EVER! 
Here's the invite:
Please join the Mayor Mike McGinn, the Seattle LGBT Commission, and many other organizations and witness history in the making. The LGBTQ Pride flag will be raised at Seattle City Hall for the first time in the City's history! More details, including speakers and organizations involved, are to come. Let's kick off the month of Pride with the City of Seattle!

This event is free and open to the public.
You should also be aware that the Pride Flag will NOT be hanging at City Hall all month…they'll raise it again for Pride Sunday on June 30th.
(Visited 1 times, 1 visits today)