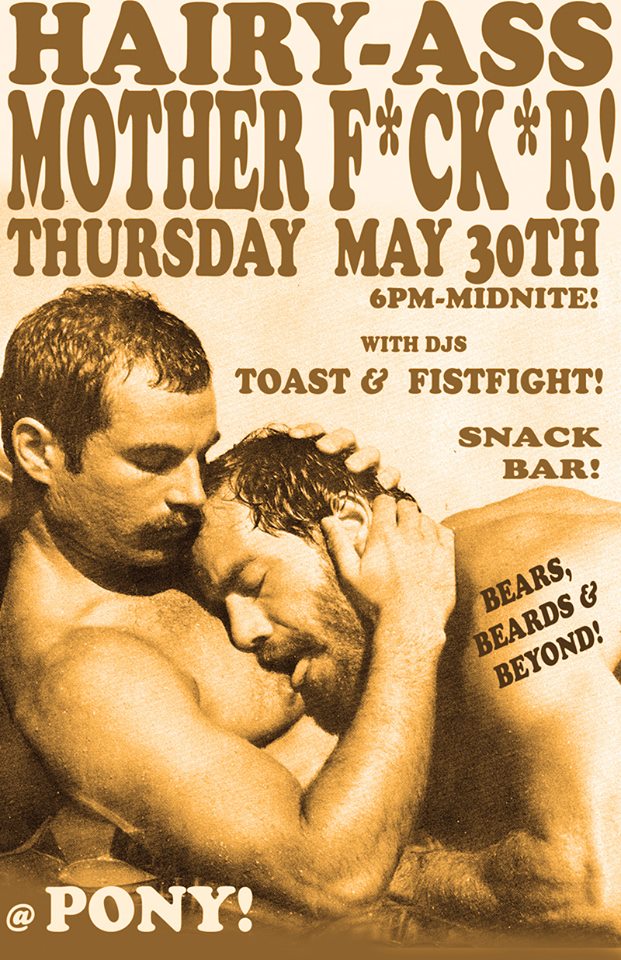 So many options this weekend…and, the weekend is kicking off tonight (Thursday, May 30) 'cause Thursday is the new Friday. Or, so we've been told.
Pony has a delightfully and disgustingly named event: "Hairy Ass Mother Fucker!"
(Do they eat with that filthy mouth?)
It sounds like every other night at Pony, but expect more pubic hair wafting around in the air. With DJ Fist Fight and DJ Toast. No cover. And, we're hoping the hairiness of the event will keep slumming suburbanites out of the picture.
It's apparently now a monthly tradition…the beloved, locally made queer indie campfest known as "Waxie Moon in Fallen Jewel" is back at Central Cinema at 8pm tonight complete with its all-star local cast including Waxie Moon, Nick Garrison, Sarah Rudinoff, Marya Sea Kaminski and in her film debut, Jinkx Monsoon.
You can also get "Lei'd" at Down n Dirty tonight with hostess of the moment, Robbie Turner and DJ Bret Law…they have all sorts of filthy things planned for tonight's orgy at The Baltic Room:
With JUNE in our midst and a SUNNY and WARM weekend ahead, this week we are kicking off Summer with a wild, crazy, and colorful night of drinking, dancing, and entertainment you will NOT want to miss! We can guarantee EVERYONE through the door will get LEI'D this week!

<<<<<<<<<<<<<< CABANA RENTALS >>>>>>>>>>>>>>
Have a group of 8 or more friends ready to PARTY! Let us know and reserve a "CABANA" booth for you and your party posse! Get a bottle of chilled champagne compliments of Sinfinite Events as well as some fun summer surprises! 🙂

<<<<<< DJ BRET LAW – DOWN N DIRTY VOL. 2 RELEASE >>>>>>
This Thursday is the release party for our DOWN N DIRTY resident mix master, DJ BRET LAW's newest mix! DOWN N DIRTY Vol. 2! Be sure to follow Bret on SoundCloud to keep up with all his latest remixes, mashups, and full-legnth mixes including Down N Dirty Vol. 1! (https://soundcloud.com/bret-law)

Also this week we are teaming up with GAY CITY HEALTH PROJECT to bring you an EXTRA fun night featuring a special announcement and "Wrap It Up" raffle benefiting Gay City (www.GayCity.org), the leading provider of HIV and STI testing in Seattle and King County. Gay City promotes the health of gay and bisexual men and prevents HIV transmission by building community, fostering communication, and nurturing self-esteem. Remember to always play SAFE and WRAP IT UP!

This is going to be one hell of a party! Come join your hostess ROBBIE TURNER (www.facebook.com/RobbieTurnerOnstage) for a night of drinking, dancing, and DOWN N' DIRTY debauchery with an incredible mix of music from DJ BRET LAW!

DOORS at 9PM! $3.50 Happy Hour with DJ PBEAR 9p-10p!(www.facebook.com/DJPBear)

$6 Double Well Cocktails ALL NIGHT LONG!

Photo Booth by Travers Dow Photography – (http://traversdow.tumblr.com/)

$3 Entry (FREE BEFORE 10PM)

FREE CABANA RESERVATIONS available for groups! First come first serve! Get em' before they're gone! Email us for more info: SinfiniteProductions@gmail.com
Tags: Central Cinema, Down n Dirty, Pony, The Baltic Room, Waxie Moon in Fallen Jewel