Monday night, November 20th, you have another chance to check out the gay locally made film, STILL I REACH FOR YOU from local musician/actor/writer/filmmaker Victor A Janusz! Plus, queer shorts!
The intel:
An Encore Screening of Victor A Janusz' acclaimed 2023 feature film "Still I Reach for You" (50 minutes)
following its Seattle (public) premiere last month September 18–21 (Ark Lodge Cinema), paired once again with an
inspired curtain-raiser: Tom McIntire's 2014 short film "SPIN" (14 minutes) –which also received its Seattle Premiere
last month!  Both writer-directors are Seattle-based, fulltime career-artists.


Screening ONE NIGHT ONLY Monday November 20, 2023 at the Central Cinema, 1411 21st Ave, Seattle 98122
 in the Capitol Hill district.  Showtime: 7 PM; Wheelchair accessible. Exclusive ticket availability at Central Cinema (link below).

Both stories tackle the loneliness of the long-distance AIDS widow— an underrepresented demographic in our society's ever shifting, "pandemic survivor" landscape…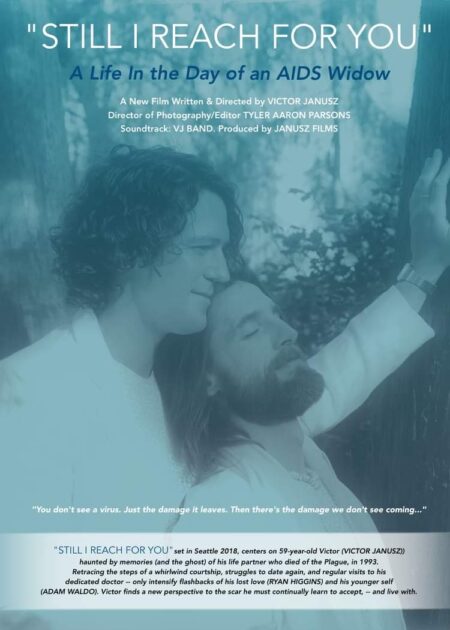 ADDITIONALLY: Two comic shorts from each filmmaker set up the evening:

–"703–short, gay and delicious" by Tom McIntire. (8 min) — Claire, a pizza call center worker, knows something is
terribly wrong when her longtime customer, James, struggles with his usual order.
–"C3Q (See Three Queens)" by Victor Janusz (7 min)
Christmas Eve 1989; Seattle is shut down by an ice storm; Three brave, drag souls venture out…

Filmmaker McIntire will show his paintings in the Cinema Cafe gallery for this exclusive Film Event,
with ALL PROCEEDS going to local AIDS/HIV nonprofit organizations….
SHOWTIME:
Mon- NOVEMBER 20 /7pm
RESERVATIONS/Purchase:
$14 Tickets:
https://www.goelevent.com/CentralCinema/e/STILLIREACHFORYOU
(Visited 6 times, 1 visits today)