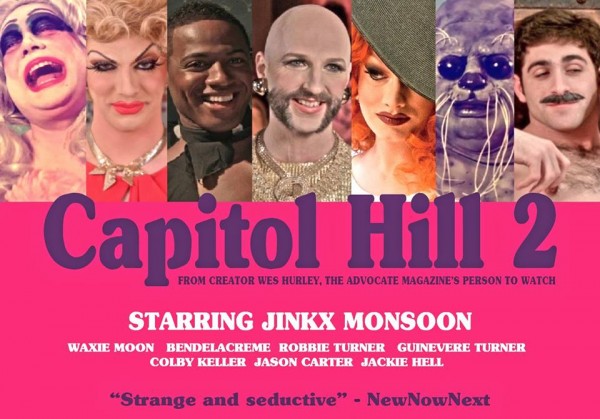 Ok…it's not really called that. I added the "Electric Jinkx-A-Loo" part 'cause it made me titter.
<titter>
But, really, TONIGHT is an opp to go check out EVERY SINGLE MOTHER TRUCKIN' EPISODE of  Season 2 of Wes Hurley's adorably goofy web series, "Capitol Hill" at Central Cinema over in the heart of the Central District. It screens at 7:30 pm, January 12, 2016 !!
We're guessing some stars might be in attendance…it has so many. We're not sure on Jinkx Monsoon's whereabouts (which is why she needs a new manager and new publicist)…BenDeLaCreme is in (or, is it ON?) the Land Down Under on tour…Hottie PaTottie "Mayor" Jonathan Crimeni is in NEW YORK CITY studying to become an acting Superstar (we hope) and Robbie Turner is undoubtedly sitting around nursing that ankle and waiting for THAT phone call.
When the fudge IS Season 8 of RPDR gonna announce?
Did Robbie break it? (RuPaul's Drag Race, not that phantom ankle…)
I digress.
(We've heard a rumor RPDR 8 airs in March.)
Go over HERE to snatch your tickets to tonight's screening.
Here's some more breathless info:
The complete second season of the acclaimed "Capitol Hill" series is here!  Jinkx Monsoon gives an unforgettable performance as Celeste Dahl, a rich and powerful socialite bent on unraveling Roses Smell's (Waxie Moon) happy new life in Seattle. Meanwhile, Dottie (Robbie Turner) dabbles in exorcism, Tanya (Alexandra Tavares) learns to embrace her dark side, George (Mark Siano) runs to unseat the mayor, and Dinky Pie (Jackie Hell) comes back to Seattle to wreak havoc. Guinevere Turner (The L Word, GO FISH), Jason Carter (RuPaul's Drag Race), and Sarah Rudinoff (FALLEN JEWEL) join the cast, which also features other popular Seattle performers.

This Northwest Film Forum screening will include all 12 uncut episodes of "Capitol Hill" Season 2.

This screening was made possible with the help from Seattle's Mayor's Office of Arts and Culture.
THIS is how we spend on tax dollars????
Funding homosexual perversion??!!!?!?!?!?
YAYYYYYYYYYYYYYYYYYYY!!!!!!!!!!!!!!!!!!!!!!!!!!
Though we're still waiting for our long promised for cameo, Mr. Hurley….I'm guessing that will happen in Season 69.
(Visited 1 times, 1 visits today)