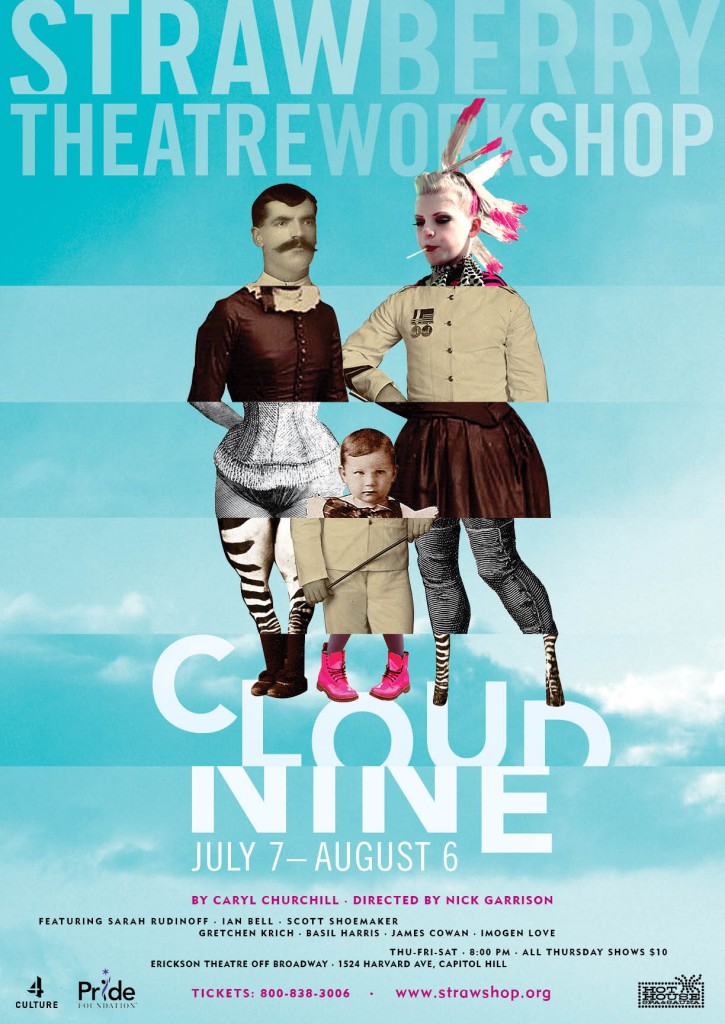 We've already mentioned we are salivating about the prospect of Strawberry Theatre Workshop's upcoming production of Caryl Churchill's play Cloud Nine, directed by the delightful Nick Garrison and starring some very talented actors including Sarah Rudinoff, Ian Bell and Scott Shoemaker. It opens next Thursday, July 7 at the Erickson Theatre Off Broadway and runs Thurs-Sat until August 6 and we'll be there opening night. We were already on their stage last month to get an interview with Mr. Garrison and a lively and entertaining discussion about this production (check it out) and we're pretty sure we'll be talking about this production for the next month. Even before it opens, we're hearing great things about it from cast and crew raving about the experience.
And, you can still grab a great deal on tickets for the first two opening weekends of Cloud Nine with Strawshop's "Reverse the Curse" program. Some genius at the Shop noticed that ticket sales are always slow for the opening two weeks of a production, then as word of mouth gets out, (usually very positive when it comes to Strawshop shows) then everyone rushes to sell out the last two weekends. To combat that, they're offering a great deal for advance ticket sales for the opening two weeks of this show. Tickets for July 7-9 and July 14-16 are only $15 IF you buy them prior to midnight Monday night (July 4). After that date, the tickets will be full price, ($30). Go to BrownPaper Tickets and use this Discount Code: " AGAIN " in all capitals to get the discount for those dates.
It's a great deal for what promises to be an exciting theater event.
Check it out.
(Visited 1 times, 1 visits today)