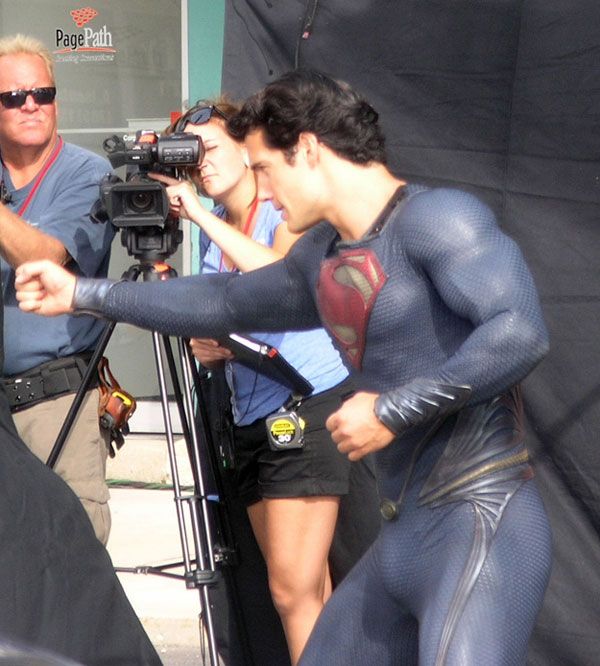 The leakage has begun…photos of British actor Henry Cavill in the 4,000th reincarnation of Superman, this time titled "Man of Steel" and directed by "300" and "Watchmen" helmer Zack Snyder have started popping up on the Innertubes. And, the new Superman costume leaves NOTHING to the imagination…that bitch is TIGHT! You can see individual muscles and veins through it. (Though we wonder if some of those details might be built into the costume…)
And, either Mr. Cavill is hung like a Big Dicked Donkey Daddy from Cincinnati, or he's had a little assistance in the picnic basket stuffing department. We're pretty sure there's a cup built into that suit; nobody's dong arches that symmetrically, but….DAMN!
And, what's up with Zack Synder and all the pseudo-gay porn movies? "300" was two less fig leaves away from being out and out Chi Chi LaRue directed smut and "Watchmen" had a big, blue nude dude. Granted, his last movie "Sucker Punch" primarily featured nubile young girls running around like debutramps, but the guy definitely has an eye for the horseflesh. I'm not implying that Mr. Snyder is a closet pole smoker; I think he's just smart enough to realize that the hint of a big donged superhero helps sell a film.
Tags: Henry Cavill, Man of Steel, Superman, Zack Snyder