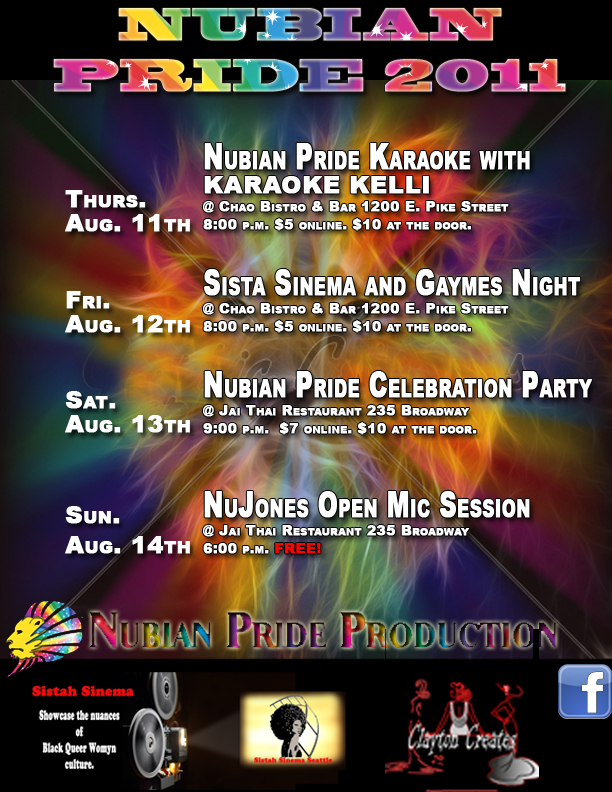 Last year's Nubian Pride event was such a success, the organizers decided to return this year with a bigger than ever sequel celebrating Queer Pride for the African American community and their allies. Several events are scheduled for the weekend of August 11-14 including karaoke, a film screening, a drag show and party and a poetry slam. We decided we needed to find out the skinny about all these events and talked to one of the Queen Bee's involved in Seattle's Queer POC community, the always lovely to talk with, Princess Isis.
————————————————————————————
Seattle Gay Scene: You're waiting until August to do Nubian Pride…is it a weather thing, or just a smart move to enjoy TWO prides in one year?
Princess Isis: Many major cities – Atlanta, New York, Los Angeles – host Pride and various ethnic Prides on separate weekends. This lessens competition between the events and allows everyone to attend as many activities as possible!
SGS: What kind of events do you have lined up for this year?
PI: I am really excited about the 2011 Nubian Pride! The Planning Committee, consisting of Sistah Sinema, Nubian Pride Productions, and Clayton Creates, worked really hard to put together a diversity of events where the Seattle LGBT community can experience African-American queer culture. There will be Nubian Pride Karaoke and a Sistah Sinema screening of Underneath and Gaymes Nite at Chao on Thursday and Friday respectively; a Nubian Pride Drag Show & Party and NuJones Open Mic at Jai Thai on Broadway Saturday and Sunday respectively. The Nubian Pride Weekend Facebook invite has full details on time, location, and cover.
SGS: The events you have lined up seem to be a real effort to embrace all aspects of Pride…it's not just about drinking and dancing..you have events that are more arts focused. Is this deliberate?
PI: The planning committee wanted to provide attendees – regardless of race – the opportunity to experience, question, and engage in queer African-American culture. For example, the maker of Underneath, Katrina Deaton, will Skype in for the discussion following the movie. Participants will have the chance to have a conversation with Katrina as if she was sitting in their living room, not a speaker in an auditorium! It is that type of intimacy and connection that we strive for in all the Nubian Pride Weekend events.
In addition, we hope that attendees get to really connect with more than just their friends at each event. That is why we included more "art-focused," community-focused events. During "NuJones", the floor is open for everyone to perform and dialog on issues facing the queer people of color community. However, there will be several opportunities to drink, dance, and get it poppin' during the Nubian Pride Party on Saturday and Karaoke on Thursday!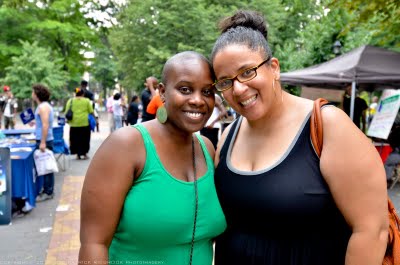 SGS: Is everyone encouraged to attend?
PI: Absolutely, yes! All races and genders of the queer community are welcomed.
SGS: And, a more "serious" question..
Other major cities with far larger African American populations than Seattle, have LGBTQ venues that cater to and attract LGBTQ African Americans and other people of color and that doesn't really seem to be the case here. Do you think this is because Seattle has a relatively small African American population compared to say, San Francisco or Los Angeles or even Kansas City, or are such clubs even needed here? Is it tougher to have a social life and interact with other members of the Queer Black community in a city that proclaims itself diverse, yet doesn't necessarily offer the kinds of opportunities and experiences available in other large cities?
PI: Great question. I am sure there are many different, valid answers.
My thinking is, there are several social institutions for the queer community missing in Seattle. In addition to a lack of a club/venue catering to Queer People of Color (QPOC), there is no LGBT Community Center in Seattle. Furthermore, there is only one Lesbian bar. I really don't think it is the size of the community. It is rather the level of engagement. One person, or a core group of people, can make the decision to change the fact about a QPOC club, LBGT Center, or a second Lesbian club. We – the members of the Queer community – have to create those opportunities or institutions.
SGS: You're also involved with another event called "Pinknic" happening on Saturday, August 13…tell us about that.
PI: PinkNic…it is Guppies. .. gay urban professionals … planning to take over the world, or at least a picnic area in South Lake Union. There is a Facebook invite with all the information.
————————————————————————————————————–
Thanks to Princess Isis for the great interview, and you're firmly encouraged to check out all the events happening during Nubian Pride 2011. Check out the Facebook invite and click on the links for individual events to register…the karaoke and poetry events are FREE; the Sistah Sinema film event is only $5 and the Drag Show/Party on Saturday, August 13 is only $10. Here's the info for that event:
Nubian Pride Drag Show & Party @ JaiThai (BRDWAY & John), 9pm

Regine Dynasty will host a lively evening of entertainment, including burlesque dancers and the Nubian Pride Royal Court. Tickets are $10 online and at the door.

Spinning by DJ RonNu from Atlanta GA!!

RSVP here: http://www.facebook.com/ev​ent.php?eid=17511278255455​8
Buy Tickets here: http://www.eventbrite.com/​event/1952143915
Check it ALL out!
(Visited 1 times, 1 visits today)