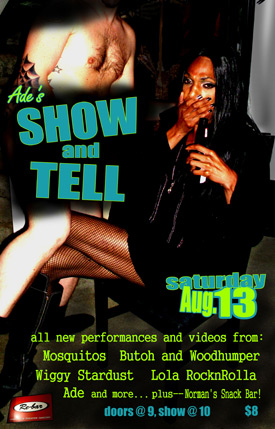 Another jam packed day of things to do, PLUS the weather is actually lovely. You have decisions to make…
During the daytime, the must see thing to check out is the Sisters of Perpetual Indulgence-Abbey of St. Joan's annual "Craptacular Big Ass Rummage Sale" being held at All Pilgrims Church at Broadway & Republican from 11am to 6pm today, and noon to 6pm tomorrow. Who knows what awesome bargains are to be had, unless you go check it out?
In the evening hours, the choices are even richer…DJ Nark is throwing a shindig at Fred Wildlife Refuge featuring two amazing DJ crews…Seattle's own Sophisticated Mama featuring DJ Nitty Gritty faces off against San Francisco's Hard French featuring DJ's Carnita & Brown Amy for the not surprisingly named event, "Hard French vs Sophisticated Mama". DJ BlueEyedSoul will also guest with photography from Nark Magazine and a portion of the proceeds benefit Three Dollar Bill Cinema. Here's the deets:
FRED Wildlife Refuge
127 E. Boylston (Entrance on Belmont Ave)
9PM-2AM
(9-10pm Happy Hour drinks, half off wells, $3 beers)
$7 Before 10pm $10 after
Proceeds Benefit Three Dollar Bill Cinema
Meanwhile, down at Re-bar Place, the lovely chanteuse Miss  Adé will be headlining her OWN show, "Adé's Show and Tell"…Here's what you need to know before you head down to "show & tell"…
 It will be a damn good time with new music, film, and a variety of new acts ranging from Sexy to just plain strange. Hosted by Adé with special guests:
Butoh and Woodhumper
The Gorgeous Wiggy Stardust
Grant Badger's new band Mosquitos
with videos by
Lola RocknRolla
Adé
A snack bar by Norman Gonsalves
Get yo ass down to Re-bar and gawk at what we have to show you.
Saturday August 13th
Doors at 9pm
Show at 10
$8.00
Back on the Hill, there are options for the Ladies as well, with Hot Flash's August event at HG Lounge at Pike & Harvard from 6pm to 10pm with Lady Jane DJ. (Note: Hot Flash returns to their regular venue at Neighbours on September 3.)
And, don't forget the big Nubian Pride's big Drag Show and Party at Jai Thai tonight, starting at 9pm and hosted by Regine Dynasty with the Nubian Pride Royal Court, burlesque dancers, DJ Peg and tons of entertainers on hand to celebrate Nubian Pride Weekend.
Need more options? Check out the Main Calendar to your right or the Weekend Calendar!
Tags: Ade, Craptacular Big Ass Rummage Sale, Hard French vs Sophisticated Mama, Hot Flash, NARK Magazine, Nubian Pride, The Sisters of Perpetual Indulgence-Abbey of St. Joan