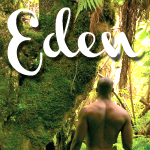 West Seattle was the place to be on Thursday night, (but, for thousands of LGBTQ Seattlites, it's ALWAYS the place to be…a lot of homo folks live over there…) as several big events took place including Eden: A Garden Party fundraiser for Gay City Health Project and the soft opening of West Seattle's only LGBTQ bar, OutWest. 
Eden took place at a beautiful private home with some beautiful views of Elliot Bay and not only featured a great looking bunch of guests, but zexy men selling raffle tickets, delicious food and drink, amazing silent auction prizes and some moving speeches from members of the Gay City Health Project including a heartfelt message from board member Heather Sage and some very exciting news from Gay City Director Fred Swanson about future plans for the organization.
The event got off to a great start with the revelation that $11,000 of the $25,000 goal had been met PRIOR to the event, with early bird donations, and the subsequent reveal from Swanson that Gay City has plans to expand out of their current space at 511 East Pike Street and take over the other half of that building, utilizing the space formerly held by the recently vacated City Home furniture store. The expansion would allow a larger space for the Community library, and a community meeting space similar to the one at the old LGBT Center, as well as allow for an expansion for Kaladi Brothers Coffee Shop which occupies a part of the current Gay City space. The extra space is desperately needed for the 16 year old organization which has grown considerably in the last few years as it provides both health and community services to all members of Seattle's LGBTQ community, moving beyond its original mandate of providing STI testing for gay men. Programs added over the years, include smoking cessation classes, counseling and support for individuals struggling with meth addiction, programs embracing "queerituality" and Inspire Well workshops and picking up the Resource and Referral line and the Library from the last incarnation of the Seattle LGBT Center. These and many other programs, events and services have allowed Gay City to become the community leader for all of queer Seattle. The news of their expansion and growth is encouraging and a positive step in the right direction.
(Oh, and you can ALWAYS make a donation to help them out…go HERE to make a donation.)
MORE, about the OutWest opening, AFTER the JUMP!
The other big event was the soft opening of West Seattle's new LGBTQ neighborhood bar OutWest at 5401 California Ave SW about 4 blocks south of the main shopping area at Alaska Junction. We popped by after Eden to check it out and got a rousing ovation as we walked through the door…it wasn't solely directed at us, though; EVERYONE who walked through the door got a cheer as some very happy West Seattlites from all walks of life welcomed the bar into their part of town. And, the crowd was delightfully mixed…lots of ladies were present and I don't think everyone there was necessarily LGBTQ…just folks happy to have a new watering hole in their neighborhood. It's a very warm and welcoming place.
And, SGS reader "Purses" aka "C. Brown" sent us over their review of the new pub…check it out:
You know you've found your place when you are greeted with cheers from the patrons as you walk in the door! West Seattle's newest gay bar is open, OutWest Bar, LLC is open and ready for business

 

Although the Google address says "Westside Pharmacy", this new West Seattle hot spot is actually called "OutWest Bar" and I'm proud to say that I made it to the soft opening on 08/11/2011.  Driving by, I couldn't help but recognize the two pride flags in the window as I parked directly on California Avenue SW.  Walking up to the door, my excitement for this new bar out in West Seattle was accentuated by the roaring cheers I met when walking through the door for the first time.  It's like Cheers.  Only, rather than "everyone knows your name" it's "everyone's learning your name".  Such excitement for a Thursday evening!

 

After I collected myself from being cheered through the door, I approached the bar and noticed their liquor shelves fully stocked and their beer taps ready for pouring.  The first question I ask is, "Are you set up to take cards yet?" The bartender was very pleasant and indicated that they do, in fact, accept cards. 

 

For a soft opening, I had prepared myself for the worst.  My expectation was to pay cash for a couple of bottles of beer that would be opened with whatever available item was around.  Instead, I found their liquor selection to be fully stocked and their beer selection to include draft and bottled beers. I could have ordered anything from Grey Goose to Stoli or Makers to Crown Royal without hesitation.  Refreshingly surprised my initial selection of beer, wine and liquor, I choose the true standard, a Budweiser draft. 

 

As I take my first refreshing sip after a long day at work, I realize that there is a great buzz within this bar. Everyone is talking. Individuals are talking to groups, new connections are being made and the owner, Bob Lunke, is greeting people like he's known them for years. Chatter around the room included jokes about the "soft" opening.  Many were wondering, if this is the "soft" opening, when would the "hard" opening be? Chuckles and witty comments continued throughout the night.  All in all, there were about 70-100 people in attendance for the "soft" opening.   This well appointed bar left me with a great taste in my mouth and the desire to return again.  Thank you to Bob Lunke, Owner and Manger of OutWest Bar in West Seattle for bringing a gathering place to the West Seattle scene. 

 
Tags: Eden, Gay City Health Project, OutWest