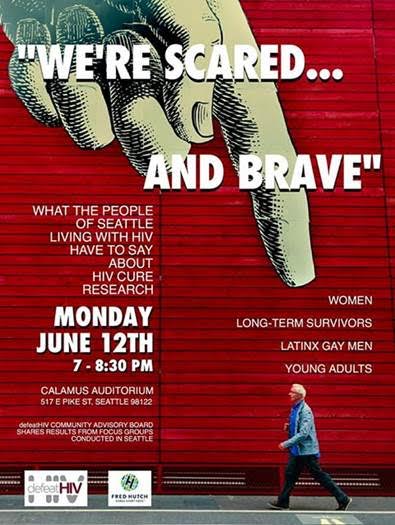 If you're not planning to attend this evening's Pulse Orlando Anniversary Vigil at Cal Anderson Park, here's another important community event down at Gay City from the defeatHIV Community Advisory Board. "We're Scared and Brave" will feature people living with HIV discussing the rapid advances in HIV cure research.
More skinny:
"WE'RE SCARED… AND BRAVE"

MONDAY, JUNE 12  7 PM


CALAMUS AUDITORIUM at GAY CITY

(517 E PIKE ST, SEATTLE 98122)

Facebook event page: http://bit.ly/2rtDwwc

The defeatHIV Community Advisory Board will be hosting a forum to discuss the results from focus groups of people living with HIV in Seattle on the research toward a cure for HIV. During local focus groups conducted a year ago, we heard from women, long-term survivors, Latinx gay men, and young adults recently infected.

We want to discuss the results of our community-led research with the people disproportionately burdened by HIV, with researchers and staff of community-based organizations who work with HIV+ people, and–most importantly–with the participants of each focus group.

Cure is a new idea for people with HIV to grapple with; it has different meanings and different implications depending on people's lived experience.

It is vital to know and understand the perspectives of people living with HIV on a cure, on the research conducted toward curing HIV, and on the factors that influence study participation.

Come join the conversation this Monday evening and learn what the people of Seattle living with HIV had to say about HIV cure research.

You may just be surprised at what we found out!
(Visited 1 times, 1 visits today)