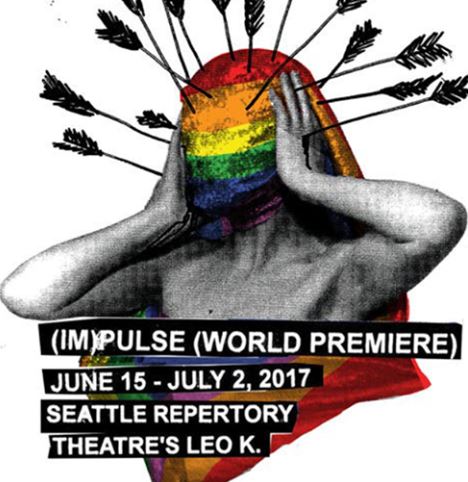 Seattle's modern dance theater company, SPECTRUM DANCE THEATER is closing out their 2016/2017 season with an exciting and powerful piece of multi-media performance art that includes dance but also uses text with music and sound and visual imagery to create a piece of protest performance art. It's called

(IM)PULSE

and Spectrum's founder/artistic director and choreographer DONALD BYRD is calling it "Theater of Disruption" as it examines and explores "acts of violence perpetrated against the LGBTQ community in American society and how the minds of those attacked often respond in unexpected ways…"
From Spectrum:
(IM)PULSE is a response not only to the 2016 Orlando Pulse Nightclub tragedy that left 49 people dead and dozens injured, but also to the on-going aggression towards the LGBTQ community.
The text for (IM)PULSE is drawn from two sources, the writing of painter, photographer, writer, filmmaker, performance artist, and AIDS activist David Wojnarowicz (September 14, 1954 — July 22, 1992) and the unpublished play Marrow by award-winning contemporary playwright, Brian Quirk. Borrowing from late 1980's and early 1990's New York performance idioms in dance and theater, this work hopes to reveal through historical antecedents a connection to the current spate of violence directed at LGBTQ people. "This period of time was the peak of the AIDS epidemic when gay people were angry and fearful; when AIDS and it devastation was felt daily, and when most Americans seemed indifferent to what was happening to gay people or believed AIDS to be God's punishment for the gay life-style," Byrd comments. "Just as ACT-UP [AIDS Coalition to Unleash Power] responded to the AIDS crisis with highly theatricalized vocal demonstrations and dramatic acts of civil disobedience, performers will respond with a highly personal monologist genre and performance style characterized by rants, raging, and confession which the production will model."
With (IM)PULSE, critically acclaimed director and choreographer Donald Byrd delves deeper into what he calls a 'theater of disruption' — artistic work that uses dance, text, fiction, music, mise-en-scène, sound, voice, documentary/facts/information, media, and speculation to engage audiences in issues that are difficult and intractable; and most importantly to move closer to disrupting the artificial and often arbitrary boundaries between dance and theater.

"With (IM)PULSE we wonder at the human inclination to create alternate realities when faced with truths that are too difficult to bear," Byrd states "By dissecting, parsing, reconfiguring these texts, and then combining them with dance, movement, music, video, and projection to create the hallucinogenic and feverish mind of a physically traumatized person(s), we ask the audience to consider why we might have the inclination to cast those not like ourselves in the role of 'the other' and then to annihilate them."
(IM)PULSE makes its debut this Thursday, June 15th and runs on a Thursday through Sunday schedule through Sunday, July 2, 2017 at Seattle Repertory Theatre's Leo K. Theatre.
TICKETS:
Start at $21 – ON SALE NOW
ABOUT SPECTRUM DANCE THEATER
Under Donald Byrd's artistic leadership since 2002, Spectrum Dance Theater has become the foremost contemporary modern dance organization in the Pacific Northwest, gaining recognition nationally and abroad.  For over thirty years, Spectrum Dance Theater has brought dance of the highest merit to a diverse community working to make dance accessible to all through contemporary dance performances and high quality dance training in a variety of dance styles.  Three components comprise the organization: the professional Company, the School and Outreach programs.  With Donald Byrd's visionary artistic leadership, the organization has embarked on an exhilarating transformation that has attracted world class dancers, produced some of the most avant-garde works in contemporary dance, and generated local and national praise.
www.spectrumdance.org
Spectrum Dance Theater's 2017 Season is sponsored in part by Raisbeck Fund for Live Music, Tricia Stromberg Professional Dancers Fund, 4 Culture, ArtsFund, City of Arts and Culture, Laird Patterson, and May and Wah Lui.
(Visited 1 times, 1 visits today)