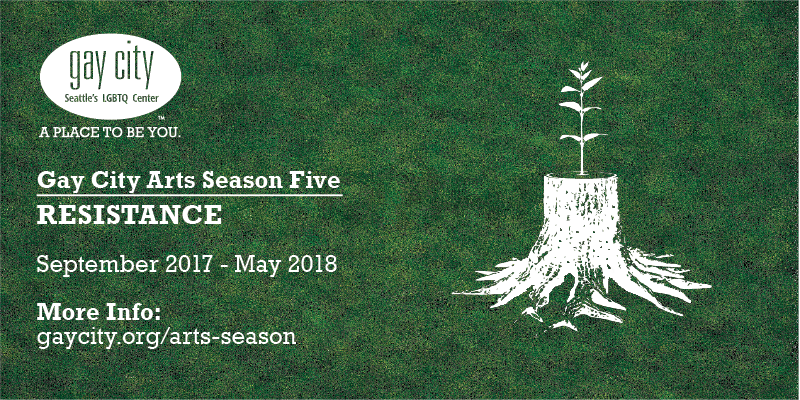 Gay City Arts has announced the line-up for their upcoming 5th season for the 2017/2018 year and the theme is….Resistance. The upcoming season focuses on marginalized communities withing the greater gay umbrella with many of the scheduled works focusing on women and femme identified individuals as well as Queer People of Color, Latinx, "Sick, Disabled, Mad, Deaf, Neurodivergent" people and the transgender community.
A variety of genres will be performed including live music, spoken word, solo work, more traditional theater and many productions utilizing multi-media to present their themes.
If this line-up seems a tad "heavy" on the social justice, at least you can look forward to the return of drag diva Mark Finley's One Queen Show, "Somebody Get Me A Chainsaw" in December…it's sure to amuse/horrify.
All performances will be held at Gay City's Calamus Auditorium, 517 East Pike Street on Capitol Hill.
The line-up:
GAY CITY ARTS SEASON 5: RESISTANCE

September 2017 – May 2018

In these frightening times, many of us find ourselves under attack — because we are trans or nonbinary, and laws are being written about where we are allowed; because we are LGBTQ and shamed for how we love and experience desire; because we live with disabilities and our bodies refuse to submit to the demands of capitalism; because we are black and indigenous and brown and we live in fear of violence from the police; because we aren't the shapes or sizes named desirable; because we are undocumented and are called illegal in this state; because we are trans and cis women still fighting for the right to make choices about our own bodies.

The resistance against our current administration is beautiful, multifaceted and strong. Gay City Arts is thrilled to have the opportunity to rise to meet it, to be part of a new movement growing defiantly up out of the center of what has been cut down. The joy we feel to be part of the swell is why the theme of Gay City Arts Season Five is: RESISTANCE!
September 7
A Hundred Suns Setting
EP Release Party | Nic Masangkay

October 5 – 8
Play/They
Variety Showcase Of Erotic Arts By Femme QTPOC Artists | Kara Phoebe

October 19 – 22
Untitled
Variety Show About Madness/Craziness/Psychiatric Disability as Resistance | Kayla Rosen

November 9 – 12
A Certain Type of Brilliance
A Femme Showcase | Liz Cruz

November 17 & 18
Ordinary Cruelty
Book Release | Amber Flame

December 7 – 10
Untitled
A Multi-Genre Show on Sudden Disability, Chronic Illness and Transformative Healing | Casey Tonnelly and Sanctuary Arts Center

December 15 & 16
Somebody Get Me A Chainsaw
Comedic Stories of a Drag Legend | Mark "Mom" Finley

January 11 & 12, 20 & 21
Crip Resistance: To Exist Is To Resist
Sick, Disabled, Mad, Deaf, Neurodivergent Queer and Trans Showcase | Leah Piepzna-Samarasinha and billie rain

January 13 & 14, 18 & 19
My Ungodly Things
One-Femme, African American, Science Fiction Multimedia Show | Neve Andromeda Mazique-Bianco

February 8 – 10
Cupid Ain't @#%!
An Anti-Valentine's Day Poetry Movement | J Mase III

February 22 – 25
Yes, Ms. White Lady
Living Memory of African American Women's Stories | Imani Sims

March 8 – 11
What Are The Cross Streets? Queer And Mother
Play of Vignettes | Anastacia Renee

March 22 – 25
The Darker Side Of The Rainbow
An African American Response To The Wizard Of Oz | Garfield Hillson

April 5 – 8
Hijax De Su Madre
Two-Spirit, Latinx and Afro Indigenous Multimedia Experimental Play | Alé Abreu, Norma Alicia Pino, and Fabian Romero

May 4
DOE
One-Woman Multimedia Exploration of Racial and Gender Identity | Scarlett D'Giacomo

May 10 – 13, 17 – 20
Fallen Star
One-Woman Play About A Trans Superhero Turned Villain | Tobi Hill-Meyer
(Visited 2 times, 1 visits today)