Hello Dear Friends!
It's the end of 2011 and where has this year gone?  This will be my last posting of the year so I thought I would give you one of my favorite recipes for the season and to give you a bit of an update on what is happening with me.
Happy Holidays!
Sylv
The Christmas Ribbon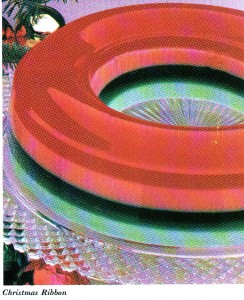 Whenever one of my relatives did this Jell-O recipe I was in aw of how much time it took to put it together. But oh what fun looking dessert!
2 packages 4 serving size each or 1 package 8 serving size of Jell-O brand Gelatin, Strawberry Flavor
3 cups boiling water
2/3 cup sour cream or plain or vanilla yogurt
2 packages 4 serving size each or 1 package of the 8 serving size of Jell-O Brand Gelatin Lime Flavor.
Dissolve Strawberry Flavor Gelatin in 2 ½ cups of boiling water. Pour 1 ½ cups gelatin in 2 ½ cups of the boiling water. Pour 1 ½ cups gelatin into 6 cup ring mold. Chill until set but not firm, about 30 minutes. Chill remaining gelatin in bowl until slightly thickened; gradually blend in 1/3 cup of sour cream. Spoon over gelatin in Mold. Chill until set but not firm, about 15 minutes.
Repeat with lime flavor gelatin remaining 2 ½ cups of boiling water abd 1/3 cup sour cream, chilling dissolved gelatin before measuring and pouring into mold. Chill as least 2 hours. Un Mold
Preparation time: 30 minutes
Final Move in
Well we did it.  The Italian and I have finally settled into the new Cottage hideaway. We moved over Thanksgiving weekend. We found an amazing new location close to the new gay hamlet of Columbia City. We now have a full house to ourselves. The house also includes a garage, basement, small studio space and a huge yard for garden parties. It's very cute. The move has made the holiday months even more hurried but it has been well worth it to find a place that we can actually feel comfortable in calling home.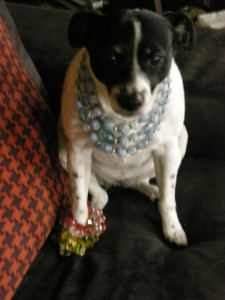 To Elli
Our dear little dog Elli started walking funny a few weeks ago and we have been fearing it might be the beginning to the end. She has been such a wonderful spirit to live with and love. I wanted to give her a little shout out of thanks and love and good energy. To you little Elli, thanks for all the snuggles and love. Thank you for everything you are.
Here is one of my favorite pictures of her in some of my vintage jewelry we found one weekend away.
One of my favorite Christmas shows was in 2009 when Peaches Christ joined us for  Bacon Strip that weekend. Here is the Youtube link to the video of the song we did together. Peaches was a great sport in doing such a cheesy number with me. It really was her gift to me.
See you all in 2012