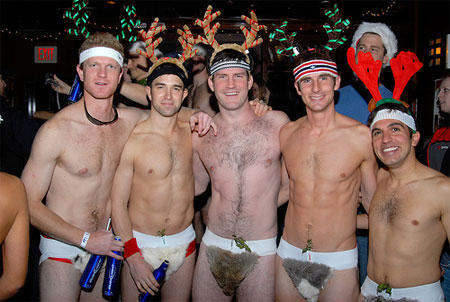 Friday IS fun…colder than hell, but FUN! All the usual holiday events are happening of course…Dina Martina, Ham for the Holidays, Cinderella, Nutcracker, etc. A special one off event is Voices Rising: The Best of the New – starring Jennifer Lisa Vest at Washington Hall and "Featuring the Fiercest Young Queer Artists of Color in the Northwest".
For the more nightlifey crowd, you have the option of two monthly events with seasonal themes. Hussler is going all "Hussler XXXmas" tonight at Pony; if it's anything like last night's Pony event, Dustin K.'s off the hook birfday bash, it should be hella fun. PLUS, those Darling Boys, Kerry & James, will be shaking their tail feathers on the bar and special guest RECESS will be in the house.
Meanwhile, over at The Wildrose, you can celebrate a "Lezbro Christmas" with DJ's L.A. Kendall, Tony Burns; host ArtStar, and Special Guest Fannie Mae Darling visting from her native Portland, OR. Cheap drinks/cheap cover make for a lovely holiday treat.
There's a photo op happening at Cuff Complex on December 9 and 10…the annual "Pictures With Santa" event produced by Seattle Men in Leather, a fundraiser for Chicken Soup Brigade.
Seattle Men in Leather's
15th annual Pictures with Santa
December 9th & 10th 8pm – 12am
Friday Santa: Paul – Intl.Mr.Bear 2010
Saturday Santa: James – Wa.St.Mr.Leather 2011
Benefits: Chicken Soup Brigade – Lifelong's Food Program
Here's the rest of Friday's events and check out the entire Weekend Calendar HERE!
FRIDAY: December 9, 2011
2011 Toasting Equality Breakfast @ Westin. Changing Hearts & Minds for Marriage 7:30am, $60.
Dina Martina Christmas Show @ Rebar. ALL NEW holiday extravaganza guarantees Dina Martina's sidesplitting blend of low-brow, top-notch comedy and near-acid-trip surrealism. SOLD OUT. 21+
Ham for the Holidays: A Lard Day's Night @ Theatre Off Jackson. Seattle sketch mavens Lisa Koch and Peggy Platt are back with the 11th edition of their cult holiday show, chock full of dysfunctional characters, tacky costumes, and more wigs than Lady GaGa. 7:30pm, $23. Adult Humor
Cinderella @ 5th Avenue Theatre. When the shoe fits, the unlikeliest of girls becomes a princess, and dreams really do come true. Beloved Seattle thespian, Nick Garrison is back in drag as one of the nasty bitches, with his frequent pal/co-star the divine Sarah Rudinoff as his partner in crime 8pm.
Hairspray @ Seattle Musical Theatre. Prepare yourself for some of the craziest dancing and biggest hair ever seen, Hairspray gives a hilarious and emotionally poignant tribute to the courage needed to break down the walls that separate us, and does it with style! 7:30pm. All Ages
Nutcracker @ McCaw Hall. The Northwest's most cherished holiday tradition. With live orchestra, magnificent sets and costumes, and over 200 roles danced by professional dancers and students, nothing fills hearts with holiday magic like PNB's Nutcracker! 7:30pm. All Ages
Voices Rising @ Washington Hall. An evening of LGBTQ of Color Arts and Culture featuring the best of young queer artists of color 8pm, $10-$25.
Cuff Country Country Western Dancing @ Cuff. Lesson: Basic-Plus Two-Step & "Dizzy" review. 21+
Cuff Complex: HiNRG Dancing w/ DJ Stacey Cooks 11pm-3am, $5. 21+
Seattle Men in Leather Photos w/ Santa: Hot and Hunky Santas and Mrs Claus 8pm-12am.
Lezbro @ Wildrose w/ DJs LA Kendall and Tony Burns for fag hags, dyke tykes & fruit-flies. Special Guest Portland's Fannie Mae Darling 9pm-2am, $5. 21+
Hussler @ Pony w/ Hosts Terra Hyman and Moist Towlette and guest Recess, Free. 21+
Neighbours: Ultimate Dance Party w/ DJ Richard J Dalton 10pm-4am. 21+ (18+ after 2am)
Seattle Eagle: TBA w/ DJ Up-Above 9pm-3am. 21+
Purr Video Lounge: VJs play the best videos in town 9pm-2am, Free. 21+
Swollen Fridays @ RPlace. DJ E plays r&b/top 40 & VJ Flo'w rocks the video booth, $7. 21+
Lashes Cabaret Show with hostess Lady Chablis at 9:30pm.
Lily Armani's Show & Tell @ Neighbours Nightclub 8:30pm, $10. 21+
LeFaux @ Julia's On Broadway. Celebrity Female Impersonator Show 10pm, $25-$45. All Ages
Gayme Night @ Dunshee House. Substance-free night of games, fellowship and fun 8pm-1am.
(Visited 1 times, 1 visits today)