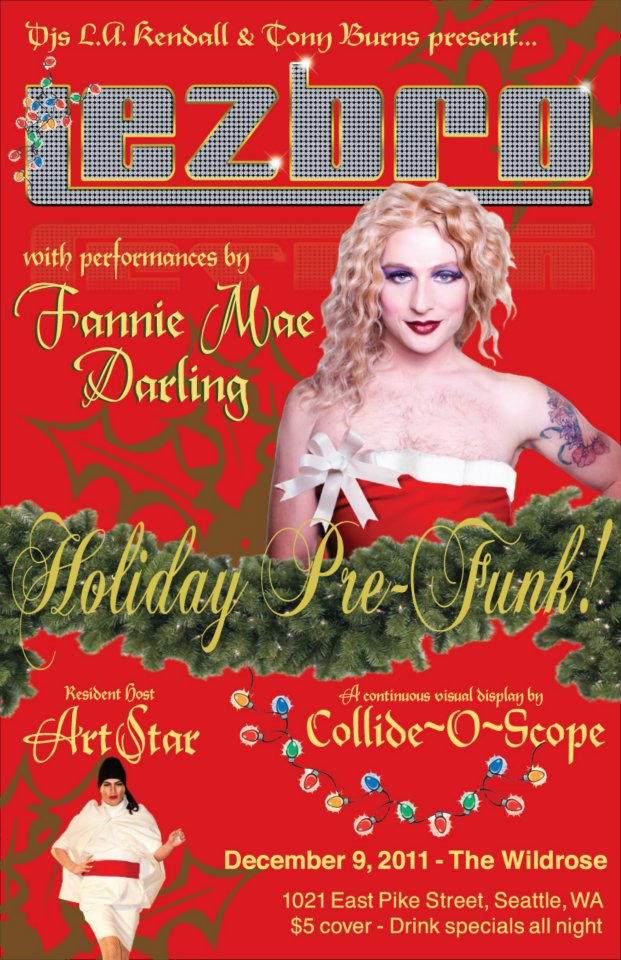 Lezbro continues with their fun and fabulous monthly Friday night stop up on the hill primarily for the fag hags, dyke tykes and fruit-flies of the LGBTQF crowd. Brain-children behind Lezbro, DJ LA Kendall and DJ Tony Burns are bringing back to Seattle a very special guest on December 9, for "A Lezbro Christmas" at The Wildrose. That Very Special Guest, Fannie Mae Darling, from Portland and the legendary "Sissyboy" era and documentary, was missing in action for a while but is back in motion and ready to spread holiday cheer for her Seattle fans. As a former Portlander I spoke with Fannie to catch up on what is happening with her and her life and her new attitude towards society.
B.Michael Peterson: You were missing from society for quite some time, where did you go? What did you do?

Fannie Mae Darling: I went back home to Indiana so that I could spend time with family and close friends. While in Indiana, my god-daughter died of SIDS and during that process, I was able to experience a side to life that I always overlooked and that aspect was living. After that experience, I have a new sense of purpose on life.

BMP: What underlying message does your drag represent?

FMD: My drag represents the idea that gender and gender identity is completely relevant to the mood you are in at that moment I also wanted to smash the misconception that a man in a dress can't be sexy! I had major masculinity issues when I first started doing drag. I wanted to use my art as therapy for myself and others as a way to see both sides of the gender spectrum.

BMP: What has been happening with the Sissyboy documentary? Anything exciting to share the world?

FMD: Sissy boy is over…

…for now.

BMP: Will you and the crew of Sissyboys make a return as a group to perform in Portland once again?

FMD: Sissyboy manifests from time to time and even through I'm always ready, but it wont be anytime soon.

BMP: What is your hope or plans for World AIDS Day?

FMD: World Aids Day is Dec 1st? Wow, time flies. Well, my view on that is this. My ancestors who passed due to AIDS, I will hold in remembrance that day. Those who havent been tested in a while should (myself included) should get tesed and thoughts and prayers that those people are negative. My feelings on people who want to get AIDS (bug chasers), worship cum and treat "poz loads" like some sort of treasure, or people that know they have it but don't tell anyone… FUCK YOU YOU PAUL MORRIS TREASURE ISLAND WATCHING DISGUSTING ANTI PROGRESSIVE SUBHUMAN FUCK HEAD!!

AIDS, is still a big deal. With meds, there has been great progression, but no one knows enough about these meds on a long term basis yet. Anything could happen. Be smart.

BMP: What can the Seattle crowd expect from Fannie Mae Darling next Friday at Lezbro?

FMD: People can expect a mouthy, fun, in-your-face rocker chick at their realms. It is for sure to be a good time.
ArtStar is also coming back for a second round as the newly appointed resident host. ArtStar is fashion. ArtStar is performance. ArtStar is awesome!  There is also a new addition to the Lezbro crew with a new visual installation by the talented Collide-O-Scope crew, which will add a pleasing visual asethetic on the newly remodeled dance floor at The Wildrose. There is only a cover of $5 with a valid ID and cheap drinks all night long. Why would you want to pass up a legendary Sissyboy performer, dancing, diversity, cheap drinks, ArtStar and a chance to christen the new dance floor?
(Visited 1 times, 1 visits today)