There are a ton of events happening this Thursday, December 1, 2011 for World AIDS Day. We've already talked about the big World AIDS Day Breakfast, the annual fundraiser held in the wee hours (well, for bloggers) at the Washington State Convention Center from 7:30am to 9am with emcee, actress/director Amanda Bearse and keynote speaker, Paul Kawata. Here's more info:
 Four of Seattle's preeminent non-profit AIDS services providers (Rosehedge/Multifaith Works, Gay City Health Project, Seattle Counseling Service and SASG) have joined together in a powerful collaboration: the 8th Annual World AIDS Day Breakfast. Join us as we honor friends we've lost, support those living with HIV/AIDS, and celebrate the power of community. This breakfast is an opportunity for you to make the strongest impact you can by supporting this network of HIV/AIDS service providers in Seattle. The breakfast is complimentary, however, a suggested donation/pledge of $150 is encouraged.
To register, go to the Stronger Together Seattle website.
But, there are other events as well. "Operation Stop HIV/Take Stop HIV Pledge/World AIDS Day 2011" will gather at Westlake Park in Downtown Seattle from 11:30am to 1:30pm to commemorate World AIDS Day and increase public awareness of the continued fight against HIV/AIDS. Here's more info on this event:
Join Lifelong AIDS Alliance in Westlake Park as we commence Operation Stop HIV!

Lifelong staff, volunteers and community members will gather together on December 1st to commemorate World AIDS Day and show that we will continue prevention and education efforts (as well as supporting those already diagnosed with HIV) until we "Get to Zero"; Zero new HIV infections, Zero discrimination and Zero AIDS-related deaths.

Stop by join us and to sign the Stop HIV Pledge. Signers pledge to to educate a friend, relative or child regarding risky behaviors and the importance of testing for HIV.

We hope to see you there!
Thursday also presents two film options, both free to the public. If you like actually going to a cinema, head to the Egyptian for the 7pm free screening of the award winning documentary "Still Here", "a compilation of 15 short films about thriving while living with HIV." Presented by Public Health of Seattle & King County, Three Dollar Bill Cinema, and HIV@30, seating is on a first come/first served basis, so don't be late…you wouldn't want to miss this beautiful film about people surviving HIV.
If you hate leaving your house this time of year, you can still enjoy an important and moving film about HIV…AND, for free. The beautiful locally made narrative film, "Heart Breaks Open" which recently played the Seattle Lesbian & Gay Film Festival, and was just released on home video via TLA, is offering a ONE DAY FREE SCREENING of their film online. Here's the info:
 Visit the Dual Power Productions website (http://www.dualpowerproductions.com) from 12:01am to 11:59pm (PST) for your opportunity to view the film in it's entirety, for free.

The World AIDS Day Heart Breaks Open screening is being sponsored by Fierce Bodies.

A model queer activist, poet and community advocate, Jesus (Maximillian Davis) prides himself in his work with the Seattle LGBT community. At the same time, Jesus is having unprotected sex and cheating on his long-time partner (Samonte Cruz). Jesus's world implodes when he discovers that he is HIV positive, forcing him to confront his innermost fears, his relationship with his ex-boyfriend, and a future living with HIV. Faced with the unknown, Jesus is pulled from the brink of self-destruction by Sister Alysa Trailer (Brian Peters), a drag nun who leads him down a path of self-discovery.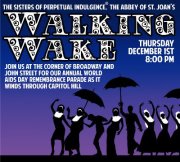 Finally, and also involving the lovely Sisters of Perpetual Indulgence-Abbey of St. Joan, the 11th annual Sisters' sponsored "Walking Wake" will get under way at 8pm at Broadway & John. Here's the info on this moving (literally) event:
In classic Sisterly tradition, Seattle's nuns will be choosing a celebration of life, memory, and the joy that our community has for each other. We will tour Capitol Hill's queer community hot spots with a pub crawl, raising a glass or three to toast the memories of those we have lost to HIV, as well as, to celebrate the friends who are still living with the virus. We encourage our community to join us in our expression of love and come share a drink, a story, maybe a few tears, and definitely some laughs!

Our journey will start at the corner of Broadway and John at 8pm, where the Sisters will perform a brief dedication ceremony, and then begin the pubcrawl with CC Attles, and then continue from there. Please be prepared for cold weather and possibly rain! But know that warms hugs will be available, should you need them.

Hosting the event this year will be Sister Castaspella New. Sister Cass speaks of the Walking Wake, "Of all the events that I've been a part of with the Sisters, the Walking Wake is probably the most representative of who we are; We are a group of people dedicated to lifting the spirits of our community, being a voice for them, and an ear. We celebrate our community, and we are there to remember them and love them, and that's what the Walking Wake is all about. I can't think of anything more important than that love. I hope you join us!"
Don't just sit on your butt for World AIDS Day…CONTRIBUTE in some way or fashion, whether it be financial, emotional, or participatory!
(Visited 1 times, 1 visits today)