He performs under the moniker "Perfume Genius" but he's really Mike Hadreas and he's a local singer/songwriter who's on the verge of something big with his second album, "Put Your Back N 2" getting some powerful buzz. It's the follow up to his 2010 debut album, "Learning" which was called  "an album of rare, redemptive beauty…one of the most uniquely endearing and quietly forceful debut albums of recent years" by Drowned In Sound. It's out Tuesday, February 21, 2012 and it's available…well, everywhere that sells music.
Mr. Hadreas became an "It Boy" of the indie music scene with his haunting first album two years ago which explored some dark and turbulent times in the songwriter's life as he struggled with a number of issues related to his sexuality and substance abuse. The emotionally raw material of "Learning" was largely recorded in his mother's house in Everett and mastered from the second generation MP3s, and the result earned him a record deal with Matador Records and glowing reviews.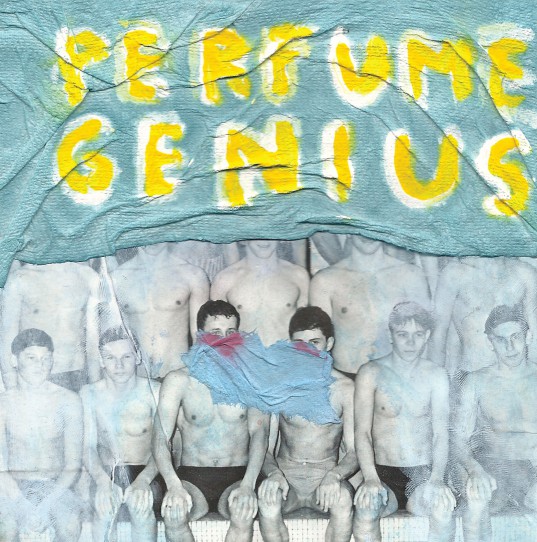 The new album, "Put Your Back N 2" is lusher and richer than the first album as it parallels the positive changes in the singer/songwriter's life but it still addresses issues of intimacy, longing and regret.  "I don't want it to seem like I've been through more than other people," Hadreas says. "Everyone has stuff. Staying healthy can be more depressing and confusing than being fucked up. But I want to make music that's honest and hopeful."
The first single and video off the album, "Hood" reflects that sense of hope and intimacy…it's also generated a bit of controversy. The video features Mr. Hadreas and gay adult film star Arpad Miklos in a series of intimate but never graphic encounters as Mr.  Miklos holds the singer in his arms, caresses him, brushes his hair and applies make-up while Mr. Hadreas sings the song. Both men are clothed in shorts and there's no overt sexual contact; the performance is very tenderly and sweetly performed. See for yourself:
But, after a short clip of the video was posted on YouTube and the Google Display Ad Network, it was pulled because it ""promoted mature sexual themes". The video itself was not removed. YouTube responded via NME:
"The ad has been disapproved because it violates our Adult Image/Video Content policy. Per this policy, video content, audio, static imagery, and site content must be family safe…Any ads that contain non family safe material are disapproved. I noted to the team that the people in the video are not entirely unclothed, but the overall feeling of the video is one of a more adult nature, including promoting mature sexual themes and what appears to be nude content."
Mature themes like cuddling, hair brushing and applying lipstick…I guess the fear is, young children will run up to Daddy Bears at the playground demanding they be groomed and hugged, followed by a fun outing at the Folsom Street Fair and a funnel cake.
The record company also responded:
 Matador Record's Nils Bernsetin added: "I should note that this isn't a user-uploaded video – the music video itself is on YouTube and not even flagged as 'adult' – this is what's called a "pre-roll" ad, those annoying ads that we pay YouTube to run before videos you want to watch. So it seems they're worried about upsetting unsuspecting viewers that don't want to see two men looking romantically at each other."
The song is gorgeously lush and the video is charming and sweet. It's short; Mr. Hadreas isn't one for long drawn out songs, but he leaves you wishing for more.
And, Arpad Miklos is a good actor!
You can buy the album now of course, and you can check out Perfume Genius live at The Crocodile on Thursday, April 19, 2012 as part of a nationwide tour promoting the new album. The website promises "Special Guests" and it's only $10.
We're guessing Mr. Miklos will not be present.
Check it out!
(Visited 1 times, 1 visits today)