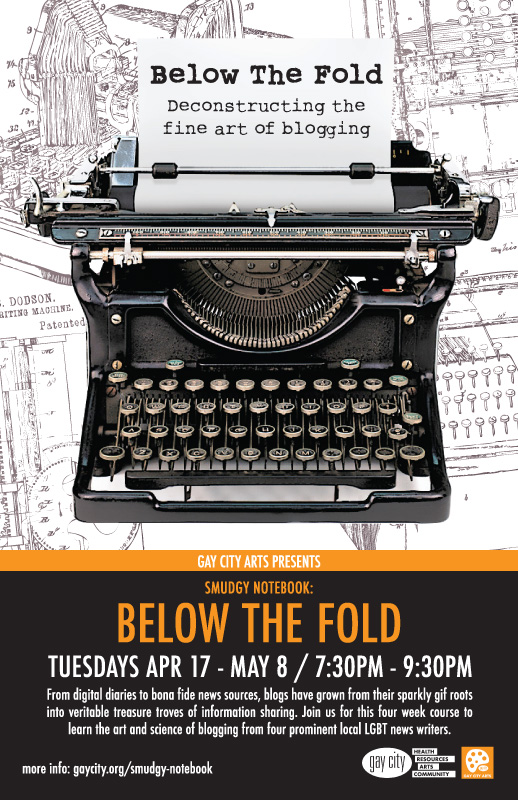 Hey! Queer Writers! Yes, we're lookin' at you! Didja know Gay City Health Project has a program called "Smudgy Notebook" for LGBTQ writers? They offer four week long classes every so often focusing on different kinds of writing. For their next writing theme, they've focused on something near and dear to OUR hearts…the joys (and agony) of …BLOG WRITING!
YAY! THAT'S ALL WE NEED! MORE COMPETITION!!! THANKS, GAY CITY!!!!
We keed, we keed…the more the merrier. If you get an "A" in the "Smudgy Notebook" class, we'll let you write for us…for free, of course. That way y'all can get used to the REALITIES of blog writing! For every Perez Hilton making 6 or 7 figures a year, there's a million idiots like ourselves making a $1.99 a year!!!! FUN!
More keeding….sort of.
Anywho, this class looks HELLA fun and aspiring writers should check it out. Here's some poo on it:
From digital diaries to bona fide news sources, blogs have grown from their sparkly gif roots into veritable treasure troves of information sharing. Whether you're new to the art of blogging, or are looking for ways to improve on your existing blog, Below The Fold may be just the resource you need to become the next Perez Hilton or Arianna Huffington. This four week course will feature instruction from four different Seattle LGBT news writers on topics such as: proper sourcing and attribution, getting and selling celebrity interviews, and and developing your blog's voice.

The sessions and instructors for Below The Fold are scheduled to be:

4/17: The Business Of Celebrity Interviews
Sarah Toce – Editor
TheSeattleLesbian.com

4/24: Write What You Love
Victoria VanBruinisse – Live Show Editor
Three Imaginary Girls

5/1: Giving Credit Where It's Due
Shaun Knittel – Associate Editor
Seattle Gay News

5/8: Discover Your Blog's Voice
Robert Roth – Marketing & Communications Manager
Gay City Health Project

For more info or to RSVP, please contact please contact Susan Rees at 206-388-1707 / susan@gaycity.org.
Sounds delightful…though we're confused about the presence of Mr. Knittel since SGN doesn't really HAVE a blog…their website is just the PRINT edition online without any updating but we're sure it'll be informative. Shaun knows his stuff.
Check it out!
Tags: Below The Fold, Gay City, Smudgy Notebook