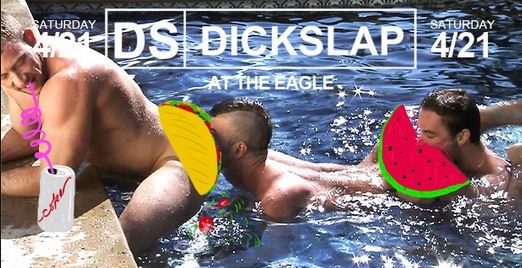 It's disgustingly fun…and arousingly raunchy.
Who knew Kevin Kauer/NARK was such a little pervert?
SHOCK!
Dickslap info:
Nark Magazine Presents…

DICKSLAP!
Our every other month drunken sweaty F. U. to the rules-

STARRING:
RECESS (SHAMELESS)
http://www.simplyshameless.com/

In 2003, Recess founded Shameless Productions (responsible for numerous underground club nights, parties and shenanigans). Along the way he continued to turn heads as a DJ with his constantly evolving and unique take on dance music. Over the years he has played alongside some of the biggest names in the industry such as Green Velvet, Boys Noize, Felix Da Housecat, Claude Von Stroke, MSTRKRFT, Zombie Nation, John Tejada, Meat Katie, DJ Assault, Ewan Pearson to name a few. As a DJ, Recess could quite easily be caught playing electro/disco at one club, bmore club/ghetto tech at another, or techno/house/bass depending upon the crowd and party. A leader in Seattle's electronic community, his versatility has led to being nominated in 2006 for the Seattle Weekly's Best Local DJ contest. Currently, he's focusing more attention on production, but continues to play out often and produce events regularly. Whether it's an afterhours loft space, major club, mountaintop, or random BASSment; Recess consistently brings the sounds and energy to fit any dance party

+ GUEST
UP-ABOVE

and Resident Dickslapper
NARK

Each Dickslap we hunt down the sexiest GO-GO MEN we can find, who will it be this time?

Put your safe words at home and let us SHOOT JELLY DOWN YOUR WINDPIPE with our $2 fuck you up until tomorrow JELLO SHOTS

Maybe Nark Magazine will take some photos, but don't worry, we'll store away the naughty ones in the vault.

GET DIRTY GET WET GET OFF!

SATURDAY APRIL 21ST
AT THE EAGLE
10PM-3AM (or later)
314 E. PIKE ST
$5
I"m convinced that Kevin is the man in the middle…Lucky Pierre!
(Visited 5 times, 1 visits today)