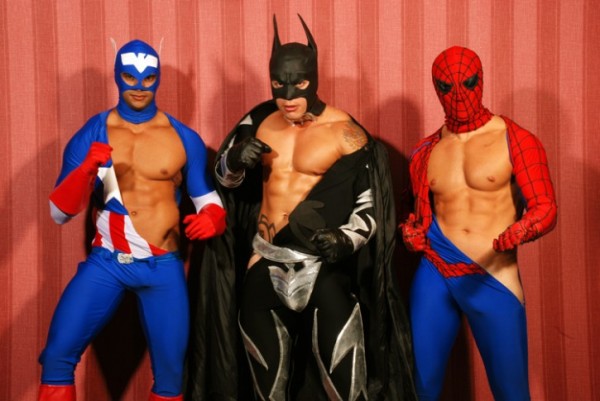 Seattle has so many nerd holidays…obviously the Biggie Wiggie is Seattle Comicon in the spring but we now have a late summer counterpart with the rise of PAX which stands for….
????
Frankly, I can never remember.
Oh, yeah…"Penny Arcade Expo". PAX was originally very very game oriented, and it still is, but it's gotten a bit glammer over the years, too.
As far as I know, legit tickets/passes for PAX are long gone…though you might find something for $$$$ from scalpers. Buyer beware, though!!
For the nerdishly inclined of the gayishly inclined persuasion, there are a couple fun PAX related events this weekend where you can get your inner gay nerd on. Also gives you an excuse to Cosplay….
Like you needed much of an excuse to throw on your Pikachu jockstrap.
The "Raygun Lounge" at GammaRay Games on Pine is hosting the pre-func for PINK PARTY PRIME the annual gay gayming/nerdling par-tay which is back at Neumos again, this Saturday, September 3rd. The poo:
Saturday, Sep 3 / 9pm – 2am
Neumos (925 E Pike St, Seattle)
$15 / 21+

Pink Party Prime 8 returns to Neumos on Saturday, September 3. Bring your PAX party to our party, the biggest and best queer geek party during PAX West*. All of the hottest queer gaymers, geeks, and nerds will be there. If you only come out of your parents' basement once a year, then you'd better come out for this!

Come check out the enhanced GAYMERX GAYMING LOUNGE, featuring a plethora of console and arcade gaming stations, enjoy a few geek-themed featured drinks, and dance your heart out to music from DJ KROT and Ozma Otacava. Don't forget to get your cosplay ready for the OFFICIAL PINK PARTY COSPLAY CONTEST, hosted by queer cosplay maven JUSTIN SAINT, where you could win your share of more than $4,500 in cash and prizes.

A portion of the proceeds from Pink Party Prime 8 will benefit Gay City: Seattle's LGBTQ Center.
On Sunday, September 4th, it's SUPERHARD: HI SCORE which has also become a bit of an annual event, but one traditionally held at the down and dirty Seattle Eagle. It's a raunchy kind of place, gentle nerdlings, so if the sight of middle aged men getting nasty on the patio disturbs you….
JOIN IN!!!
More info:
SUPERHARD: HI SCORE
Sunday, Sep 4 / 9pm – Late
Seattle Eagle Tavern (314 E Pike St, Seattle)
$10 after 10pm / 21+

Drop your joystick and level up at SUPERHARD: HI SCORE, the steamiest, sexiest party during PAX WEST*. Join DJs JOEY WEBB and ROB WINTER, along with super hard XXX stars TYLER RUSH  and CASS BOLTON at the Seattle Eagle for a night of uncharted fun and some serious PVP. SUPERHARD: HI SCORE will be kinky, crazy, and no holds barred. Whether you hit up the Eagle in your best Overwatch cosplay, WOW t-shirt, or Pokemon underwear, you can be a part of it, too.

*PAX West attendance NOT required for admission.

The Eagle is a cash only bar, but they do have an ATM onsite. A clothes check will be available.
(Visited 5 times, 1 visits today)