Labor Day Weekend is kind of a Big Deal in Seattle now for many reasons other than the fact it's the traditional end of the "Summer Season" and your last chance to wear white shoes until next year (unless you go someplace tropical or in the Southern Hemisphere…)
Of course for Seattlites, it's the weekend for Bumbershoot, the Labor Day weekend music/arts fest at Seattle Center that's been around longer than my hatred for wearing white shoes after Labor Day.  B'shoot is soooooooo old that it was FREE in the early years!!!
FREE!!!!!!!
But, in recent years, two other events have popped up to compete with the now very expensive and rather corporate Bumblyshoot ($150 a day?!?!?!? To wander around Seattle Center??!?!? Listening to (mostly) hipster than thou shittty contemporary music?!?!?!?!?!? While wearing white shoes?!?!?!? No.)
PAX, the nerdy game thing at the Convention Center has become HUGE in the last few years…it kinda rivals Seattle Comicon.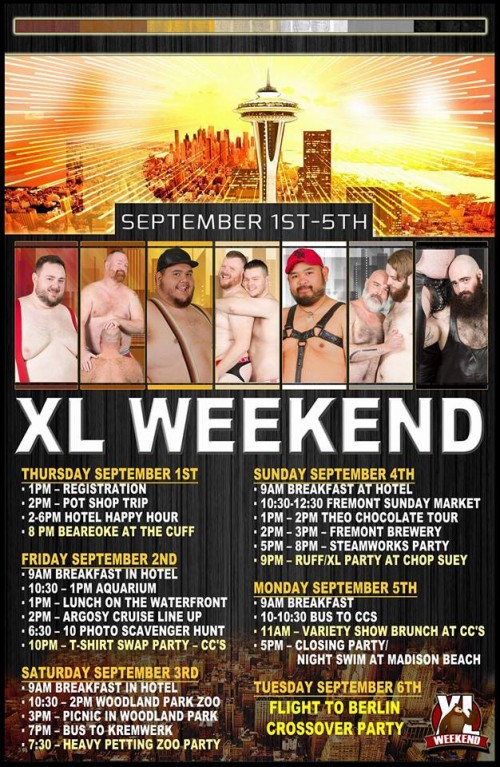 But, of more interest to a certain sector of our readers….the startling emergence and huge popularity of XL WEEKEND, the 5 year old weekend long party for Big Gay Fellahs, mostly of the bearish persuasion, and their admirers. It's back this year and actually kicked off Thursday, September 1st and continues on through Labor Day itself, Monday the 5th.
Now, some XL Weekend events are private and only for those who bought a weekend pass to the event…you can still grab those over HERE if you want. But, if you just wanna stick your toe in the water a little bit, there are several events taking place at public venues where you can join in as well. Check out the poster image here for a list of events and over on our SGS Calendar as well.
One BIG event that IS open to everyone is the RUFF SEATTLE party at Chop Suey, 1325 East Madison Street, on Sunday September 4th. You can even grab $10 advance tickets until midnight Friday night over HERE…after midnight they go to $15!
The Ruff Party is a treat from the Land Up Yonder…it's a BC bear party that likes to travel around. Here's more poo about RUFF.
Michel Nadeau & Tod B from RUFF Vancouver
present RUFF Seattle.
Official Closing Party of XL Weekend

RUFF is back in Seattle this Sunday September 4
9pm Chop Suey Advance tickets $10 until Friday September 2.
$15 after.
Available at Diesel (cash only) & online at RUFFparty.com

Music DJ Mumbles (VAN) Mike Sniffen (SEA)

With steamy performances by Shane Rooks – Mr. RUFF Vancouver, Thomas, and Daniel.

Join us at Diesel for the Offical Pre-Party 7- 9pm. NO line-up (unless at capacity) and $1 off Drinks with RUFF ticket or XL Weekend Pass.

And after you dance the night away, why not head over to Steamworks for RUFF:play. Save $5 with your RUFF stamp or XL Weekend Pass. http://www.steamworksbaths.com/seattle/

Event produced by MN events | Where Sexy is Standard since 2000!
Are you ready to get Ruff?
Tags: Chop Suey, Gay Bear Culture, Labor Day Weekend, Ruff Party, Ruff Vancouver, Steamworks, XL Weekend