Twice a year, in January and September, theater lovers and theater critics squeal in delight/horror because of a bounty of new theater productions openings. Both follow long "fallow" spells without much to see that isn't the dreaded bug filled banality of outdoor theater (summer) or the never ending banality of Jesus/Santa/Nutcracker/Scrooge/Winter Holiday related shows (Thanksgiving to New Years). In both of the months following those "slow bus" periods, pretty much every theater company in town, from Equity down to the fringiest of fringe theaters in the depths of some grotty storefront basement/attic theater venue have SOMETHING opening in the 4 to 5 weeks following those dry spells of creativity.
This September in Seattle is no exception as we have around 26 or so new theater productions opening with many companies officially beginning their 2016/2017 theatrical seasons. That's a LOT of theater, kids!!! Even the "Hardest Working Theater Critic in Seattle", SGN and sometime SGS contributor Miryam Gordon won't make it to ALL of those openings but Miryam and many other local theater nerds try to make it to as many as humanely possible. Now, Ms Gordon likes to write a monthly "What's Opening" column on that OTHER gayly inclined site…I'm far too lazy to write up 2o something paragraphs on "What to See!!!" but I will give you a look at a few of those shows that look interesting to me (which is not to denigrate the other productions I won't be highlighting; it's just that some pique my interest a bit more than others…)

First up: BAD APPLES, a rock musical about Abu Ghraib, the Iraqi prisoner abuse scandal.
SQUEEEEEEEE!!!!!
Yeah…that wasn't a typo.
They've really made a musical about torture and abuse. It was a huge hit at Circle X, the Los Angeles based theater in 2012 and now
Bad Apples
makes its Seattle debut at ACT in a co-production between Circle X, ArtsWest and ActLab running for 12 performances between September 7th and 25th.
Tickets THERE
and more poo here:
Bad Apples is the new rock musical inspired by the real-life prisoner abuse scandal at Abu Ghraib prison in Iraq. Bad Apples seeks to answer the simple question: How in God's name did this happen? Two soldiers ended up pregnant by fellow soldier Charles Graner; both women wanted to marry him, competed with each other to win his love, and enthusiastically tortured prisoners together, documenting most of it in pictures that later leaked and shocked the world.

Club Abu,

the most twisted party in Baghdad, opens in downtown Seattle on

September 7, 2016

for 15 performances. Night after night this incendiary rock musical will pull back the curtain on one of the greatest moral challenges this nation has faced. While maintaining an appealing yet irreverent back beat, 

Bad Apples

 poses the questions: Who were the victims? Who were the villains? Is sadism part of being human? Or is it normal for war? Normal for love? Was Abu really an aberration brought on by a few "bad apples" or does it speak to something deeper in our national psyche?

Bad Apples 

is 

not

 a history play. It digs deeper than the facts, exploring a twisted theatrical world inspired by a fictionalized Abu Ghraib.

Directed by ACT's Artistic Director John Langs, Bad Apples features the talents of Kate Morgan Chadwick, Carlton Byrd, Keiko Green, Frederick Hagreen, John Patrick Lowrie, Mari Nelson and Jordan Taylor. The book is by Jim Leonard (Major Crimes, The Closer, Dexter) with music by Beth Thornley and Rob Cairns (music heard in the film Magic Mike, as well as TV hits Royal Pains and Friday Night Lights). Additional creative team members include: Crystal Dawn Munkers (Choreographer), Julia Hayes Welch (Scenic Designer), Pete Rush (Costume Designer), Andrew D. Smith (Lighting Designer), Robertson Witmer (Sound Designer).
WHY am I interested in this show? Uh, duh….to see if they can pull it off! Will it be delightfully great or delightfully not great in a trainwrecky sort of way?
We'll see….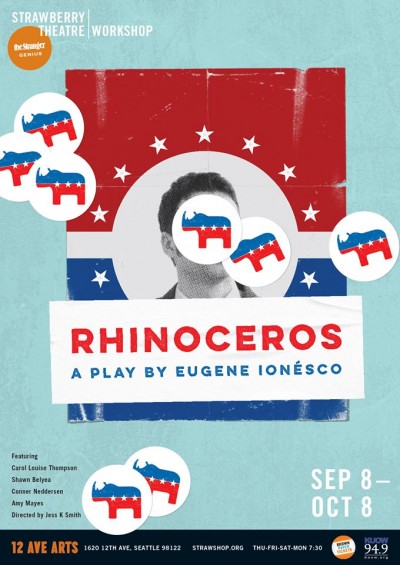 Opening the same weekend up at the divine 12th Avenue Arts theater: a new production of a major work of art…it's Strawberry Theatre Workshop's take on
Eugène Ionesco's RHINOCEROS
, his 1959 absurdist classic about…people turning into rhinoceroses. From the press release:
There is a ferocious rhinoceros on the loose in a small village, and no one seems alarmed.  In fact, by the time the play's cast of citizens can agree on what they saw, it becomes possible for individuals to join the herd.  Imagine a business leader, a prominent family, and a politician stampeding as wild rhinoceroses, while a town idly debates whether it is even possible…

Strawberry Theatre Workshop had been seeking to open 2016/17 with a theatrical conversation linked to the contemporary US Presidential Election. Directed by Jess K Smith (We Remain Prepared for ArtBarn/Satori Group), Rhinoceros will play Sep-8 through Oct-8 in the Mainstage at 12th Ave Arts. Tickets HERE. The company imagines a fall evening more politically relevant than the Trump/Clinton debates, which will be happening almost simultaneously.

Carol Louise Thompson is cast as Berenger, who gets advice about social conformity from Jean (Shawn Belyea) shortly before the latter transforms into a pachyderm before her eyes. Seeking sanity and refuge, Berenger corners Daisy (Amy Mayes) in a love-triangle with one of the few remaining human beings, Dudard (Conner Neddersen). Gazing from a window on a street full of rhinoceroses—perhaps, like the view from the press box of the Republican National Convention—Daisy says:

"Those are the real people. They look happy. They are content to be what they are.  They don't look insane. They look very natural."

The rest of the ensemble includes Lacy Campbell, Brandon Felker, Jéhan Òsanyìn, Shanna Allman, Christopher Wong, and John Wray. The production team includes Erin Bednarz (Sound), Ryan Dunn (Lighting), and Greg Carter (Scenery).  The production is stage managed by Catherine Blake Smith.
Why am I excited about Rhinoceros? I'm a big fan of Ionesco, absurdism and this play.
What worries me about this production: They've cast a female actor as the lead character, Berenger, a traditionally male role and a central figure in other plays by Ionesco. It's one of those things that could end up terrific or….not so terrific. We'll see.
Oh, and also: the only other stage production I've seen of Rhinoceros was a brilliant production at the Guthrie in Minneapolis directed by Kazimierz Braun.
BIG shoes to fill! (No pressure…no pressure….)
Strawshop isn't the only theater in town getting political this month. Theater Schmeater is tackling the most divisive character in American politics since Richard Nixon with their "TRUMP The KING or POTUS DRUMPH" which is long windedly subtitled in their press release: "Another Sh**ty Adaptation of Alfred Jarry's Ubu Roi Which May or May Not Resonate with a Contemporary American Audience" their new play by local playwright Nick Edwards that dares to tackle "The Donald" and his role in this year's presidential election. More poo:
TRUMP The KING   or POTUS DRUMPH

: 

Another Sh**ty Adaptation of Alfred Jarry's Ubu Roi Which May or May Not Resonate with a Contemporary American Audience

will open on September 16

th

and run through

October 15

at Theater Schmeater. Written by Nick Edwards, this is a raucous telling of one man's quest to reach the pinnacle of political power at all cost—to others. Loosely based on the subversive agitprop classic

Ubu Roi

, and on the equally disturbing 2016 Presidential Campaign,

TRUMP the KING or POTUS DRUMPH…

offers up a parallel reality perhaps closer to our own than comfort admits.

 

Theater Schmeater has assembled a versatile cast to bring this dystopian world to life. Sherif Amin, Jasmine Joshua, Benjamin Nickols, Jackie Pomeroy, and Emma Wilkinson. Trump/Drumph is played by Keven Bordi. The production is directed by Joel Waage.
Why does this intrigue me?
Uh, it's a play about the awfulness of Donald Trump. And, Schmee gets big points for being timely. Hopefully, the actual production lives up to its promise…er, premise.
Same thing goes for the fall opener over at On The Boards. BRIDGE OVER MUD is a theatrical piece from acclaimed Oslo, Norway based multi-media theater artists, Verdensteatret. They're actually arriving in a few days to begin the long process of transforming OtB's main theater "into an ingenious "movable room" and dream factory for your subconscious. Ghostly projections, abstracted images, and unearthly sounds converge in a performance that is part concert, part installation, and part WTF. Powered by 195 feet of elevated train tracks, 11 motorized vehicles, 60 speakers, and 30 micro-controlled motors, this indescribable work invites you to forge your own subterranean connections in a constantly morphing landscape that is both alien and familiar.
No drugs necessary for this trip."
They had me at "ghostly projections" but closed the deal with "drugs".
Verdensteatret are only making two stops on this U.S. tour…Seattle and their just completed sold out run in Brooklyn. They're only here for 4 shows, September 22-25. Snag your tickets HERE!

Now for so more Norwegian theater. Normally, I wouldn't be THAT interested in an Ibsen play (he's so….Ibsen-y) but ArtsWest is doing Ghosts, his 1892 drama about angsty widow Helene Alving and her problematic and angsty son, Oswald who (spoiler alert) must have missed Sex Ed classes in school. It's full of fun Scandinavian doom and gloom and I'm intrigued by this production because:
1) It's the highly praised new adaptation created by acclaimed British director Richard Eyre
2) ArtsWest is producing it and they're on a creative roll lately under the leadership of new artistic director Mathew Wright who is also directing this production. Wright did a fantastic job last spring with his work on another old classic, their superb production of Arthur Miller's Death of a Salesman.
3) This Ghosts has an exceptional cast: Suzanne Bouchard as Helene Alving; Noah Racey as Pastor Manders; John Coons as Oswald; Paul Shapiro as Jacob Engstrand; and Sophia Franzella as Regina.
Ghosts
runs September 22 through October 23rd at ArtsWest in West Seattle.
Tickets HERE!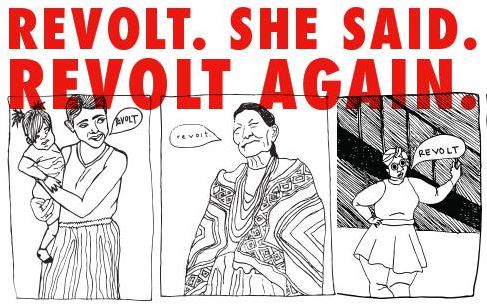 If you're looking for MORE topical/controversial/unusual theater to explore then there's yet another option towards the end of September with Washington Ensemble Theatre's 2016/17 season opener and West Coast premiere of Revolt. She said. Revolt again. 
More from the press release:
Written by Alice Birch, this patriarchy-smashing play turns the dominant male paradigm on its head, offering lessons in what it means to be a woman through intersecting and interconnected vignettes. Following a critically-acclaimed American premiere at New York City's SoHo Rep this past Spring, Seattle audiences will see Revolt for the first time under the direction of The Ensemble's lead producer Bobbin Ramsey. Revolt will play September 23 through October 10, 2016 in the Studio Theatre at 12th Avenue Arts.

Revolt is a terrifying and exhilarating play with an unique script. There are no characters, no stage directions, and no settings. Rather, there are 60 pages of dialogue that explore modern day feminism and the power of language, leaving ample room for the director and actors to break open the world of the play and the relationships that are created within it. Due to its structure, Revolt requires an extensive and vulnerable rehearsal process, which gives actors the opportunity to speak frankly about their life experiences in the rehearsal room and then project them onto the stage.

Revolt features a vibrant and dynamic ensemble cast which includes Alyssa Bostwick, Anna Kasabyan, Arjun Pande, Joe Cummings, Ayo Tushinde and Samie Spring Detzer, Artistic Director of Washington Ensemble Theatre.Revolt's creative team includes Robin Macartney (scenic), Michaela Petrovich (costumes), Marnie Cummings (lights), and Andre Nelson (sound).
This sounds like your typical WET show…challenging and unusual. And, polarizing. And, like many WET shows, it can go so many different ways…WET never does anything half heartedly. This will either be an amazing piece of polemic art or…..
A disaster of Lusitanian proportions.
Either way is an adventure!
WET is also smart and programs their productions on a Thursday through Monday schedule so you have an opportunity to see theater on Sunday/Monday nights. I actually encourage smaller companies to do this, too. It's tough to compete against the "big" theaters and their larger marketing budgets…doing theater on "off" nights can lure in theater lovers seeking out new kinds of theater on nights that traditionally don't have anything to offer.
Snag Tickets to Revolt. She said. Revolt again. HERE.
FINALLY, we're going to highlight a production we are blatantly media sponsoring so this is a whorish recommendation to check out something (hopefully) fun, light and campy as hell: Fantastic Z's kooky fall show, Devil Boys From Beyond which opens at the very tail end of September (the 29th) and runs through October 15th at the Eclectic Theatre on Capitol Hill (the theater formerly known as the Odd Duck). It's directed by Darren Lee Johnson  and it's about…
GAYLIENS!!!!
The Plot:

New York Reporter Matilda Van Buren has come to the hick town of Lizard Lick Florida to break the story that Aliens have invaded!

The Cast:

Matilda Van Buren: Jackie Miedema
Gregory Graham: Jordan-Michael Whidbey
Lucinda Marsh: Jane Martin
Gilbert Wiatt: Stephanie Spohrer
Florence Wexler: Patrick J Lucey-Conklin
Dotty Primrose: Jessica Severance
Harry Wexler: Jordan Henderson
Jack Primrose: Robert Lovett
Yes, Devil Boys From Beyond is a parody of 1950's sci-fi pulp fiction B-Movies….fun for the entire gay family!
I'm spent. 2100 words (nearly a third of them NOT copy/pasted!!!) on 7 shows. If you noticed, most of my picks, as noted, can go either way…they might be great or not so great. That's why I picked them. INTERESTING provocative art has to take risks, to go one way or the other. Who wants to see banality?
Boring people like banality.
My readers are not boring people.
Check out some/all of these plays. And, others this month including ACT's "The Royale" and Seattle Shakes' "The Winter's Tale" and Book-It's "A Tale for the Time Being" and Forward Flux Productions and their double header of Sarah Bernstein's "The Summer House" and Chisa Hutchinson's "The Wedding Gift". And, STAGEright's "The Toxic Avenger" and Seattle Public's "On Clover Road" and "Hotel Nordo" at Cafe Nordo and……
(Visited 1 times, 1 visits today)