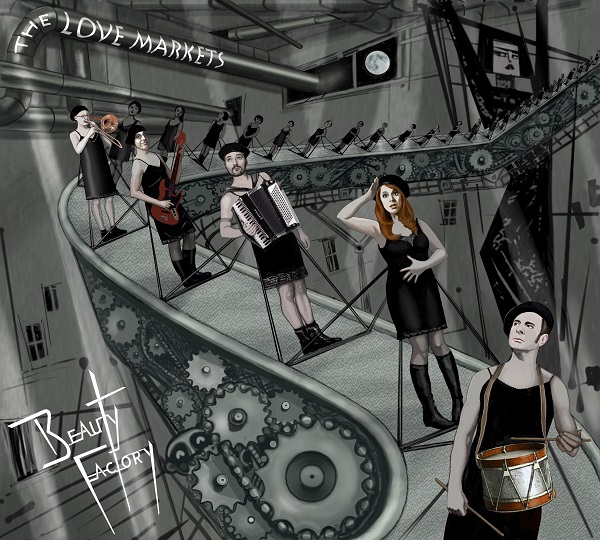 The Love Markets Band's hotly anticipated new recording Beauty Factory is out and after a few listens to the newly released CD I can assure both fans and newcomers to this favorite Seattle band that it definitely does not disappoint.
With lead vocals and all Music and Lyrics by Seattle cabaret and theatre vet Angie Louise, Beauty Factory is a sometimes rousing, sometimes haunting collection of 10 Weimar era inspired songs, sung by Ms. Louise in her best throaty belting style. The opening title song is a perfect inside look at our desires to remodel ourselves. "Discount Sale" is a jaunty sort of "Love for Sale" redone for 2016. "Freedom" matches an unexpected melody with some of Louise's best lyrics ever. "The Bottles Are Blue" is a soothing lullaby for a gal in a late-night dive. "Love on Mardi Gras" is twisted oompah style song of determination to find love in the French Quarter.
"You Could Be Anyone Tonight" is one of my favorite cuts on the album, again thanks to the terrific lyrics. But I can't give it all away. I frequently warm more to The Love Markets songs after repeated listening , so rest assured this new set can and most likely will grow on you. Angie Louise (also at the keyboard) and her bandmates Robertson Witmer (Accordion), David Marriott, Jr. (Trombone), Dave Pascal (Bass Guitar), and Chris Monroe (Drums) are unique among talents In Seattle, and though we should help them spread the word elsewhere, let's keep them here as their home-base!
Beauty Factory is available as a physical CD or a digital download at:
The Love Markets' official website http://www.thelovemarkets.com; CDBaby, a favorite independent music store  http://www.cdbaby.com/cd/thelovemarkets2
Beauty Factory is available as a physical CD or a digital download.
(Visited 6 times, 1 visits today)