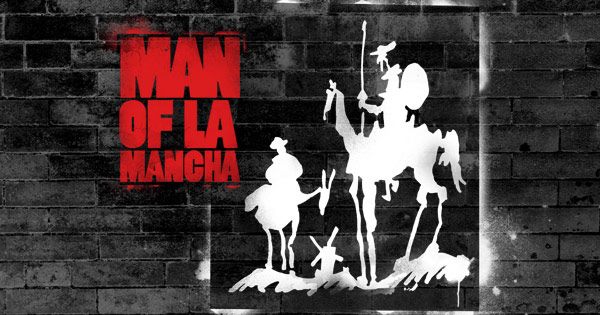 It's one of the best "Mega Musicals" from the Golden Age of Broadway Musicals…and, unlike many of those big shows, MAN OF LA MANCHA has aged rather well. Well, probably some of that is due to the fact it's not as "big" as the mammoths like Hello, Dolly or Fiddler on the Roof. It's really one of the first concept musicals as it gets kinda "meta" in its retelling of Miguel de Cervantes' "Don Quixote", the 17th Century classic tale of the rather deranged (or, is he?) knight, Don Quixote and his faithful servant Sancho Panza and their adventures across Spain.
"La Mancha" has a libretto by Dale Wasserman who only based his book on Cervantes original. Here, the story is set as a play being presented within the musical with Cervantes himself a character on trial during the Spanish Inquisition who proceeds to enact his tales of Don Quixote while he is imprisoned. The clever book and passionate songs by Mitch Leigh (music) and Joe Darion (lyrics) which include the breakout hit, "The Impossible Dream", "Dulcinea" and the title song, "Man of La Mancha" made "La Mancha" a hugely popular critical and commercial hit in its original 1965 Broadway production winning a number of Tony Awards including Best Musical, and even getting a not so good and miscast movie version in 1972 with non-singers Peter O'Toole and Sophia Loren.
For its 2016/2017 season opener, Seattle's acclaimed 5th Avenue Theatre is staging an exciting new production of this American musical theater classic with local director Allison Narver and a starry cast that includes Tony Award nominee NORM LEWIS as Quixote/Cervantes, NOVA PAYTON as love interest Dulcinea/Aldonza and popular Seattle/Broadway actor DON DARRYL RIVERA as the comedic sidekick, Sancho.
The 5th Avenue is offering up a couple of terrific deals to see this beloved musical. One of them, is happening this weekend only! It's their big "Labor Day Sale"…until 11:59 pm on Monday night, September 5th you can save a whopping 50% on tickets to performances the opening week of the production, on October 7, 8, 9, 11, 12 and 13.
This offer is only available online, so find out more and purchase tickets at https://www.5thavenue.org/DREAM .
(A service fee of $9.50 per ticket applies to all orders. Mobile users: Login and use promo code DREAM to redeem. Not valid for P5 seating.)
In addition, there's a second fun opportunity to enjoy Man of La Mancha at the 5th Avenue…with your big gay family! The 5th is hosting an "LGBTQ Night" at the musical on Saturday, October 8 at the 8 pm show. $25 tickets with the promo code " LGBT " ! Go here to grab them and here's some more skinny on this great deal:
Special Offer – LGBTQ+ Night at The 5th: Saturday, October 8, 2016 – 8:00 PM

$25 tickets to Man of La Mancha

Use discount code " LGBT " at checkout to snag this great bargain!

Groups of 10 or more always save more than single ticket purchases. For details, contact our Group Sales team (Chad and Martha) at 888-625-1418 or at cbiesman@5thavenue.org and mention this code.
Tags: LGBTQ Nights, Man of La Mancha, Seattle Discount Theater Tickets, The 5th Avenue Theatre