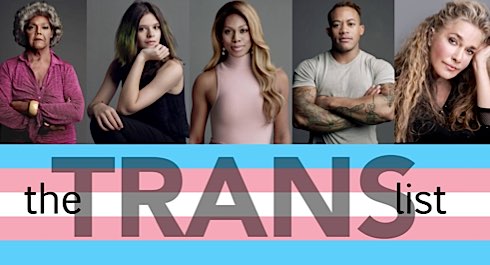 If you're looking for fascinating documentary films on LGBTQ people then you should go snag free passes for a big screening on Wednesday, September 7 at SIFF Cinema Uptown. SIFF is partnering with Three Dollar Bill Cinema's Twist: Seattle Queer Film Festival to present the Seattle premiere of two new HBO documentaries: "The Tran List" and "Mariela Castro's March: Cuba's LGBT Revolution".
It's all part of HBO's 4th Annual Fall Documentary Series and the screening begins at 7 pm on Wednesday, but the free passes do NOT guarantee a seat; get there early to make sure you'll get in to see the films.
Filmmakers Timothy Greenfield-Sanders (The Trans List) and Jon Alpert (Mariela Castro's March), along with The Trans List subject Bamby Salcedo, are scheduled to be in attendance and speak after the screening.
More on the films and screening:

Directed by portrait photographer and filmmaker Timothy Greenfield-Sanders, known for his strikingly intimate portraits of world leaders and major cultural figures, THE TRANS LIST features interviews by trans author and advocate Janet Mock. The film explores the experiences of Americans who identify as transgender, following a diverse group of individuals who address identity, family, career, love, struggle and accomplishment in their own words.

MARIELA CASTRO'S MARCH: CUBA'S LGBT REVOLUTION follows the crusade of Mariela Castro, Raul Castro's daughter (and Fidel Castro's niece), to establish equal rights for LGBT Cubans. It examines the cultural and institutional homophobia that gay men faced throughout much of the Cuban Revolution, when they were often put into work camps. Emmy® winning director Jon Alpert is an investigative journalist with extensive international reporting experience, including several interviews with Fidel Castro.

MARIELA CASTRO'S MARCH: CUBA'S LGBT REVOLUTION will premiere exclusively on HBO and HBO NOW

November 28, 2016

, THE TRANS LIST on

December 5, 2016

.

WHEN:

WEDNESDAY, September 7, 2016

 

8:45 P.M.

– Filmmaker and film subject discussion moderated by Sandy Cioffi, queer filmmaker, teacher and activist

WHERE: SIFF Cinema Uptown

511 Queen Anne Ave N, Seattle

PLEASE NOTE: Seating is first-come, first-served and is not guaranteed. 
Screenings are over-booked by the movie promoter to ensure a full house; the theater is not responsible for overbooking. You will not be admitted without your printed ticket and you will not be seated after the film begins. We do not maintain a wait list for these events.
(Visited 1 times, 1 visits today)