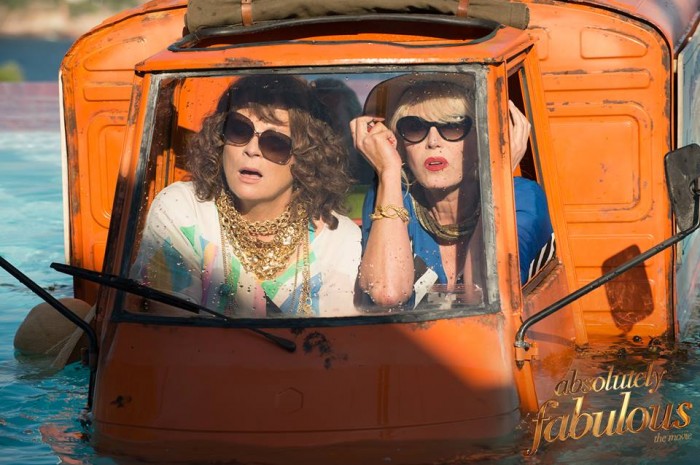 Fox Searchlight had a screening last night (Wednesday) and it officially opens on Friday, July 22nd but SIFF Cinema is sneaking a peek at the highly anticipated ABSOLUTELY FABULOUS: THE MOVIE with public screenings TONIGHT, Thursday, July 21st. Snag tickets HERE!!!
If you come to the 7pm screening tonight they promise:
See the film first and win prizes for the most fabulous outfit, check out our sparking alcoholic drink specials, and puff along with free (candy) cigarettes!
For those of you in the dark or, just never succumbed to the deliciously bitchy/campy antics of British public relations diva Edina Monsoon, her best pal Patsy Stone, and her much put upon friends and family, including her uptight daughter Saffy in the classic 1990s BBC sitcom created by Jennifer Saunders (who plays Edina),  the release of ABFAB:TheMovie is a very big deal. Fans of the series have been clamoring for a big screen version for decades. The show originated in a 1990 sketch on "French & Saunders" the beloved sketch/variety show created by Jennifer Saunders and Dawn French…Saunders thought the premise had potential: A dysfunctionally boozy/druggy/fashion conscious mom coping with a studious, sober, conservative daughter. The series debuted in 1992 (minus Dawn French who was a big old to play Saunders' daughter in a series…) and became a huge hit, especially with LGBTQ audiences who loved the bad behavior of aging party girls Edina and Patsy, the trampy former model and best friend who was added to the series and brilliantly played by former model Joanna Lumley.
AbFab had an additional 2 series of brilliant episodes in 1994 and 1995 with a purported "final" special in 1996. But, Saunders kept on getting lured back to produce new series or specials yearly from 2001 to 2005 then returned again in 2011/12 for a 20th Anniversary series.
And, now all the stars of AbFab return for this new film which apparently centers on Edina accidentally killing real life super model Kate Moss then going on the lam to the South of France.
AbFab: The Movie opens nationally on Friday (but with scattered sneaks tonight). In Seattle, you can check it out at SIFF Cinemas/The Uptown for the next week then it moves to Capitol Hill's SIFF Cinema/The Egyptian. It's also sneaking into cinemas at Bellevue's Lincoln Square, at the AMC South Center and the AMC Alderwood Mall up north, and at Sundance Cinemas in the U-District.
And, reviews are starting to trickle in….the press is giving it mixed reviews. "Fun but stretched" seems to be a consensus, like many TV shows turned into films.
(Visited 1 times, 1 visits today)