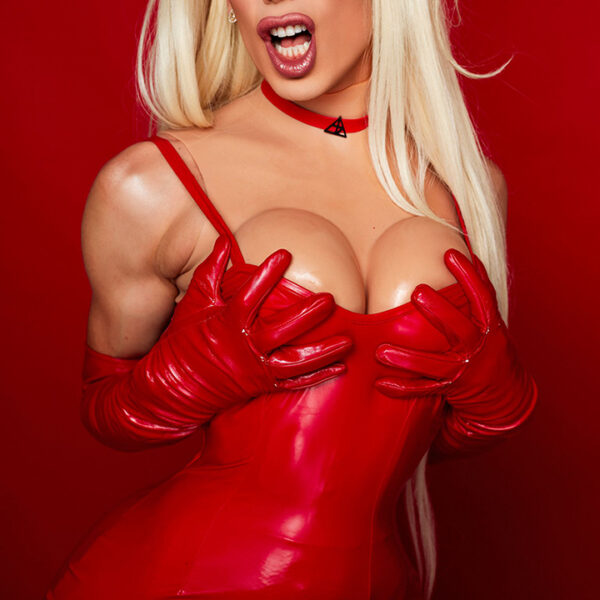 Alaska Thunderfuck's long awaited album, RED 4 FILTH finally dropped after the dreaded Covid-19 delayed its original release and tour. The popular RPDR star has already made a slew of videos in support of the album, including a brand new video of Alaska's cover of Ace of Base's, "All That She Wants" with Seattle based RPDR drag star Bosco!
You can check out that video up above!
AND, Alaska's tour kicks off October 25th in Orlando, Florida…she'll hit Seattle's Neumos on December 13th…you can snag tickets for THAT show at https://www.axs.com/events/411692/alaska-tickets?skin=neumos
More skinny from the press release:
Star of stage, screen, podcast airwaves and beyond, scalding hot drag superstar Alaska Thunderfuck has revealed the official artwork for her Red 4 Filth album. The long-awaited album arrives today September 23 via PEG Records/Warner Music Group/ADA. Pre-Order HERE
Red 4 Filth produced by Ivan and Peter, Jordan Palmer, Stolar & Chester Krupa & Killingsworth finds Alaska continuing to evolve artistically and is an album of addictive pure pop confections harkening back to the 90's and early 2000's ala Britney, Xtina and TLC. Alaska collaborated with a dream team of songwriters (Jay Stolar (Selena Gomez, Demi Lovato), JBACH, Chester Krupa, Skyler Cocco, Jordan Palmer, Andrea Rosario (Aloe Blacc) Jesse Saint John, Nick Laughlin and Ferras) not many other drag performers have attained thus far. "With this album we were heavily referencing the music that made me who I am, and we talk about love and relationships and friendships in a way that I never have before in my music." said Alaska
Billboard Magazine Breaks Down "Red 4 Filth" Track-by-Track HERE
People Magazine premiered the brand new video HERE for Alaska's cover of Ace of Base's, "All That She Wants"

HERE today. The "All That She Wants" video features RuPaul Drag Race fave Bosco and completes the latest in a steady output of tracks released from Red 4 Filth, following "Red," "beautiful (night 4 a) breakdown/without your love," "wow," "XOXOY2K/ask me," "22," "uh," "I Am Her (She Is Me) (feat. Ts Madison)" and "Girlz Night (feat. Stephanie's Child)" that were rolled out over the last year.
"Red 4 Filth" Full Track Listing
beautiful (night 4 a) breakdown
All That She Wants
XOXOY2K
Red
ask me
wow
uh
without your love
22
Girlz Night (feat. Stephanie's Child)
I Am Her (She Is Me) (feat. Ts Madison)
More Than Enough (2 Me)
mmm mmm mmm
Listen To Alaska's Spotify Playlist of Songs That Inspired The New Album – HERE
In addition, the "Red 4 Filth" tour HERE is Alaska's first-ever headlining tour of North America and will feature her performing the entire new album and other fan favorites with a barrage of sickening high fashion backup dancers (2000's pop-star style) as well as feature her signature brand of comedy for a must-see show. Tickets are on sale HERE with prices ranging from $20.00 for early GA & $25.00 for GA ADV to $95.00 for VIP/M&G and $249 for the Ultimate VIP experience.

The tour, which Alaska discusses with Access Hollywood HERE will kick off October 25, 2022 in Orlando, FL with over 30 additional dates throughout the country & Canada, including New York, Chicago, Los Angeles, Philadelphia, Toronto and more. Many shows already sold out. All dates listed below.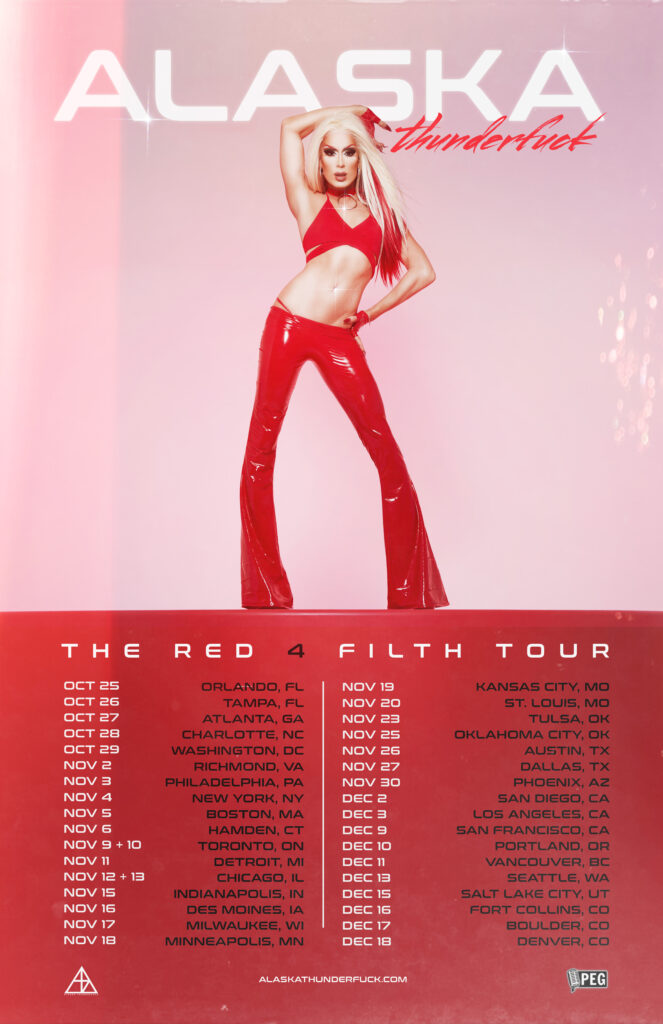 "Call her a performer on the edge—not just in terms of style, but on the brink of ascending to a higher career echelon." – Queerty
Already released from the Red 4 Filth album is Alaska's collab with drag supergroup Stephanie's Child, "Girlz Night" HERE – "Girlz Night" is about that moment of needing to go out with your girls and be hot sluts on the town. The song is a journey from getting ready, to the car ride, to the actual night at the hot sexy club. I love Stephanie's Child so much, and I have for years…so I'm honored to finally have a song with all of these wickedly talented individuals." says Alaska. "It's actually a much sexier and citier queer telling of Sex And The City, but we're all Samantha. Four hot and horny blonde bitches singing about being very young and effortlessly stunning — they ride limos EVERYWHERE, and they never ever pay for drinks, because they don't have any money." said Stephanie's Child's Rosé.
Alaska also had the chance to collab with the legendary Ts Madison on, "I Am Her (She Is Me)." The two discuss the track HERE "Ts Madison is a modern day prophet. Her energy and positivity and outlook on life is contagious. Getting to work with her on this song was such an honor and a privilege. I am her she is me." says Alaska while Ts Madison quips, "From the Moment Alaska inboxed me on Instagram saying she had a music collab that she wanted me a part of, I was extremely ecstatic! It took about a month or so for me to get the actual song and adlibs that were set up for me to do and after listening to the song, I said nah, I wanna do more than this and so I played the track on REPEAT with my music coordinator "KAYNO" and we wrote a cute lil' feature and recorded it in the studio with Alaska. This song speaks to self-confidence and self-empowerment and being proud of who you are and honey. I AM ALL THOSE THINGS!! I am her…she is ME!!
Other tracks released are the 90's/2000's inspired video (directed by Brad Hammer & Nick Laughlin) for "XOXOY2K" HERE and the single HERE backed with "ask me." Alaska coo's about "XOXOY2K"here – "The fashions and accessories of the early 2000s are burned into my psyche because I came of age in the time of low rise jeans and flip phones. This is a love song about attraction and repulsion– all decorated in the mise en scene of the year 2000."
Billboard Magazine –HERE raves – "Remember how much fun early-2000s rave music was? Drag Race all-star Alaska Thunderfuck sure does, and is ready to party down once again as she transports listeners back to the turn of the 21st century with her latest single, "XOXOY2K." This built-for-the-club anthem sees the drag star reveling in the culture of a decade long past, referencing everything from Von Dutch to NSYNC to JNCO jeans, all over a hard-hitting beat that'll have you sprinting to the nearest gay bar to live your best Y2K fantasy."
Red 4 Filth also features "22," a sweet stripped down song with a truly endearing and uplifting message from Alaska which American Songwriter magazine premiered HERE while Alaska's single for "wow."HERE channels all the angsty amped-out rock feels ala Avril, Olivia Rodrigo & Alanis. When asked to describe "wow.", Alaska stated, "It's a breakup song!" See for yourself in this video HERE with Alaska out of drag on guitar (red, of course) backed by the band Disciplez banging out a raw and unfiltered performance.
"beautiful (Night 4 a) breakdown" HERE – which opens the album is filled with all the essential emotional ingredients as Alaska explains, "I live with hysteria, tantrums, and breakdowns on pretty much a daily basis. So this is a beautiful dance anthem that is celebrating the liberating power that you can find by being comfortable and familiar with your inner demons, rather than trying to run from them or hide them." Watch the official video HERE.
"Red,"the first track HERE released from Red 4 Filth was also hailed by Billboard magazine HERE – Alongside being one of RuPaul's Drag Race's biggest stars, Alaska Thunderfuck knows how to put together a banger. Nowhere is that more clear than on "Red," the drag star's stunning new single. The song, which comes off of the star's upcoming album Red 4 Filth, is a thumping electro-pop banger through and through, with Alaska offering some stellar vocals (as well as her signature talk-singing in the song's second verse) to bring home this early-2000s-style bop.
"Red is the color of blood, and the heart, and the color of love. This song and this album are dedicated to the time when I first fell in love with music — around the turning of the century. We're drawing upon the sounds and textures of the 90s and early 2000s, with pop songs that are about love and friendship. I love the music and I can't wait to share it with you all." says Alaska
American Songwriter magazine interview – HERE
Watch All Of Alaska's Videos from the "Red 4 Filth" Album
"Red" – HERE
"beautiful (night 4 a) breakdown"-HERE
"wow." HERE
"XOXOY2K" HERE
"Girlz Night" (feat. Stephanie's Child) – HERE
"All That She Wants" HERE
(Visited 20 times, 1 visits today)