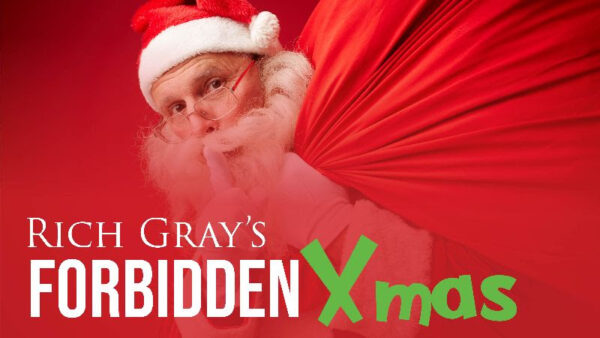 Dontcha love it when beloved shows from the past that ceased production are magically revived to once again make you happy?
Well, that dream is coming true for fans of Seattle actor Rich Gray's "Forbidden Xmas" a delight from many years ago (all the way back to the Gay 90s!!!) that is making a comeback this December in a brand new production from the fine folks at Showtunes.
It's happening on Saturday and Sunday, December 17th and 18th at the Cornish Playhouse at Seattle Center (aka the old Intiman Theater space or, if you're REALLY ancient, the old Seattle Rep space…) Tickets are NOT on sale yet but should be soon.
Rich Gray is, of course, the beloved local actor mostly (but not entirely) known for his work in musical theater over the last, er, few years including his show stopping work in Village Theatre's production of The Producers a few seasons ago.
A bit more skinny from press release:
Showtunes brings back a Seattle holiday tradition.  Rich Gray's Forbidden Xmas is the perfect pairing for the 2022 holiday season in the northwest.  A bit of silly seasonal satire for the whole family.  Make this part of your holiday tradition this year. 

Forbidden Xmas was an annual holiday tradition for many years in Seattle. Written by Seattle's own Rich Gray, this holiday musical parody show is updated to poke fun and celebrate the northwest during the holidays.   It's time to bring this hit back to the northwest with some new songs and sketches as well as some of the favorites from its past productions in the 90s.  Showtunes brings back Forbidden Xmas to life at Cornish Playhouse this December 17 and 18 with an all-star Seattle cast.
(Visited 13 times, 1 visits today)