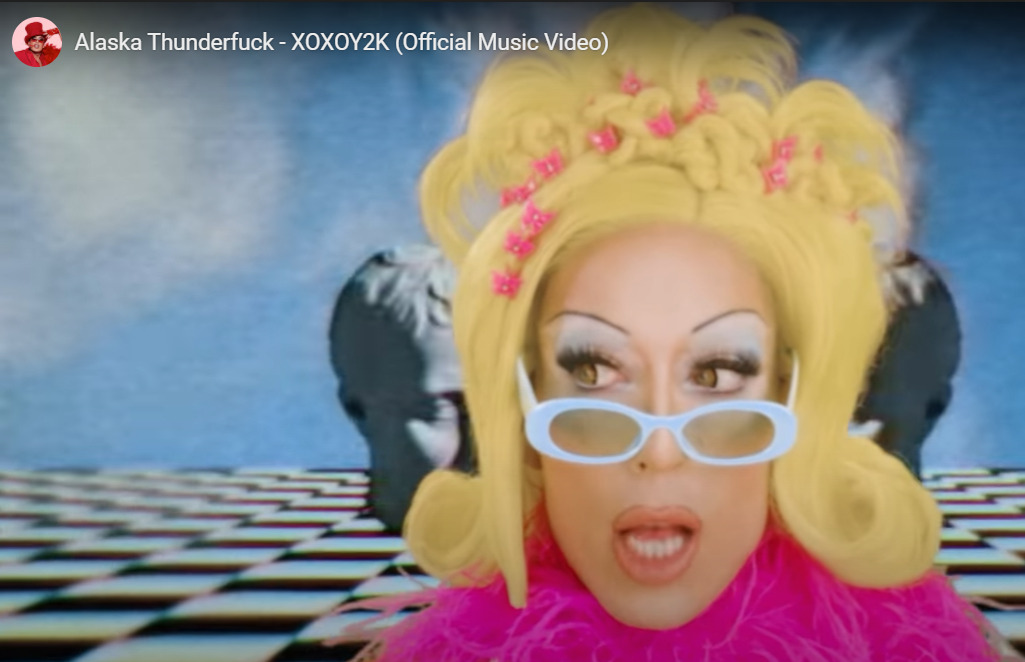 Sigh. Covid-19 stikes again as RuPaul's Drag Race star ALASKA THUNDERFUCK just announced she's moving her upcoming national live music tour, originally scheduled to start Jan 19th in Orlando to the fall of 2022 due to the rising rates of infection with the omicron variant of Covid.
It's annoying but yay for Alaska and her team for moving their tour to keep themselves and their fans healthy!
Alaska's Seattle stop was to happen at Neumos on March 5th . That show will now happen December 13, 2022 and all tickets for the earlier show will be honored. Her stops in Portland, OR and Vancouver, BC have also moved to December dates.
She also has a new video in support of her hit album!
More poo:
Alaska Thunderf**k Reveals "XOXOY2K" Video HERE
Rescheduled Dates Confirmed for First–Ever Headlining North American Tour
Tour Kicks Off October 25, 2022
On Sale Now HERE
Star of stage, screen, podcast airwaves and beyond, scalding hot drag superstar Alaska Thunderfuck has released her 90's/2000's inspired video (directed by Brad Hammer & Nic Laughlin) for "XOXOY2K" HERE and the single HERE backed with "ask me."  Alaska coo's about "XOXOY2K"here – "The fashions and accessories of the early 2000s are burned into my psyche because I came of age in the time of low rise jeans and flip phones.  This is a love song about attraction and repulsion– all decorated in the mise en scene of the year 2000."  The track is from her forthcoming Red 4 Filth album via PEG Records/Warner Music Group/ADA which is slated for release in early 2022.
Billboard Magazine –HERE raves – "Remember how much fun early-2000s rave music was? Drag Race all-star Alaska Thunderfuck sure does, and is ready to party down once again as she transports listeners back to the turn of the 21st century with her latest single, "XOXOY2K." This built-for-the-club anthem sees the drag star reveling in the culture of a decade long past, referencing everything from Von Dutch to NSYNC to JNCO jeans, all over a hard-hitting beat that'll have you sprinting to the nearest gay bar to live your best Y2K fantasy."
The "Red 4 Filth" tour HERE is Alaska's first-ever headlining tour of North America and will feature her performing her entire new album along with other fan favorites with a barrage of sickening high fashion backup dancers (2000's pop-star style) as well as feature her signature brand of comedy for a must-see show. Tickets are on sale HERE  with prices ranging from $20.00 for early GA & $25.00 for GA ADV to $95.00 for VIP/M&G and $249 for the Ultimate VIP experience.
The tour, which Alaska discusses with Access Hollywood HERE previously scheduled to begin next week has been rescheduled due to the recent Omicron variant and will now kick off October 25, 2022 in Orlando, FL with over 30 additional dates throughout the country & Canada, including New York, Chicago (2nd show added), Los Angeles, Philadelphia, Toronto (2nd show added), and more. A full list of revised tour dates and venues listed below. All tickets purchased for the original dates will be honored for the newly rescheduled shows.
Rescheduled Tour Dates – HERE
OCT 25 – ORLANDO, FL – THE ABBEY ORLANDO
OCT 26 – TAMPA, FL – CROWBAR
OCT 27 – ATLANTA, GA – HELL AT MASQUERADE
OCT 28 – CHARLOTTE, NC – NEIGHBORHOOD THEATRE
OCT 29 – WASHINGTON, DC – HOWARD THEATRE
NOV 2 – RICHMOND, VA – CANAL CLUB
NOV 3 – PHILADELPHIA, PA – FOUNDRY AT FILLMORE
NOV 4 – NEW YORK, NY – SONY HALL
NOV 5 – BOSTON, MA – PARADISE
NOV 6 – HAMDEN, CT – SPACE BALLROOM
NOV 9 – TORONTO, ON – LEE'S PALACE – NEW SHOW ADDED
NOV 10 – TORONTO, ON – LEE'S PALACE – SOLD OUT
NOV 11 – DETROIT, MI – MAGIC STICK
NOV 12 – CHICAGO, IL – LINCOLN HALL – SOLD OUT
NOV 13 – CHICAGO, IL – LINCOLN HALL – NEW SHOW ADDED
NOV 15 – INDIANAPOLIS, IN – IRVING THEATRE
NOV 16 – DES MOINES, IA – WOOLY'S
NOV 17 – MILWAUKEE, WI – MIRAMAR THEATRE
NOV 18 – MINNEAPOLIS, MN – STUDIOB
NOV 19 – KANSAS CITY, MO – RECORDBAR
NOV 20 – ST. LOUIS, MO – RED FLAG
NOV 23 – TULSA, OK – VANGUARD
NOV 25 – OKLAHOMA CITY, OK – TOWER THEATRE
NOV 26 – AUSTIN, TX – 3TEN AT ACL LIVE
NOV 27 – DALLAS, TX – TREES
NOV 30 – PHOENIX, AZ – CRESCENT BALLROOM
DEC 2 – SAN DIEGO, CA – HOUSE OF BLUES
DEC 3 – LOS ANGELES, CA – THE REGENT
DEC 9 – SAN FRANCISCO, CA – THE INDEPENDENT
DEC 10 – PORTLAND, OR – HAWTHORNE THEATRE
DEC 11 – VANCOUVER, BC – COMMODORE
DEC 13 – SEATTLE, WA – NEUMOS
DEC 15 – SALT LAKE CITY, UT – SOUNDWELL
DEC 16 – FORT COLLINS, CO – AGGIE THEATRE
DEC 17 – BOULDER, CO – FOX THEATRE
DEC 18 – DENVER, CO – THE BLUEBIRD
(Visited 4 times, 1 visits today)