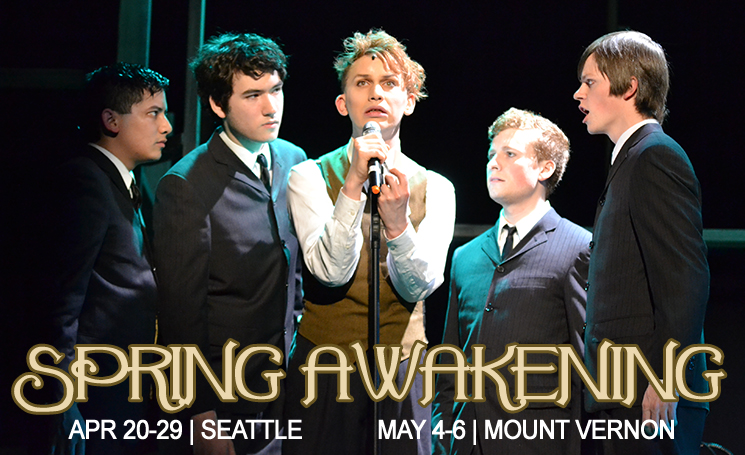 All theater is kinda gay…after all, it's THEATRICAL! We helped invent it! I mean, it's obvious that if the opportunity came up a couple thousand years ago to put on a mask and prance around on a stage, there was gonna be some queer folk involved, amirite? But, this weekend in Seattle, local theater is just a tiny bit more queer than normal with several shows involving queer themes and characters.
Naturally, ALL musical are kinda gay…HELLLLO?! Singing, dancing and prancing on stage in purdy costumes and make-up? GAY! As I've already plugged it, we're not gonna dwell a lot on the road company of the immortal "CATS" playing at The Paramount…you can pop over two posts and read about THAT! And, the 5th Avenue is starting previews of their production of the delightful "Damn Yankees" this weekend…more on that, next week when it opens.
The big gay musical this week is the return of Balagan's very successful production of the hit musical "Spring Awakening" the Tony Award winning charmer about horny, angsty German teens dealing with hormones and intellectual pursuits and adult hypocrisies and all to an amazing pop/Broadway rock score by Duncan Sheikh. It was a huge success in its original run back in January, and it's back for an encore starting on Friday and continuing this weekend and next at the Erickson Theatre on Capitol Hill before traveling to Mount Vernon, WA the first week in May for short run. The show has lost its two leads to other productions but the rest of the cast is back, including crowd favorites Kirsten deLohr Helland and Jerick "Jinkx Monsoon" Hoffer as a lovelorn pair of German misfits. You might recall that I raved over this production in January and while The Seattle Times' Misha Berson also liked the show, she didn't care much for Jerick's "overly flamboyant" interpretation of Moritz and I felt she crossed the homophobic line with her comments and called her on it. (Read all about that hoopla, HERE…) Ironically, Ms Berson's comment that Mr. Hoffer was best suited to rock n roll/draggy musicals like "Hedwig & The Angry Inch" was a bit prophetic; the Balagan has announced that Jerick will star in that musical this fall. But, in the meanwhile, you should really check out "Spring Awakening"…it's a terrific show. Check out a bit of video:
It's not a musical but it's a play…and, it has strong gay themes and content. ReAct Theatre Company opens its 19th season with a powerful production of Chay Yew's ground breaking AIDS themed play from 1995, "A Language of Their Own" which opens April 20th at Richard Hugo House for a four week run. 
ReAct opens Its Nineteenth Season with Chay Yew's Poetic and Provocative Gay
Drama A LANGUAGE OF THEIR OWN Directed by Victor Pappas

Richard Hugo House, April 20 – May 12, 2012: ReAct Theatre, Seattle's only
Multi-ethnic Philanthropic Theatre Company proudly presents a new staging of
the newly revised edition of A LANGUAGE OF THEIR OWN, the award-winning 1995
play about the lives and relationships of four gay men written by Chay Yew and
directed by Victor Pappas. In every relationship, a new language is forged and
this early AIDS play explores the nature of desire, sexuality, race and self
definition. Wonderfully simple yet beautifully complex, A LANGUAGE OF THEIR
OWN looks at the universal aspects of love, particularly how the past can
affect the present in matters of the heart. This presentation contains strong
language, mature themes, adult situations and alternative lifestyles and is
recommended for mature audiences only.
We'll definitely be checking out and reviewing this production…ReAct is a great company and Victor Pappas is one of the best theater directors in the city. It's a must see.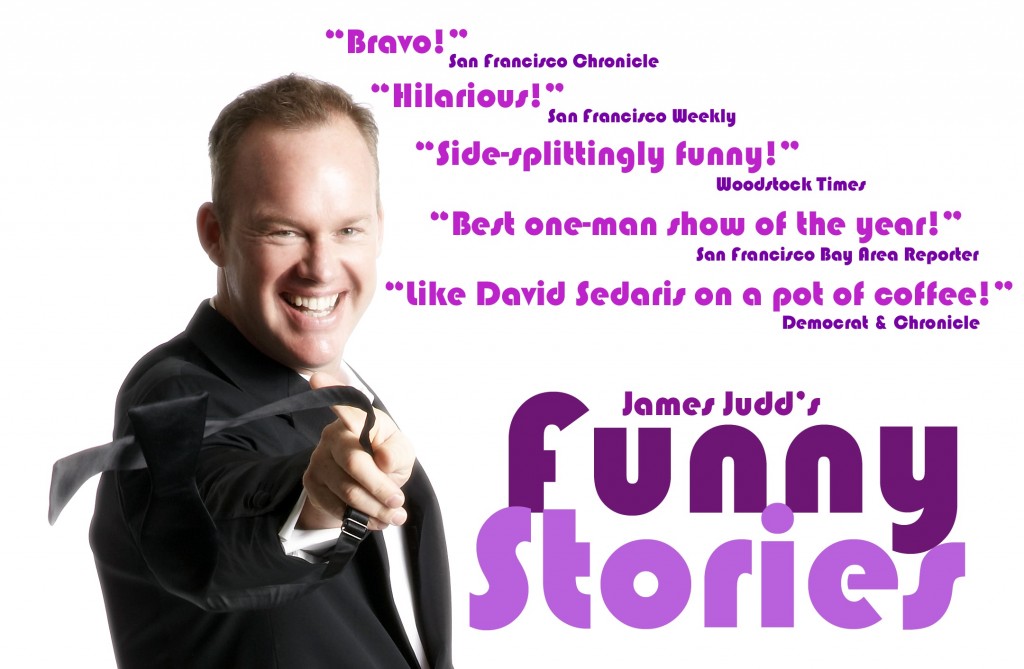 Another potential must see is the one night only presentation of James Judd's "Funny Stories" on Friday, April 20th as part of the annual "Solo Performance Festival" at the Theatre Off Jackson in the I.D. Most of the shows play more than one performance in the festival, but Mr. Judd will be in Seattle for one night only…here's what you can look forward to:
Funny Stories is an hour of autobiographic monologues delivered in Judd's unique, immediate style that draws the audience in to feel like they are experiencing his hilarious foibles are they are unfolding.

The centerpiece of Funny Stories involves an infamous murder case.  In 2003, Dean Faiello, a construction worker posing as a dermatologist fatally injected one of his patients with Lidocaine, stuffed her in a suitcase and buried her in cement in his garage.  After fleeing to Costa Rica, he was caught and extradited back to the U.S., where he is now serving a 20 year sentence in Attica.

Judd was also one of Faiello's victims, and his quasi-obsessive relationship with the fake doctor is fodder for a chilling and dramatic tale.
You can get tickets to "Funny Stories" here; check out the rest of the "SPF" line up HERE.
That's a lot of theater options…for once, you can do something other than drinking in a bar…you can go drink in a theater…most of these venues serve drinkies!
(Visited 1 times, 1 visits today)