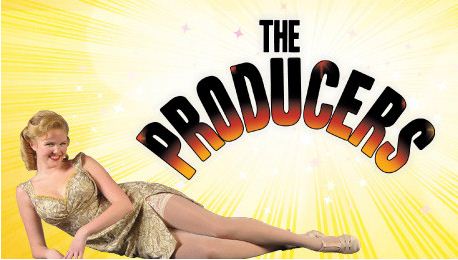 It broke records on Broadway, including grabbing a shelf load of Tony Awards, and toured the country in the road show version, and now the Mel Brooks musical based on his original film, "The Producers" makes its Northwest professional staged debut at Village Theatre in Issaquah beginning this Wednesday, May 9, 2012 and running through July 1st. (And, then the production moves to Everett for a run at the Village's satellite theater, from July 6-July 29.)
Yes, it's "Springtime for Hitler" as the producers, Max Bialystock (Richard Gray) and Leo Bloom (Brian Earp) deliberately try to stage the worst musical in Broadway history with the help of a kooky Swedish secretary (Jessica Skerritt) and a production company that's either flaming or Fascist. Expect large helpings of jokes about big boobed bimbos, horny old ladies, comic Nazis, and characters as gay as Dorothy's picnic basket…FUN for the entire family! (And, with a deliciously talented Seattle cast that also includes Nick DeSantis, Chris Ensweiler and David Anthony Lewis).
Get yo tickets here at the Village website…and, if you're on a budget and flexible, certain performances are available at Goldstar.
(Visited 1 times, 1 visits today)