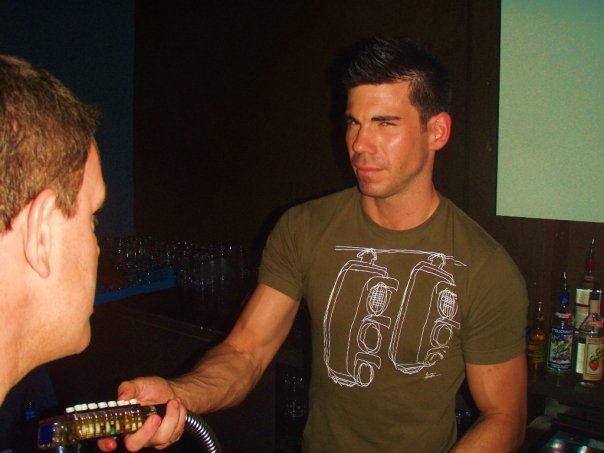 If I had a nickel for every time I head that statement.  "I hate the bars during Pride!"  I would probably not be slinging drinks at all my boys and gals.  It is a fact, the bars will be busy during Pride.  It's a celebration and it has become human nature to drink up.  I can tell you why the bars can be a nightmare during Pride.  There are a couple of things that I have noticed as a bartender during, OMFG, almost twenty years of Pride in 5 major cities. No matter what I say, it will be crowded.  This will just alleviate the frustration a bit.
Pride is a time when our extended gay family comes out to the bars.  This means they know nothing about bar etiquette.  The amateur drinker if you will.  Have your government issued I.D. ready along with the exact cover charge while waiting for entrance to your watering hole of choice. This speeds up the process.  Sure, the line may not be moving because the venue may be at capacity, but this won't be due to your lack of preparations.
One of the first things we were all taught in kindergarten was to stand in a single file line.  It is amazing to me that has been lost over the years.  You all know my bartending style, I don't wait on people in a single file line method.  I wait on anyone who is in front of me at the bar, whether it is at the server station of to my left or right.  Pride is a time when lining up in the server station will guarantee you don't get overlooked.  Bartenders are extremely busy during this time.  I hear from guys, "Oh, I am not a cute, young boy.  He won't wait on me."  That is the most irritating thing to hear.  YOU are the idiot who sees a line at the server station and refuses to stand in it.  Don't expect a bartender, who is busting his ass banging out the 50+ drink orders in front of him to stop and walk over to you to get you a glass of water.  Get in the line during Pride!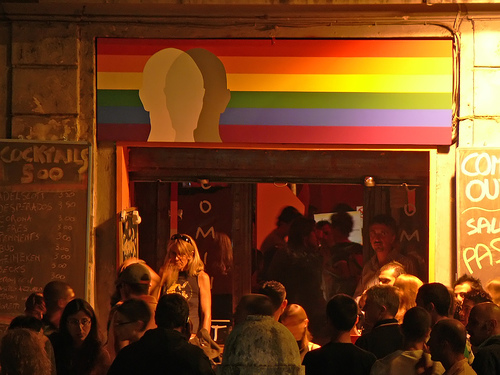 Another thing about the experience that will slow service is how you pay for your cocktail.  The fastest, most efficient way to pay is always cash during Pride.  You should always carry a bit of cash anyway.  I will tell you now, every bar I have worked at during Pride have ATMs that always run out of cash.  Get cash when you are out an about.  If you are like me (from an east coast city where crime is high) you never carry cash.  Then open a tab.  Do NOT close your card out after every purchase.  It is annoying during Pride and slows the process down.  If you use a card, keep it open till you are ready to leave.
I have yet to bare witness to a Pride in Seattle.  I am used to being in cities where it is always sunny and hot during Pride.  There are venues that have recently opened that do not have an active coat check system.  I recommend you bring as few personal items as possible.  Ladies, don't bring bags.  The day after Pride in most places I have worked, look like flea markets with all the stuff left over.  I mean, I love a good flea market, but it is ridiculous.  Carry cash and ID.  That is all you need for Pride.
I have some advice for the bars too.  There are a few things that are frustrating for bartenders.  Managers!  Get enough fives and ones.  Friday, you should get extra from the bank.  Saturday, take your deposit and get all fives and ones for Sunday.  You WILL run out!  Double or triple your liquor order.  Vodkas mainly.  Do NOT run out of liquor.  You have one chance to really capitalize on Pride.
Pride is our major celebration.  It is our holiday.  We all want to have a great experience!  Pride is a time where you can start the day with a lot of nerves and anticipation and end up with true love.  The possibilities are endless.  We, in nightlife, want you to have a happy pride and a safe experience.  We will do our best to lubricate that experience so you can get it all in.
(Visited 1 times, 1 visits today)