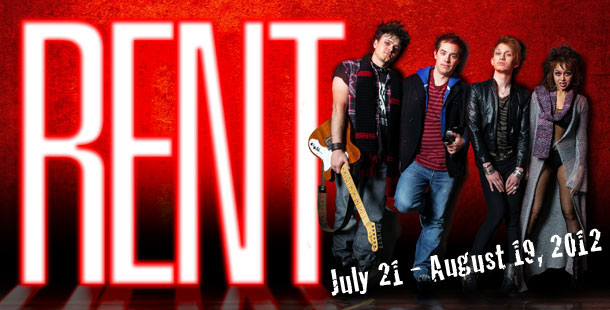 You have a lot less than "five hundred twenty-five thousand six hundred minutes" to enjoy your "season of love" and book your tickets to the 5th Avenue's production of Jonathan Larson's beloved musical "Rent" which premieres tonight (Thursday, July 26) and runs through August 19. In its original run in NYC in 1996 the rock musical earned a multitude of awards and devoted fans, not only for its music and a story based on Puccini's opera La bohème, but due to its subject matter which focused on the turbulent lives of twentysomethings living in the East Village coping with relationships, drug addiction, gentrification, and the onslaught of HIV/AIDS. (The tragic sudden death of Jonathan Larson immediately prior to the show's hugely triumphant off-Broadway opening also added to the mystery and mythos of the show's success.)
The 5th Avenue is bringing "Rent" to its gorgeous rococo theater, with direction by Bill Berry and choreography by Daniel Cruz and featuring a line-up of young and upcoming local talent including Daniel Berryman as Mark, Aaron C. Finley as Roger, Naomi Morgan as Mimi and making his 5th Avenue debut, Capitol Hill's own Jerick Hoffer, aka Jinkx Monsoon as Angel. (We also have a video interview in the works with Mr. Hoffer and the lovely Ryan Nixon who plays Maureen.) We're guessing that a lot of fans of Ms Monsoon's drag chanteuse work at LeFaux and other gay venues on the Hill will be surprised to see this side of the actor/performer.  (Doesn't surprise us, though…we've seen the little minx do Shakespeare and Brecht…)
(It also behooves us to point out that the 5th Avenue has graciously donated a gift basket to our huge Seattle Gay Scene 5th Anniversary Party happening Saturday, July 28th at The Grill on Broadway and featuring an enormous show of very talented performers and benefiting Gay City Health Project and Rise 'n' Shine. Their gift includes a $60 gift certificate to see the show and a signed poster from the cast! )
Tickets for "Rent" are available at the 5th Avenue website. And, to encourage the under 30 crowd, "Rent" has a special deal for Rush tickets:
$20 Rush Tickets

We are excited to offer $20 rush seats to RENT for our patrons 30 years of age and under, including onstage and pit seating! The onstage seating is limited to patrons 16-30 years of age.

How to get them:

Visit the 5th's Box Office beginning at 12 noon for that day's performance(s)
1 ticket per ID
Limited Availability. $20 cash only.
We're checking out the opening tonight…we're also wondering how some audience members will react to the rather surprising and possibly controversial casting in this production. For audiences accustomed to a "Rent" cast with great ethnic diversity, this rather…uh….fair skinned production might shock a few devoted fans. We're guessing that the enormous talent of the cast and crew will override these concerns, but the discussion could get…interesting.
To be continued.
(Visited 1 times, 1 visits today)