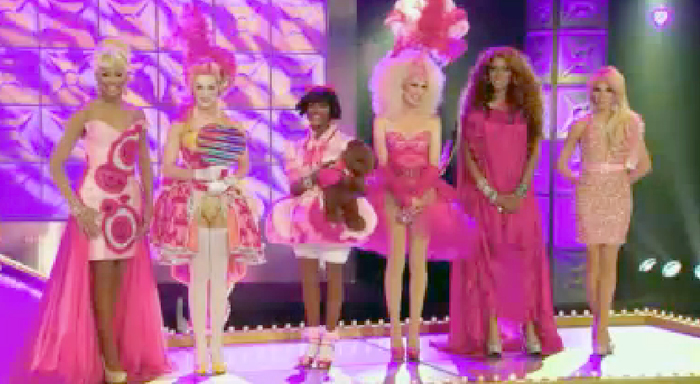 Spoilers Ahead! Proceed with caution! Last week, we saw the long overdue departure of Miss Serena, and Monica Beverly Hills sliding by… On to week 3! 
And about a hot minute into the episode, we get back into the Miss Gay America nonsense between Coco Montrese and Alyssa Edwards. Immediate shade begins, and maybe we'll finally get to the bottom of all the drama between the…. YAAAAWWWWNNN. Pageants are boring, and old, and no one cares. Next. 
Next day starts, and Roxxxy hopes for no more group challenges. Sorry, my dear, it's WAY too early in the season to not have them. The mini-challenge kicks in, and contestants pair themselves up to drag out child-size mannequins (already creepy) and make them into wee pageant contestants a la Toddlers and Tiaras. What's more tedious and annoying than a pageant? A pageant with children… at least these children are made out of canvas and wood.
Mini-Challengers are presented. Starting with Detox playing Rachel Zoe with Roxxxy as her partner, serving a miniature fashionista with wind-slapped hair, and far too much chunky jewelry for a toddler. A statement necklace under the age of 10 is just not done. Jinkx and Jade's wee contestant looks like Phyllis Diller fucked a square dancer, and popped out this red creature with kinda fabulous black hair. Ivy and Vivenne have a supremely busted pageant progeny named Watermelon… 'nuff said. Alyssa and Honey are sending down trailer park realness. Alaska and Lineysha create a contestant that looks for all the world like Grumpy Cat wearing Mimi Imfurst makeup named Lil Pound Cake. Monica and Coco create a giant bore, with an opportunity for Coco to throw shade at Alyssa – seriously, producers, we get it. Coco and Alyssa have bad history… we just don't care. The winner is declared – Lil Pound Cake, earning Alaska and Lineysha the right to lead teams in the elimination challenge.
Teams are drawn up, and the last two chosen are Alyssa and Jade. In an effort to NOT have Alyssa on Coco's team, she's chosen last.  Elimination Challenge? To create a children's TV show, loaded with double entendre and trashy jokes – natch. Coco is being cast as a ventriloquist's dummy, which she immediately takes exception to. She's a HEADLINER, after all, and how could she possibly play the role of a dummy! Um, by putting on your big girl panties and dealing with it for the sake of your team? Just a thought. And of course, we get a preview of Coco and Alyssa settling their differences… did you know they don't like each other? If not, don't worry. You'll be reminded on a regular basis. AND then disturbing Avenue Q commercial with the especially butch Ernie puppet. Do Not Like.
Back to the workroom – teams are working hard on their shows. I really think Alaska's trying some shit out, and subconsciously (or not) throwing some Alyssa under the bus. Ru visits to offer advice on writing their show and creating their bits. They're still a little lost… but when your secret word is "Box", you can bet they'll keep it wholesome. On to Team Lineysha, Jinkx is taking over the hosting duties (good call Lineysha!), with Honey and Coco doing the ventriloquist act with a "social lesson" about always telling the T.
And, we're on to the shooting portion of their kid shows. Alaska has chosen an Ed Grimley/Pee Wee Herman-esque boy character, with Detox playing a chicken (vaguely reminiscent of Raven in a previous season…) cracking many a box-based pun. On to Roxxxy dressed in FAR too much stretch sequin nonsense, affecting a voice that could only be described as post-dental surgery meets sibilant "S" making salad tossing jokes with Vivienne. Viv doesn't really seem to know what she's supposed to be doing… bad script perhaps? And Alyssa playing the cross dressing uncle is really funny, but Monica is taking a massive shit. She can't remember her lines although they're pasted into the prop book she's reading… Alaska realizes the shit show that's about to emerge.
On to Team Lineysha. This is SO Jinkx's challenge! Sadly, Jade doesn't meet Jinkx's comedy skill, and has no sense of comedic timing. Lineysha also has no sense of comedy, and even mistranslates the cherries. Or perhaps she's never seen a maraschino cherry? Then Coco and Honey doing the ventriloquist portion of the show. Coco also has no idea what comic timing is, but Honey is serving Manila Luzon face so hard I nearly fall off the couch laughing at her face.
Jinkx shares a really sweet story of her grandmother's support in the dragly arts, showing us an enormous pink wig that's kind of to die for – a gift from her grandmother. That's one amazing grandma, y'all! Immediately we're taken from the sweet moment, into more Coco and Alyssa mishegas. Seriously, pageants are boring, and this bit of manufactured drama is just dull. Sounds like Alyssa is having trouble accepting responsibility for some mistake she made to lose the Miss Gay America crown, and Coco is playing it like she's the victim of this scandale. But let me clarify for those who haven't heard… NO ONE CARES! Miss Gay America? I have a World's Greatest Grandpa coffee mug that carries more political clout with it when it was awarded to me by the clerk at Value Village in exchange for 50 cents. Can we move on?
I guess not. Because there's gonna be a showdown between these two. Basically it's an argument about who was the biggest victim. Yawn. Next…
Oh yay! Runway! At least this will be fun!
Rupaul is wearing what I think is an Acid Green organza hallucination, but is supposed to be lemony yellow? Can we talk about lighting that stage? Or color correction? Guest judges are Paulina Porizkova, and someone called Coco who loves tea. Or something. I don't care.
AND runway! Pink is the theme. The margin for error just opened to Grand Canyon proportions…
Alaska looks amazing, Monica looks like she's on her way to prom in Brazil. Alyssa serves it hard – and looks good doing it. Vivienne! What are you doing? Boring boring boring! It's a little too ballerina cutesy. Detox in mesh, and Roxxxy in a "mullet" dress. Lineysha's outfit looks like two different ideas happening at the same time, Jinkx in a salute to the excesses of pre-revolution France. Coco serving "pure baby doll fish"… kinda not cute. Ivy as pure Vegas showgirl. Honey can do better than this! Pink bed sheet couture, and stomping down the runway on heels of hate. Jade's dress doesn't fit her properly.
Watching their kid shows is a little painful – Alaska as "Buffalo Bill" would have been better off with a "Silence of the Lambs" flourish – can you serve psycho-killer realness? Oh wait, it's done all the time. The salad tossing segment is cute, but odd. Alyssa as cross dressing "uncle dick" is really funny, but Monica is… way off her game… ugh.
Jinkx as Princess Pinklips is hilarious, but some of her teammates seem to be having trouble finding their way. Lineysha is relying on physical "humor" that never elevates beyond 3rd grade level, Coco and Honey's ventriloquist act is PAINFUL to watch…  cutting back to judging panel, we get a look at a clearly uncomfortable group who've just seen what we did, and they're diplomatic, at best, in their stoic reactions. Lineysha is safe only by virtue of her immunity from last week. Here goes adjudication!
Alaska gets some love for her runway look, but is called out for playing a boy. Paulina calls Vivienne out for being boring – ugh, that doesn't bode well. Detox gets props for her chicken lady and her runway look. Michelle gives Jinkx some serious praise, referring to her as her team's North Star – meaning "they'd be lost without you"… very true, Miss Visage, but I think that might have just painted a target on our dear Jinkx's back! Coco gets called out for being bad this week, and she starts giving excuses, and Ru pretty much just says buck up princess!
Looks like it's Jinkx or Detox for the win. Jinkx's team was a bit of dead weight for her, so it's Detox's win. Monica and Coco Montrese go on to lip-sync for their metaphorical lives, but only after RuPaul gives Vivienne a stern warning – step it up girl! You too good for this.
Coco's performed like her life was on the line, and Monica turned into a pointer sister. Needless to say, Coco Montrese handed Monica Beverly Hillz her ass, and sent her on her way. Monica's got other issues to deal with. Maybe by Season 7 or 8, Monica will be back with a vengeance. Or not. Whatever.
There's still some of those "first third" contestants to slough off… what's the fastest way to get rid of them? A double or triple elimination? Chase them out with good taste? I guess we'll find out next week…
(Visited 13 times, 1 visits today)