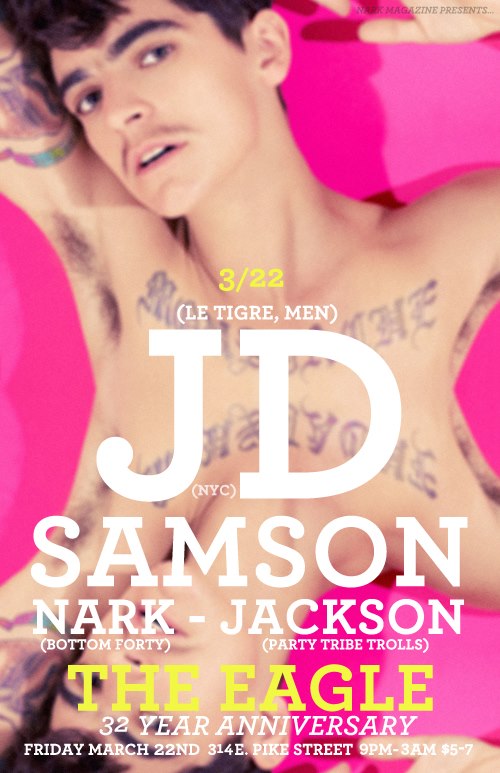 32 is the PRIME of life, and The Seattle Eagle is ready to celebrate the sexiest of birfdays with a big bash this Friday, March 22, 2013 from 9pm to 3am and it's being put together by DJ Nark who's bringing in a big name to get the party rolling. The gender bending dj/singer/musician/ producer/performer JD Samson, whose credentials include work in two major musical groups: MEN, and Le Tigre, both among the premier leaders in the Queer Music movement, will be jetting in to the Emerald City for the celebration.
JD Samson has been DJing internationally since 2001 and has found her way through many different scenes and genres. Whether she is playing at a cavernous nightclub, a museum, the beach, or a dive bar, JD focuses on "creating spaces for rad people to dance and smile and hold each other." JD is an innovative, crowd-pleasing DJ and can swing as many ways as she wants to make an amazing night.

Throughout the years, JD has been photographed and featured in a near-endless stream of magazines, publications and fine art projects, as an androgynous sex symbol and "icon of nerdy-cool" (New York Times). Most recently, JD was photographed for a seven page spread in Vogue Hommes International, profiled by Interview Magazine and wrote a widely-quoted piece on the economics of being an artist for The Huffington Post.

She is, in short, one of the most engaging and forward-thinking DJ/producer/singer/activists working today. As her influence continues to grow her music and perspective ripples ever outward.

↓↓↓SUPPORT FROM↓↓↓

*NARK (Bottom Forty) and *JACKSON (Party Tribe Trolls)

Photography by NARK MAGAZINE, jello shots served up icy fresh and fuzzball monkey business in the gogo cage, BE THERE.

FRIDAY 3.22
9PM-3AM
THE EAGLE (314 E. Pike Street)
21+ w/ID
Some Eagle purists might sniff at the presence of JD Samson…facial hair and manly demeanor be damned, she's still a woman, but she's also a queer music legend. And, besides…the handful of old skool, lady hating homo types out there can learn to cope..t's only one night and you can easily go back to your manly, stinky, typical Eagle shenanigans in the dark corners of the bar…nothing JD hasn't seen a thousand times before in a thousand different bars and night clubs.
And, JD Samson's boyish scruff fits in perfect with your average Eagle customer…in fact, JD is far butcher and cuter than some of them.
Tags: anniversary party, Birfdays, JD Samson, The Seattle Eagle