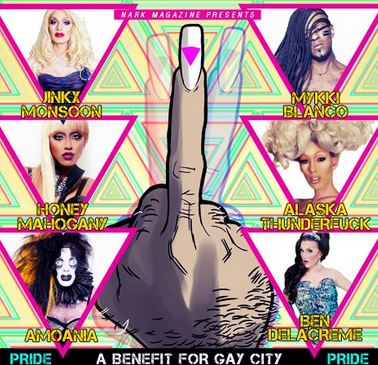 There's been a change of plans…Nark Magazine's big "Gender Blender" event for Pride Friday, June 28, 2013 is having a venue change. The event formerly known as "Hey Tranny It's Tranny" had a name change earlier this year when the line-up was announced; it's DJ Nark's (aka Kevin Kauer) way of being respectful to the transgender community…some trans folks have an issue with the use of the word "tranny". The big, big roster of talent includes our own RPDR superstar Jinkx Monsoon and her co-stars Alaska Thunderfuck and Honey Mahogany, plus NYC drag star/performance artist/singer Mykki Blanco, Amoania, The Ladies of "Tuck" and The Haus of Ladydude, plus DJ's  Roy G Biv, Mister Charming, and Hoot N' Howl. The event was supposed to be at Q, but that fell through, and it's now going to be at Neighbours…who are undoubtedly excited about the influx of a new crowd of glitteriffic gay hipsters to their venerable and newly remodeled club.
It's a benefit for Gay City Health Project AND for Rusty Nails/Siobhan the performance artist/community member from Olympia who lost her leg in a hit and run accident last month…two great causes!
You can get tickets over here…VIP gets you a meet and greet with the stars!
But, that's not all Mr. Nark has planned for you…he's also throwing a fun Cruise party on Saturday afternoon, June 29th called "Men at Sea" (though women are welcome, too). Here's the skinny:
Hang on to your jock strap (or someone elses…), the epic daytime boat party returns! Join us on The Islander Champagne Cruises for a afternoon out on the water, cruising all around Seattle and dancing in the sunshine. Flashing innocent families on nearby boats is highly recommended.

A free brunch is provided by-
-THE KITCHEN SINK PROJECT
http://www.kitchensinkproject.com/

Main floor and Sun deck DJs…
-BRIAN MAIER (SF)
Tanning that fur and providing the beats out on the sun deck

-FREDDY KING OF PANTS
Keeps it moving on the main floor

Champagne / Mimosa specials provided by The Islander

WHERE:
The Islander Boat
Docked at 1611 Fairview Ave E.
Boarding / Brunching begins at 2:30pm
Cruise 3pm-7pm

TICKETS:
$25
(limited space, get advance tix!)
It all wraps up that night (Saturday the 29th) with "Queer Carnival" at Fred Wildlife Refuge with very special guest I-VEE WIN-TUUUURS, (Ivy Winters) from "RuPaul's Drag Race Season Five". Ivy is a trained circus performer so she'll have all SORTS of tricks up her sleeve…but will Ivy and Jinkx have time to explore their crush? It's a joint event with TROUBLE so it's "THE STRANGER APPROVED" so all sorts of hiphep cats will be there. Here's the poo on this event:
Grab a booze buffer after the boat party and make your way up to FRED Wildlife Refuge for a night of circus tricks and party tricks and cheap tricks, a burlesque affair surely full of strippers, aerialists and knives, in conjunction with Trouble Disco and The Stranger. Insane visuals in this party box provided by Luxe Collective.

STUNTS AND TRIX BY:
-IVY WINTERS (RPDR Season 5)
Ivy busts out all the surprises here with knife juggling, stilt walking and who knows what, just don't push her or get in the way of those blades.

PERFORMANCES BY:
-ARTSTAR, CHERDONNA SHINATRA & CHER CHER, CAN CAN CASTAWAYS

Two Rooms of Tunes by:
-TROUBLE, JUSTICE & TREASURE, FUTUREWIFE AND NARK

VISUALS:
-LUXE COLLECTIVE

WHERE:
FRED Wildlife Refuge
127 Boylston Ave E
9pm-2am

TICKETS:
$20
You can buy individual tickets for each of the three events, OR, a pass for EVERYTHING! There are a limited number of passes and you have the option of the $69 pass which gets you into everything, and the $110 VIP Pass gets you into everything plus the Meet n Greet at "Gender Blender".
That sounds like a lot of $$ but Pride is expensive…it's actually a pretty good deal for that much entertainment especially if you like funky drag queens and edgier glitter bombed entertainment.
(Visited 2 times, 1 visits today)