So much SHITTY news today…here's something pleasant to think about.
Jinkx Monsoon is in the final three of RuPaul's Drag Race Season Five along with the fabulous Alaska Thunderfuck and the awful Roxxxy Andrews. And, just like last year, the winner will be announced/crowned at the Finale/Reunion show on Logo on Monday, May 6, 2013. But, RuPaul is looking for help in deciding who she will crown…also like last year, she's taking the audience's consideration into her final decision, the reason why fan favorite Sharon Needles won last year. You need to make your Jinkx choice known over on the Facebook page, or Twitter account, or Tumblr or Instagram page for RuPaul's Drag Race.  GO TEAM MONSOON SEASON!!!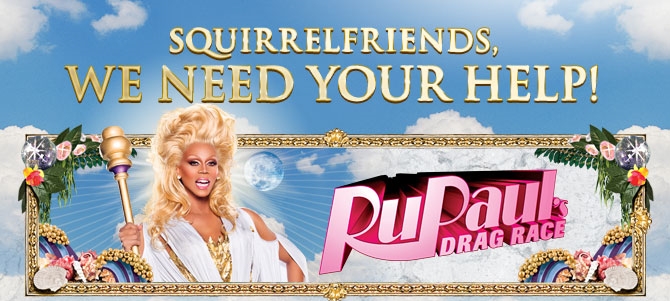 In other Jinkxalicious News, the 5th Avenue Theater just very happily announced that Jinkx, aka actor Jerick Hoffer will be returning to the gorgeous theater for a very special performance from June 20-23, 2013 as the 5th Avenue teams up with the Seattle Men's Chorus for "Hairspray: The 10th Anniversary Concert" celebrating the very special birfday of the hit Broadway musical that originated in Seattle. Local fans of Jinkx/Jerick will remember that he starred there last year as Angel in their production of "Rent". Here's all the breathless poo you need to know via the press release:
WHAT:     In 2002, Hairspray was the first world premiere musical to leave The 5th Avenue Theatre and head for Broadway.  It won the Tony Award for Best Musical and launched the Theatre's unprecedented track record for sending new works to New York.  Now 10 seasons later, The 5th collaborates with one of the world's largest and most respected choruses, the Seattle Men's Chorus. Together they will bring this special concert presentation of Hairspray, with all its glorious, irreverent, John Waters-inspired wackiness, back to the 5th Avenue stage for six very special performances.

WHO:        Accompanied by a full orchestra, the show's principle roles will be sung by some of Seattle's favorite musical theater stars including Jerick Hoffer, best known as his drag superstar alter ego Jinkx Monsoon, who takes a turn as Velma Von Tussle.  This all-star cast also features Kirsten DeLohr Helland, Aaron Finley,Allen Fitzpatrick, Louis Hobson, Bobbi Kotula, and Jessica Skerritt, with Kat Ramsburg as Tracy Turnblad. Additional casting will be announced in May.  More than 200 Seattle Men's Chorus members will perform the ensemble roles, singing Hairspray favorites "Good Morning Baltimore," "Welcome to the '60s," and "You Can't Stop the Beat" and more, as only the Seattle Men's Chorus can.  Hairspray In Concert will be directed by 5th Avenue Executive Producer and Artistic Director David Armstrong, with musical direction by Seattle Men's Chorus Artistic Director Dennis Coleman.

WHEN:  6 Performances Only! June 20-23, 2013

8 PM, Thursday, June 20

8 PM Friday, June 21

2 PM and 8 PM, Saturday, June 22

2 PM and 7:30 PM, Sunday June 23                  

WHERE:   The 5th Avenue Theatre (1308 5th Avenue, Seattle, WA 98101) 

TICKETS:      Tickets (starting at $23) may be purchased through either organization.
So much fun…Miss Monsoon belting out "Miss Baltimore Crabs"!!!
Go vote for Jinkx and go grab some TICKETS!
(Visited 21 times, 1 visits today)