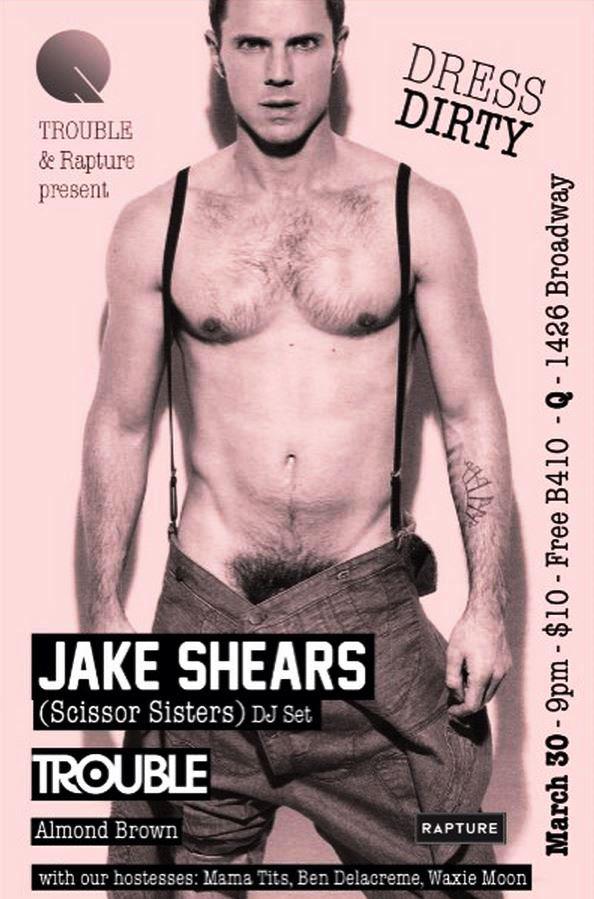 Yes, it was just a week ago that Jake Shears was bopping around the Hill, visiting Tuck at Chop Suey, and lounging in Dan & Terry's breakfast nook eating Jimmy Dean sausage links, and djing at Q. If you missed any of the Shears related fun, you don't have to fret…you can still grab a piece of the Scissor Sister front man. The brainiacs at Q wisely snagged Mr. Shears to autograph a couple of the full sized posters of the event, featuring some very sexy images of Jake and they're going to raffle them off to benefit Lifelong AIDS Alliance!
You can start buying raffle tickets tonight at Q for $2 and continue doing so every night until April 14 when they will announce the winner on their Facebook page! Here's more info from Q:
For starters, we are raffling off these two Jake Shears posters (that were SIGNED by the man himself). We will be selling $2 raffle tickets until the drawing on 4/14. TONIGHT Mama Tits will be in the house slinging tickets. Find her or one of our friendly staff members and get your tickets tonight. ALL the proceeds go to the Lifelong Aids Alliance. www.llaa.org/

-Tickets will be available every night we are open until the drawing. Ask one of the awesome staff members at the door or at the coat check to get yours! No limit to how many tickets you buy. You do not have to be present for the drawing. You do however need to keep your ticket for validation. No exceptions on this. We will post winning ticket here on Facebook 4/14.

GOOD LUCK! 😉
Tonight at Q, in addition to Mama Tits slinging…tickets (and, wish the ole gal, a Happy Birfday…she turned 57 earlier this week!!!!) you can enjoy RAPTURE with resident DJ Almond Brown plus special guest DJ Nick Bertossi. It's free admission until 10pm, then $10 after and the club is open to 4am and remember it's 18+ after 2am.
Also noted: Nick Bertossi is HAWT!
(Visited 7 times, 1 visits today)