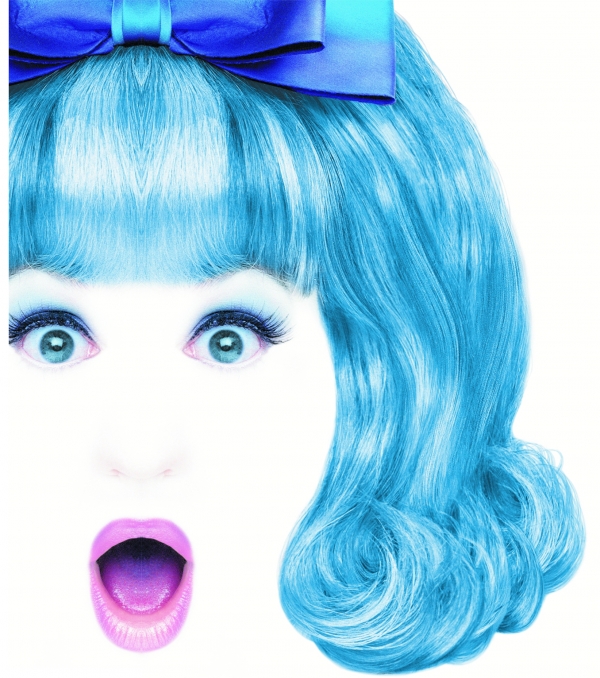 Review: "Hairspray" (in Concert) Music by Marc Shaiman. Lyrics by Scott Wittman & Marc Shaiman. Book by Mark O' Donnell & Thomas Meehan, based on the film script by John Waters. Produced by The 5th Avenue Theatre & Seattle Men's Chorus. Directed by David Armstrong. Music Direction by Dennis Coleman. Choreography by Troy L. Wageman & Nathan Wilson. With Eric Polani Jensen, Kat Ramsburg, Allen Fitzpatrick, Cynthia Jones, Jessica Skerritt, Aaron C. Finley, Louis Hobson, Kirsten deLohr Helland, Heath Saunders, Jeff Steitzer, Bobbi Kotula, Camille Collaco with Jerick Hoffer and The Seattle Men's Chorus. Now through Sunday, June 23, 2013 at The 5th Avenue.
The announcement that the 5th Avenue Theatre and the Seattle Men's Chorus were going to team up for the Chorus's big annual June concert didn't really surprise anyone…it seemed like a good match. They have a lot in common after all…a love of Broadway show tunes and enormous amounts of homosexual men in their companies. It's like when Bollinger met Stolichnaya…two delicious treats that go together so very well.
To add icing to that cocktail, the 5th and SMC decided to collaborate on a staged concert of the hit Broadway musical that got its start in Seattle 11 years ago: the Tony Award winning "Hairspray" based on the film of the same name by John Waters. Again, a no-brainer. Beloved musical with a cross dressing leading character paired with the talented armies of homosexuals (and a token heterosexual or two) on the staffs at the 5th and SMC and you have yourselves a winning package of awesomeness. Make things even gayer and more fabulous by hiring a ridiculously talented line-up of local musical theater actors to play all the main roles AND cast the brand new winner of RuPaul's Drag Race Season 5 in a role normally played by a woman, and you should have the recipe for a show that could run from now until Gay Pride 2014 AND win you a GLAAD Award or two.
But, this year's show is also quite a departure for the Seattle Men's Chorus. Normally, SMC's shows feature a theme, a relatively simple through line of plot, and some clever musical numbers that alternate between funny/sweet/sad depending on that show's theme. Throw in some comedy hijinks from the Chorus's naughty little smaller performance group, Captain Smartypants, and you have yourselves a show. Yes, it takes hard work and planning to create such a show, but there's a lot of wriggle room. It's a variety show type of performance, with a little bit of this and a little bit of that.
But, the 5th and SMC were really ambitious. They decided to DO the entire musical of "Hairspray"…yes, it's in concert…the set is minimal; the lighting design isn't complex; there aren't many props and the direction is kept pretty simple. Most of the actors have their scripts, which some use quite a bit, and others hardly at all. But, they're also doing the ENTIRE show…every line of dialogue and every song is being presented on stage. All the actors are in costume with appropriate hair & make-up and there is a considerable amount of choreography. This is a big show, with 13 primary actors, 15 chorus members and the entire SMC onstage. And, the show only started rehearsing last week, with some actors not available until this week. That's a lot of show to put together in a short period of time, and a lot of effort for a "concert". It's ambitiously daunting.
It's also hugely successful. SMC & The 5th Avenue have done a terrific job of crafting a theatrical experience that is a hell of a lot more than having a few actors and a chorus stand in front of a microphone and present "The Best of Hairspray In Concert!" It's a fully realized and actualized production with all the elements in place. All the actors and singers are in character and giving fully formed performances. Yes, the staging is very simple and the actors have scripts and there's an occasional line fumble/desperate page turning moment or two, but that only adds to the charm of the show. "Hairspray in Concert is witty, pretty, candy coated fun…and, a sheer joy to experience. It would be very difficult to NOT have a good time experiencing it.
It's aided by the exceptionally strong cast, who despite a very short period of rehearsal, manage to create professional and expert performances. Kat Ramsburg is adorable as our plucky heroine Tracy Turnblad and fully commands the stage. She's equally matched by Aaron C. Finley as her heartthrob Link; Kirsten deLohr Helland as best friend, Penny Pingleton, Heath Saunders as Seaweed, Penny's new beau and the powerhouse pixie charms of Camille Collaco as Seaweed's little sister, Inez. The kids are alright in "Hairspray".
The adults are fine, too, with scene stealing work from Bobbi Kotula and Jeff Steitzer in a trio of roles each, and Cynthia Jones bringing down the house as Motormouth Mabel. Louis Hobson's adorably swarmy Corny Collins had the most obvious line fumble of the night, but he charmingly recovered and moved on. Allen Fitzpatrick seems incapable of a bad performance; his jokey turn as Tracy's dad manages to be both actually funny and endearing at the same time.
The other "big" role in "Hairspray" belongs to the actor playing Tracy's mom, Edna, a scene stealing and cross dressing role always played by a man, and a role that has in turn belonged to some actors with pretty big shoes…Divine in the original Waters' film (Brilliant); Harvey Fierstein on Broadway (Hysterically gruff), and John Travolta in the film version of the musical (Peculiar, but oddly endearing in an awful sort of way). Eric Polani Jensen seemed a little nervous and tentative in attempting to fill those shoes, in his earliest scenes in the show. The actor didn't seem fully committed and there wasn't much effort to create a fully realized character…his portrayal of Edna didn't seem appropriately matronly, or maternal, and the humor was missing from the performance; he was just a dude in a dress. But, Mr. Jensen eventually warmed to the role, and his Edna gradually began to take shape, and as the actor got laughs, the comedic aspects of the performance began to bloom. The romantic duet between Mr. Jensen's Edna and Mr. Fitzpatrick's Wilbur was one of the charmers of the evening.
Finally, we come to the villains, and both Jessica Skerritt's scheming Amber Von Tussle and Jerick Hoffer's equally scheming mother, Velma Von Tussle are appropriately blond, bigoted and bitchy, and both actors are willing to chew every inch of available scenery to get their comedic viewpoint across. Ms Skerritt is the actress that other musical theater actresses must envy…she's gorgeous and capable of playing musical theater leading ladies and ingenues, but she also has the excellent comedy chops and chutzpah to tackle the clowns and villains. She's ridiculously good here.
Mr. Hoffer has already proven to us, he can do no wrong…he is, after all, Seattle and America's Next Drag Superstar. While Velma is not traditionally cast with a male actor, it seems only natural that the mother/daughter showdowns that play such an important part of "Hairspray" should also extend to the casting. The teenaged heroine's mother is played by a man; it only makes sense that the teenaged villainess's mother could be played by one, as well. And, it's not a huge stretch for Mr. Hoffer; his character of Jinkx Monsoon is supposed to be a 40something single mother and while Velma is a wee bit better heeled, they are both cut from the some bolt of crazy maternal cloth. It's a gloriously over the top performance that the audience loved, one part Jackie Kennedy, one part Betty Draper (from "Mad Men"), one part the Grinch, and maybe just a little bit of Mr. Burns from "The Simpsons". Physically, I'm convinced that Mr. Hoffer stole a wig from good friend and fellow drag performer, Robbie Turner…I'm pretty sure I've seen Miss Turner wear that exact same wig at some bar event, but it could just be that Tony Award winning wig designer Gerard James Kelly knows a good drag wig when he sees one.
So, kudos to the 5th Avenue and Seattle Men's Chorus for pulling this off…it's a big show but I hope it leads to further collaborations of a similar nature. Some might argue that the Chorus didn't really have that much to do; they sang back up on several of the numbers. But, the power of the Chorus did add emotional and comedic weight to those scenes. And, judging by comments I've seen on Facebook, the Chorus apparently had a hell of a good time singing those songs on stage. Audiences for "Hairspray in Concert" will have a hell of a good time experiencing those performances.
The heart of the show belongs to Tracy's parents, Edna and Wilbur Turnblad
(Visited 3 times, 1 visits today)