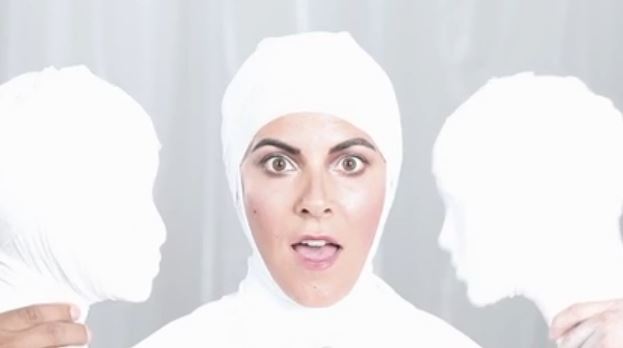 Hi Fashion brings their high energy, multi-layered performance to the Mural Stage as they headline Seattle PrideFest 2013 on Sunday, June 30 along with Kristine W., God-Dess & She and Mary Lambert, among many others.  Jen DM and Rick Gradone have been making all kinds of moves in the last couple years and have become somewhat of an underground sensation with several high profile remixes, and their highly artistic presentation.  I recently had some time to Q & A with both of the brains behind Hi Fashion.  Read on to see what they have to say about their start, their impending album, and what they plan for Seattle PrideFest.
*****************************************************************
L.A. Kendall:  I love the story of how you guys met.  Totally brilliant!  Do you think it was fated?  I know that sounds cliché, but it certainly seems like it!
Hi Fashion:  I think it was totally fated, it's hard to find people that you can be creative AND productive with. Usually work relationships seem to fall short in one of those areas, but we seem to be able to do both together. We are just really happy this is all happening! And then certainly the right people come to you at the right time in life. We both truly believe that.
LAK:  Your shows are more than live music, but living art, which is amazing and inspirational, which I know from years in this business, can be a lot of work.  How do you keep things fresh?
HF:  WE REALLY PUSH OURSELVES! And we work nonstop. We know that funding these things ourselves makes it hard to put new music out all the time, so we focus on creating very different shows to keep our fans coming back and totally excited. It's a lot of work, but it's what makes this all really exciting. Plus WE GET BORED FAST, so we gotta change it up as often as possible.
LAK:  You've been working on your 2nd EP…what can your fans expect in this new work?
HF:  The new ep YOU ARE GORGEOUS has some totally new directions in it that we are so excited about!!! There are more house and R&B inspirations and we got the chance to work on two of the tracks with the amazing producer Kevin Seaton which really brought a new sound into our game. The first track LIGHTHOUSE is very different for us…strings and drama and really heartfelt lyrics. We wanted to expand our horizons artistically on this one. But there are also a bunch of dance-y, crazy, funny tracks, too. This was a breakup album, so it tracks the loss all the way to finding your fun self again. We are really proud of how it came together.
LAK:  This EP was fully funded by Kickstarter, correct?  How does that feel, to have that kind of support?  Over $25,000 and no major label strings?  Must be so liberating!
HF:  It was totally overwhelming to reach our goal on Kickstarter. We hustled everyday for it but the payoff was enormous and it is incredible to know we have that much support for what we are doing! We are working on new videos as we speak and for the record release, we will be able to release a video the same day for LIGHTHOUSE, directed by Nina McNeely, which is just mind boggling. Can't wait for everyone to see it! So it feels like we are working at the level of people who have labels without actually having one at the moment.
LAK:  When do you expect the EP to drop, and how will fans be able to purchase?
HF:  YOU ARE GORGEOUS releases Wednesday, July 17, 2013 and it will be available on iTunes!
LAK:  One of the things that has kind of endeared you guys to me is your sense of humor.  One of my favorite Hi Fashion moments from your Kickstarter, and this is silly, but it's true, is the little Captain and Tenille DM video you did.  Gave me a good chuckle though.  Do you guys consciously strive to bring humor into your art?
HF:  I don't think we would know how to do it WITHOUT humor. No matter what is happening, we make each other laugh. ALWAYS. It is the most cherished trait of our relationship I think so it's hard to imagine working without humor. Not to mention, laughing is just SO GOOD. We would rather be laughing than doing just about anything except maybe dancing so why not include it in art?
LAK:  Let's talk about your name: Hi Fashion.  How did you guys come to be known as Hi Fashion?
HF: THE NAME!!! It's been a bit of an epic progression with the name. There is a store in Los Angeles called "HI FASHION $5.99" and we both thought that was so hilarious that it was our first name for the project. The idea that anyone could buy high fashion for $5.99 seemed so punk and hilarious we jumped on it immediately. But shortly after, a manager friend said he could never remember the price. We upped it at one point to $9.99 because of an astrologer…hahaha! But, finally we realized all the comedy is in the name HI FASHION in the first place, along with all the punky fabulousness, too. So it kind of hits all the different things we love at the same time.
LAK:  What are your thoughts on the state of queer art and culture?
HF:  This world we live in is changing so fast and queer art and culture is no different. New levels of visibility, acceptance, and celebration have led to new voices and definitions. It's such an exciting time to be alive and identify as queer. That can mean so many things now, and there are so many ways to find your people no matter who they are. And there is so much room to grow and become something else now, too. We both feel really positive about it all. We are both obsessed with the transgender world and how it is growing and finding different voices, amazed at how older people who have lived their whole lives one way are now coming out and identifying themselves in queer culture, and we get emotional when we see baby queers enter the world with totally accepting loving parents and a future in which they never really have to "come out"-they can just be who they are and find love and acceptance.  It feels like the world is getting fuller and bigger and more nuanced everyday in its understanding of queer culture. We hope that by just being visible, we are adding to that in some way, showing one great productive way you can live your life. 
LAK:  I follow you guys on Facebook and noticed that you were especially supportive of Seattle's most recent superstar and Rupaul's Drag Race champion, Jinkx Monsoon. Are you just fans, or super supportive friends of Jinkx?
HF:  We LOVE Jinkx! And we first learned about her genius because she performs our track AMAZING! All the time! Jinkx is super smart, super funny, and has been so supportive and we are huge fans. She was insanely kind to offer the incentives she did for our Kickstarter.  As you can imagine, they were one of the first things people jumped on. We can't wait to meet her in person!
LAK:  If you were to give me three words to prepare Seattle PrideFest for your upcoming, headlining performance on the Mural Stage, what would they be?
HF:  ER    MAH    GERD!
*****************************************************
There you have it folks!  Sounds like Hi Fashion is about to turn Seattle OUT.  Don't miss their performance on the Mural Stage at Seattle PrideFest, Sunday June 30, 2013.
More on Hi Fashion: https://www.facebook.com/pages/Hi-Fashion
More on DJ LA Kendall:  https://www.facebook.com/pages/DJ-LA-Kendall
Tags: Hi-Fashion, L.A. Kendall, Seattle PrideFest, sgsapp