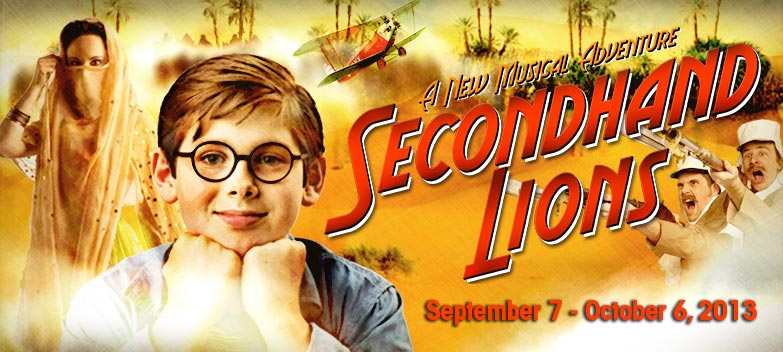 Continuing the inside look behind the making of the new musical Secondhand Lions as it develops at The 5th Avenue Theatre, SGS talks to music and lyric writers Michael Weiner and Alan Zachary about what a song is supposed to accomplish in a musical. (Check out Part 1 of the interview, here. )Martin Charnin, another Broadway musical writer, is adamant that a song should substitute for four to six pages of dialogue and often should include emotions that are difficult for the character to express in speech. What do Alan Zachary and Michael Weiner think a song should do?
Michael says, "In terms what songs do in shows for us, songs moving the story forward is one. The other (accomplishment) is opening up a window into a character's emotional life, making their emotions more effective in a song. An example in our show is a song in the beginning. The mom sings The Fort Worth College of Court Reporting song. (Note: The song tells how the mother is dropping off her son in order to go to court reporting school to better their chances in life.) You could do that in a (spoken) scene and drop Walter off and leave him (with uncles he doesn't know). But somehow her desperation and her need to unload this boy and do what she needs to do is more insistent with music…and raises the stakes.
"It heightens the drama. So the song accomplishes a couple things: it forwards the story, it reveals her relationship with her son or lack thereof, her needs, and heightens the stakes of the show because the song has a lot of words, so it gives the effect of someone desperate like a used car salesman, the tone of the song becomes a reflection of the desperation."
Alan agrees, "It's conveying necessary information and also her emotions in the story at that point." Michael continues, "Other songs may not necessarily move a story forward, but you learn a lot about what a character wants."
Alan says, "Walter's song at the beginning of the show is called Just Right and it fulfills a lot of song moments you'll see in a lot of shows that a character expresses a lot of wants and needs that will play out over the course of the story. And it's a very low moment for him, being dropped off with great uncles he's never met." Michael adds, "What's important is that it allows the audience to be on his side and root for him to get what he wants during the rest of the show."
All the writers, Michael and Alan and the book writer, Rupert Holmes (a man with a deep history of musical theater successes, such as Curtains and The Mystery of Edwin Drood), work on multiple musicals at the same time. We talked about making it up whole cloth (for instance, First Date) or adapting material (like this movie).
Michael thinks that each format has its own challenges. "With an original story you have no road map (for things like) what's the point of the story, what's the reason for it to be on stage, is this too much, too little, there're a lot of different things to ask and you can go anywhere. With a movie you have a little bit of a road map but part of the concern is how much you have to be beholden to your material and the expectations people have of seeing that film on stage.
"But then you want to offer new surprises that they can't watch any night on dvd. You want to demonstrate why it would work to put this on stage in the first place. We talk about 'production value' all the time: are you getting your money's worth. Do you really care and get emotionally invested into the characters? If you are, then people are getting their money's worth. It's something we worked really hard with Secondhand Lions that this is an unlikely family coming together and … they … save each other's lives. That's the emotional production value."
Rupert agrees and tells the story of when he first saw the movie. "About half way through, I thought, 'This could be a better stage musical than a film.' Not to denigrate the film," he laughs. "Everyone who has a film thinks it could be a musical. And if you do make a musical of it, it becomes a souvenir of your favorite moments from the movie. But I thought, 'This feels like the basis of something that could be grown into a funny and moving musical that could stand completely as tall as its counterpart and entirely of itself.' I got very excited at that."
One aspect that easily makes the musical different from the movie is that movie flashback scenes were like silent movies, with no character backstory. Rupert felt that he could make that whole world up from scratch. "We could invent this entire world. I don't know how the sultan sounds. I don't know what the hero says. Who is this princess? There're no beloved lines in this part. And (also) we don't get to hear very much about the boy Walter's feelings. He has no one to talk to. (There's no narrator track.)
"So my collaborators and I — I'm one third of the writers — can have this boy tell us what he's feeling. And he can be articulate about it. He's been alone a long time and he's gotten very good at talking to himself. Also, the two great uncles can talk about how they feel like they're becoming irrelevant to the world. It's a terrible thing to be a hero and have great adventures and then people don't know you won the battle of.
"And Garth (an uncle) suddenly has someone to tell stories to (Walter) who could use some entertaining. So the question becomes: is he telling a true story or is he telling a bedtime story like parents do all the time? I could feel when we were done (creating the musical) that it would be our story."
Part 3 of this series will continue with "What Previews Are For", as we enter the second weekend of previews. Tickets are available at The 5th Avenue Theatre website. Secondhand Lions runs now through October 6, 2013.
(Visited 11 times, 1 visits today)