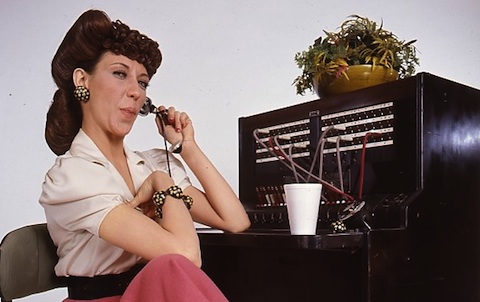 The 5th Avenue's big, fat juicy ad has been floating over to your right for the last few weeks (Bless our delicious sponsors! Click those ads!) but just in case it's become wallpaper to you, a gentle persuasive reminder that Our Beloved Lady of All That Is Hallow and Hilarious, the Divine Dame LILY TOMLIN returns to the Asiatic excess of the 5th Avenue Theatre for TWO big shows on June 6 and 7, 2014. Lady Tomlin visits us frequently; she was at the 5th a couple years back but she's not here too frequently so it behooves you to strike while tickets are still available. They haven't sold out, but tickets for both shows are getting very picked over…DO NOT DAWDLE!
In case you're an idiot and live under a rock and need MORE convincing, here's some lovely press release rhetoric to convince you to go!!!
Get ready for an unforgettable night of fun and sidesplitting laughter. Lily Tomlin, the writer/comedienne/actress/show business legend will return to The 5th for two performances only.  "Lily Tomlin just may be the eighth wonder of the world!" raves USA Today.

This unique comic artist takes her audience on what the Washington Post calls a "wise and howlingly funny" trip with more than a dozen of her timeless characters – from Ernestine the Phone Lady and Mrs. Beasley to Edith Ann – in a show that celebrates her decades-long career in film, TV and theater. "Tomlin is amazing" says The New York Times.  The New Yorker calls her "as always, a revelation."

"With astounding skill and energy, Tomlin zaps through the channels like a human remote control.  Using a fantastic range of voices, gestures and movements, she conjures up the cast of characters with all the apparent ease of a magician pulling a whole menagerie of animals from a single hat," says the New York  Daily News.  She has "made the one-person show the daring, irreverent art form it is today," adds Newsweek. 

Tomlin's long list of awards includes a Grammy; 2 Tonys; 6 Emmys; an Oscar nomination; 2 Peabodys; and the prestigious Mark Twain Prize for American Humor. Don't miss this exceptional show — a warm and uniquely affecting experience packed with comical insights and wildly witty observations about the human condition — performed by one of the world's consummate talents.
And, "that's the truth"…..
Tags: Lily Tomlin, sgsapp, The 5th Avenue Theatre