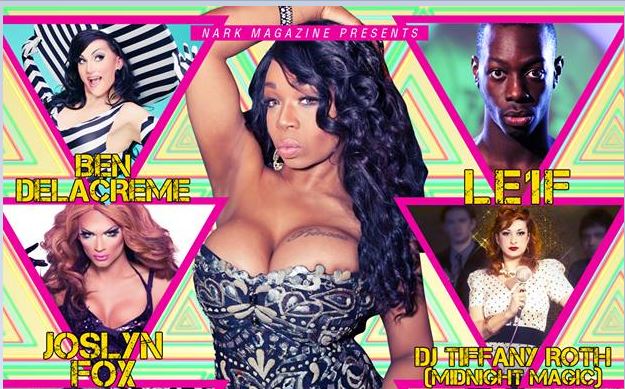 If you're a queer kid in Seattle, you know that Kevin Kauer/DJ Nark brings the best talent and the best parties to the Emerald City. He has a whole arsenal of shitshows planned for Seattle Pride 2014, but today we will be focusing on his annual fancy feast, "GENDER BLENDER". Last year, it made the move to Neighbours Nightclub (which is quickly rebranding itself as the go-to place for drag everything) and the place was packed harder than DonnaTella Howe's boxy hips.
This year, the Hostess with the Mostess will be BenDeLaCreme, Seattle's adorable creampuff that was viciously robbed during her recent stint on the sixth season of "RuPaul's Drag Race". Joining her in the hostly duties over the VIP section will be none other than Tiffany 'New York' Pollard, who was last seen on a string of trashy Vh1 reality shows, cementing her as the HBIC of all HBICs in the herstory of the Universe.
If that hasn't gagged you more than the trick you blew after DICKSLAP, the two bodacious beauties will be accompanied by a list of entertainers than will make you wanna queef: Joslyn Fox of RPDR6, LE1F, Purple Crush, Boy Funk & Rap Girl, Amoania, Mama Tits, Cherdonna Shinatra, Ade, DieAna Dae + Cherry Sur Bete & Olivia LaGarce of the Haus of LadyDude. …phew, that's not all! DJing for you will be Tiffany Roth, Riff-Raff and my personal favorite, Roy G Biv.
"Now Heather, how much is this fuckery going to cost me?" Proceeds from the event will be donated to Gay City Health Project and The Gender Justice League. $30 General Admission donation will get you in the door, but a $70 VIP admission donation will get you: upstairs with New York, meet 'n greet with Ben & Joslyn + a photo with them and two Absolut complimentary cocktails. You can even get a cutesy portrait done of yourself by Michael Horwitz! If you're 18+, you can wait until after hours at 2AM for $18.
Make sure you look the part, though! Photos will be snapped all over the place by Nark Magazine's incredibly talented photogs, Rachel Robinson and Keith Johnson, with Steven Didis videotaping the whole affair… so, don't you dare go all Solange Knowles on a poor innocent twink! Finally, if you'd like to beat the rush and prefer to simplify yo' life, just buy a weekend pass to the full line-up of Nark Magazine Seattle Pride Weekend events: http://www.strangertickets.com/events/14066768/nark-magazine-pride-festival-weekend-passes. (Psssst….we'll be posting about ALL of them soon!)
C Y A THURR!
Tags: BenDeLaCreme, Gender Blender, Joslyn Fox, NARK Magazine, New York/Tiffany Pollard, seattle pride, Seattle Pride 2014, sgsapp