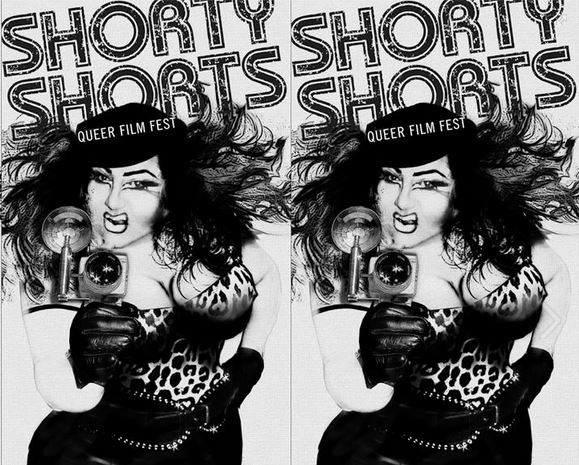 We're VERY excited about a film festival happening this week!
No, we're not referring to SIFF which opens this Thursday (though, that IS exciting, of course…)
We're talking about the Shorty Shorts Queer Film Festival, a Portland based project that's traveling around and screening in various cities..it's popping by The Rendezvous in Belltown (2322 2nd Avenue) this Saturday, May 17 and they've sent us some info about this fascinating queer film party. You can ALSO win tickets to a screening…follow the instructions at the end of the post!
More:
Shorty Shorts Queer Film Fest hits Seattle this weekend with your host Gula Delgatto. Shorty Shorts was dreamt up a little over 4 years ago, with the idea that anyone could make a short film 10 minutes or less and have it shown on the big screen. Regardless if you owned a fancy HD camera or just a simple cell phone we wanted everyone to have the opportunity to show their work and ideas. We here at Shorty Shorts are so grateful for your support and contributions. You the filmmakers are the backbone of this festival. Without your incredible talent and drive Shorty Shorts would not be possible.

Shorty Shorts has started its summer long tour! Our second stop is the beautiful city of Seattle…. We will be bringing the best of the best from the past three years of the festival.

Shorty Shorts Seattle will be held at the Jewelbox Theatre at Rendezvous. WE HAVE NOW ADDED A SECOND SHOWING!!!

Saturday May 17th
Matinee show
Doors at 4:00pm
Show at 4:30pm

Second Show
Saturday May 17th
Doors will open at 6:30pm
Show starts at 7pm

Tickets only: $10.00
Our friends at Qulture Qreative have a couple pairs of tickets to give away to a few lucky winners! The first two people to go to their Facebook page and leave a comment explaining why they'd like to go to Shorty Shorts this Saturday will be put on the list!
Qulture Qreative Facebook Page:
https://www.facebook.com/qultureqreativeusa
Tags: Qulture Qreative, sgsapp, Shorty Shorts Queer Film Festival, The Rendezvous