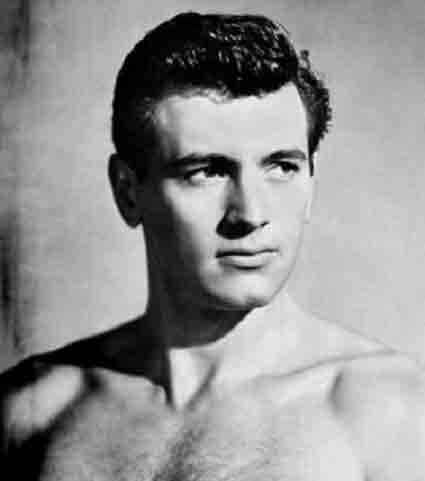 Every year the folks at the Seattle Art Museum pay tribute to Pride Month with an appropriately themed film series. This year, they honor that deliciously sexy male queer icon Mr. Rock Hudson by screening two of his most popular films, both romantic dramas and both directed by the iconic director of 50s weepy melodramas, Douglas Sirk. First up, the deliciously melodramatic/bordering on the campy WRITTEN ON THE WIND about a Texas oil family and their soap opera lives, which also stars Lauren Bacall, Robert Stack and in an Oscar winning, over the top performance that you gotta see to believe, Miss Dorothy Malone as an out of control, spoiled heiress who vamps her father to death. The movie features lush cinematography and a gorgeous score that matches the larger than life story and performances.
Written on the Wind screens tonight at SAM's Plestcheeff Auditorum at 7:30 pm. Grab tickets HERE. 
The second film in the series is the even weepier, All That Heaven Allows. And, if the following synopsis sounds familiar, it's because it was "homaged" by Todd Haynes for the 2002 film, Far From Heaven with Julianne Moore….
In All That Heaven Allows (1955), a respectable widow (Jane Wyman) defies her snobbish children and community by pursuing her feelings for Thoreau-like gardener Rock Hudson. In 35 mm, 89 min.
"Heaven" screens Friday, June 13th at the Plestcheeff/SAM. For fans of "Endora" it also features the divine Agnes Moorehead in a supporting role. Tickets HERE.
More on the films and the series:
In mid-century movies, Rock Hudson was the ideal of American masculinity: unshakable as his name, strong and resolute, but with a tender sensitivity and gentle voice. In the stifling conformity of the Eisenhower era, Hudson used his intelligence and wit to conceal the fact that he was gay. Before dying of AIDS in 1985 at the age of sixty, Hudson heroically told the world, "This is who I am," putting a familiar, beloved face on the terrible disease.

We honor Pride Month with two of Hudson's best, most resonant films, both directed by expatriate German Douglas Sirk, who nurtured the actor's creative growth and whom Hudson considered to be a father figure. Sirk's abiding theme is the social alienation and spiritual vacancy of wealthy America, which he expresses with lush, seductive style.

The fever dream Written on the Wind (1956) sizzles with emotional tension as the spoiled, decadent offspring (Robert Stack, Dorothy Malone) of a Texas oil family fall in love, and lust, with outsiders Rock Hudson and Lauren Bacall. In 35 mm, 99 min.

FILMS IN THIS SERIES INCLUDE:

June 11: Written on the Wind
June 13: All that Heaven Allows

Series tickets may be purchased online, at the Ticketing Desk at any of SAM's three sites, or over the phone with a credit card by calling the SAM Box Office at 206.654.3121.

A limited number of single-film tickets may be available on a first-come, first-served basis the day of the show, at 7:25 pm, at the auditorium entrance for $8 (cash/check only).
Sigh. Rock was sooooooooo dreamy. And, an alleged power top with big ….box office.
Tags: All That Heaven Allows, Douglas Sirk, Pride Month, Rock Hudson, SAM, Seattle Art Museum, sgsapp, The Films of Rock Hudson, Written on the Wind