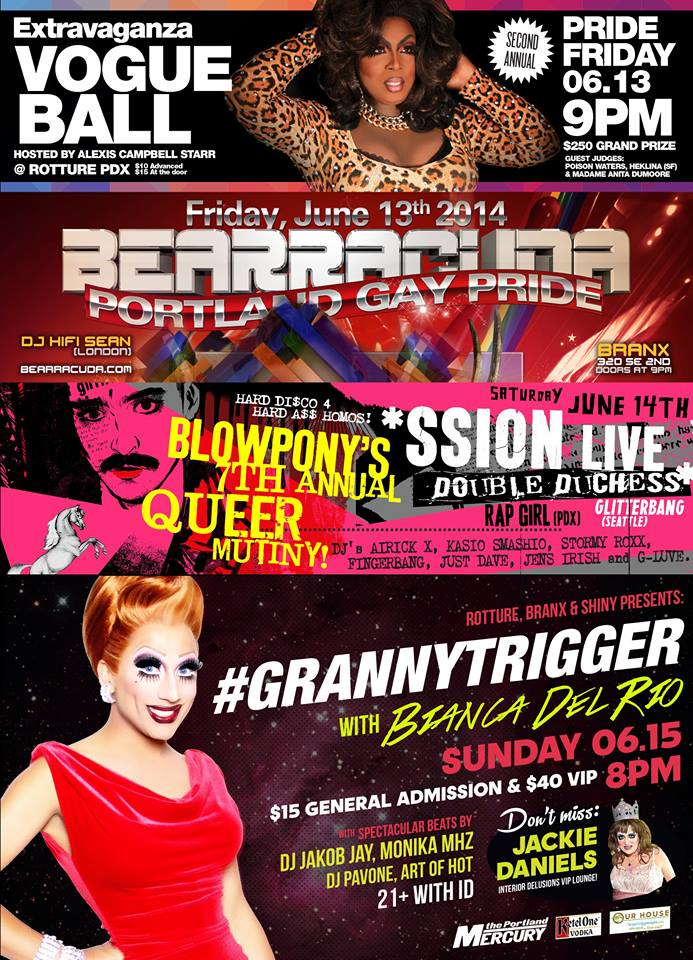 Most people know Portland by their "Voodoo Doughnuts," their plethora of strip clubs for any occasion, and the raaall kewt views of nature, and such as. Well, at least that's what I say when I describe the fabled Rose City to virgin travelers. It has an estimated population of more than 580,000 people and you can guarantee that there's a whole lotta queers prancing around the streets wearing tie-dye, musk and bird tatts.
I have never been to any Pride festivities in Portland, but I've heard that it's a damn good time, and there's so many to choose from. This year, Kevin Kauer is taking me on a magical carpet ride to a shit ton of places where he's DJing and we'll hopefully have a gay 'ol time. Below, I've listed a few button parties you should check out, as well as where I'll be at with Sir Kauer, because you don't want to miss out right? Here we go:
REASON #10: BUT FIRST, PDX NATIVES INVADE SEATTLE
The Friday (June 13), if you can't make it to PDX for their Pridey fun, the Blow Pony kiddies are creepin' up from The City of Roses into Seattle's Chop Suey (1325 E Madison St, Seattle, WA 98122) for a big show.Boy Funk, Double Duchess, Glitterbang, Rap Girl, and Ssion will be there joined by DJ Airick X and Nark. Tickets are $12 pre-sale, $15 at the door, and you can purchase them HERE!
REASON #9: ROTTURE/BRANX HAVE A LOT OF SHIT HAPPENING
Portland's hot alterno queero venues are sisters in arms and Rotture, located at 315 SE 3rd Ave and Branx, at 320 SE 2nd Ave, have an action-packed weekend of events for every flavor. My words escape me, so here's the ad (up top) that has all the pretty details about their happenings and a lovely LINK!
REASON #8: MRS TOM OF FINLAND-Saturday, June 14
'MRS' is described as a queer event encouraging unbridled creativity and participation, "while we celebrate YOU and our community". It's not just about being the MRS, but about creating a visually expressive, fun, liberating nightlife experience for homos. For a small fee of $5, you can see performances by DieAna Dae and hostess Pepper Pepper. The fun begins at Mississippi Studios at 3939 N. Mississippi Avenue, Portland, Oregon 97227. It's going down on Saturday, the 14th. We also reeeeely like the name of this event. It makes us giggle.
REASON #7: CONTROL TOP GAY ASS PARTY – Saturday, June 14
The mastermind behind this fagalicious party is Katey Pants, better known as Roy G Biv. She's a personal fave of mine, so I already know that it's about to get buckwild. The hostess will be the amazing Chanticleer Trü and the inside stage will feature Rye Rye and Bomb Ass Pussy. The outside stage will feature the likes of Gossip Cat, Mr Sister, Roy G Biv, and Seattle's own Kevin Kauer aka DJ Nark. Elsewhere, you can feast your eyes on the GoGo's, who are Nikki Lev, S Luc Smith, and Leila Bean. The magic will be gathering at the White Owl Club (1305 SE 8th Ave., East Portland, Oregon 97214) around 9PM and of course it's 21+. Pre-sale tickets are $12 and $15 at the door. Grab them by following this link!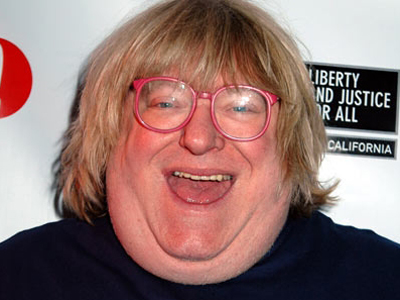 REASON #6: BRUCE VILANCH!!!!!!
REASON #5: A BIG GAY BOAT RIDE – Sunday, June 15
In case you can't wait for her Seattle debut at The Baltic Room, you can see America's Next Drag Superstar, Bianca Del Rio, as you sail around on the Portland Spirit. Brought to you by Genderfucking Takeover and Shiny, Carla Rossi will be on the mic and will be joined by Isaiah Esquire, Lulu Lusciouss, and Pepper Pepper. Don't take too long at brunch though, girl. This boat will be Enya-sailing away promptly at 2:30pm. And actually, I think it's already sold out? (Editor's Note: it is. Heather's too lazy to fact check shit…) So, I guess you can just sit on the dock and wait for Bianca to sashay down the boardwalk….
REASON #4: DICKSLAP PDX PRIDE WITH ADORE DELANO – Sunday, June 15
After you're done on the boat or stalking Bianca as she exits the boat, you can mosey on over to Holocene Portland at 1001 SE Morrison St, Portland, Oregon 97214. Nark, Roy G Biv, and Jens Irish are your DJs. The gogo's are sexy little chipmunk Dave Raring, sexy hairy man Rich Kelly (who was featured on an episode of 'Drag Race'), Meow LaLa. The gay boat hostess Carla Rossi will be emceeing alongside a queen with one of the best drag names in the herstory of ever… Shitney Houston. That's not all! Michael Horwitz will be drawing pictures of you, if you're so inclined. Oh, and did I forget to mention that fucking Adore Delano is the headliner? And, rumor has it that she's filming a music video? Because, yeah. Bomb Ass Pussy will be introducing her, too. What more can you ask for out of a party? Show up at 9pm, but ya SHOULD BUY TIX NOW: http://narkmagazine.com/tickets. ALSO: since the evil Canadians snached up Adore & Bianca for Toronto Pride, this is the closest they'll get to Seattle this month!!! WAAAAAAH!
REASON #3: GRANNYTRIGGER WITH BIANCA DEL RIO-Sunday, June 15
If you missed the boat, ya get another opportunity to party with Miss Del Rio and her delightfully loud mouth. It's your typical noisy, glittery, faggy, Pride party hosted by Madame Anita DuMoore with Lulu Lusciouss, Saturn, Dieana Dae, Aphasia and some beeatch named "MORE TBA". It's all happening at Branx, 320 SE 2nd. ALSO, if you're jetting down from SEATOWN and feel homesick, DJ PAVONE is also there as one of the Disc Masters with Art of Hot. SO, if you love BOTH Adore and Bianca, you'll need to make some choices. Sorry/not sorry 'bout it. TIX are HERE.


REASON #2: A LUXORIOUSLY GORGY PLACE TO NEST FOR THE WEEKEND: HOTEL MODERA
It's a beautiful hotel. And, a brand new SGS sponsor. (So, doubly beautiful…) Crisply modern. Chic. AND, centrally located in lovely Downtown Portland and their dreamy transit system, at 515 SW Clay St just a short walk from the Pride Festival! Seattlites: you have a new home in Portlandia! (If you're not sleeping on someone's cat hair covered futon for the weekend.) (The preceding WAS blatantly advertorial! THX!)
REASON #1: TOTALLY NAKED GO GO DANCERS/STRIPPERS IN (some) BARS!!!!
No, puritanical Washington State Liquor Control Board in Oregon!!!!!
I'm sure there are more parties to choose from, but these are awesome, and the only one's I've seen advertised (or care about). If you'd like your soiree to be featured, let me know and I'll add it to the roster. Otherwise, what are you waiting for? Portland Pride is this weekend and it's not to be missed!
(NOTE: Heather was called away to serve her country; (Do some "dictation" for her "superiors") so Mr. Strangeways wrote parts of this post. See if you can tell WHO wrote WHAT!!!????!!!)
(Visited 1 times, 1 visits today)