Here's all the skinny you need to know about Seattle PrideFest 2014 at Seattle Center including schedules for all three stages AND the Closing Concert with Chely Wright and Steve Grand. (Schedule subject to change obviously).
Seattle Gay Scene will be lurking around the DJ Stage for most of the day hangin' with the Kool Kids…look for us; we'll be running the Photo Booth back stage.
Have fun and play safely…STAY HYDRATED WITH WATER!
2014 Seattle PrideFest Stage Schedule!
(Schedule subject to changes, substitutions, cancellations.)
MAIN STAGE SCHEDULE – SUNDAY, JUNE 29
1-7pm
MAIN STAGE HIGHLIGHTS
YOUR MAIN STAGE HOSTESSES:
1pm-4pm : Aleksa Manila
3pm-6pm : Robbie Turner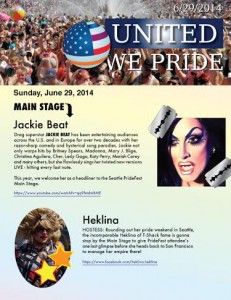 FEATURED ACTS 
1:00PM – Lavender Country (played at 1974's Pride!)
1:30PM – Purple Crush
1:55PM – Cherdonna
2:05PM – Whim W'him
2:15PM – Rachael Sage
2:35PM – George Takei
2:40PM – The Jackie Beat Show
3:10PM – Jenna Drey (featured C89.5 dance artist)
3:35PM – National Anthem featuring Adra Boo of Fly Moon Royalty
3:50PM – SPECIAL GUEST
4:10PM – Heklina
4:30PM – Seattle Pride 2014 Float Awards
4:35PM – Ruth Soto (Pride Idol 2014 Winner)
5:25PM – SPECIAL GUEST
5:30PM – Las Vegas Sensation Michael Cagle
6:00PM – Musical History Tour of 40 Years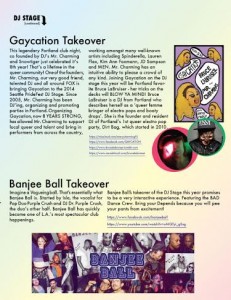 DJ STAGE SCHEDULE – SUNDAY, JUNE 29
Noon-8pm
12:00PM Kid Amiga
12:45PM DJ Bret Law
2:00PM DJ Rob Hall (NYC)
3:00PM Mario Diaz & BFD Crew
4:30PM Banjee Ball/B.A.D. Dance Crew
5:30PM Gaycation PDX Takeover featuring Mr Charming and Bruce LaBrusier
6:30PM Ladydude Takeover w/DJ Tony Burns & The Haus of LadyDude!
7:15PM LA Kendall
8:00PM Stage Closes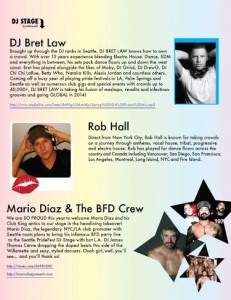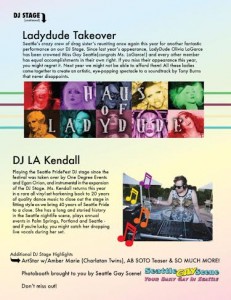 MURAL STAGE SCHEDULE – SUNDAY, JUNE 29
Noon-6pm
DJs Between all sets: Kid Amiga
HOSTING BY: Carla Rossi
12:20PM – 12:45PM The Nasty Habits
12:55PM – 1:15PM Sherry Eberhardt (Pride Idol 2014 Runner-Up)
1:30PM – 2:00PM Noddy
2:20PM – 2:50PM Magic Mouth
3:10PM – 3:40PM AB Soto
4:05PM – 4:35PM Night Cadet
4:45PM – 5:10PM Rachael Sage
5:25PM – 5:50PM Jefferson Rose
Sunday, June 29 7:15pm-9:30pm
PrideFest Closing Concert w/Chely Wright and Steve Grand @ Mural Stage/Seattle Center
Our PrideFest Closing Concert on June 29 with Steve Grand and Chely Wright is a soft landing for your crazy pride weekend. 100% of net proceeds will benefit marriage equality non-profits. Join us on the sprawling lawns of the Mural Amphitheatre for a night of amazing music, drinks, food, and Pride!
TICKETS $25 ADVANCE ($30 AT GATES) AT BROWNPAPERTICKETS.COM
EVENT INFO:
Location: Mural Amphitheatre, Seattle Center
Time/Date: Sunday, June 29
Gates at 7:15pm
Steve Grand at 7:30pm
Chely Wright at 8:30pm
Concert ends no later than 9:30pm
Available: Beer Garden (21+), Food, Merchandise, All Ages General Admission
Tags: One Degree Events, Qulture Qreative, Seattle PrideFest, sgsapp