She's large and in charge, she's chunky yet funky… oh wait, wrong double diva. But, still those words remain true for Seattle's own Mama Tits. In the past week, she's gone from local queen to worldwide sensation, just because she spoke her damn mind to a group of anti-gay protesters before the Seattle Pride parade.  The resulting video and article on SGS quickly spread around the world as it was picked up by scores of websites and Mama Tits and  "The Wall of Love" became beloved queer icons which earned the diva thousands of besotted fans. I've been wanting to interview Ms. Tits for quite some time now and this week just turned out thuper perfectly and everything fell into place.
Before I get to the good-good, make sure you head over and take a listen to her new single "BAD GIRLS" courtesy of Lybra Records. After listening to some of the songs from 'Drag Race' stars and the 'Real Housewives,' this bad bitch blows them out of the water.
*********************************************************************
Heather Hysteric: Well, well, well. Who would've thought that your statement to Seattle Gay Scene and Gena Apo's YouTube video would be daisy chained across the Internet into a viral sensation?
Mama Tits: Honestly, I had no idea whatsoever that any of this would happen. I was simply following my heart and doing what I have always done. I just LOVE going toe-to-toe with those people and destroying their rhetoric with their own Book. This worldwide buzz is insane! I feel so blessed by the love and the support of so many people. It is truly amazing!
Heather Hysteric: The story has reached the likes of E! News, Gawker, and the Advocate and it's even blown up overseas in such countries as Australia, France, and Italy. What has been the biggest thing that you have taken away from all of this media attention?
Mama Tits: The most amazing thing is the love and support that so many people have for someone who was just doing what came naturally. I can't believe that this story is all over 16+ National and International publications. What I am most blown away by is all of the personal notes from so many people from around the world that have been inspired by my words to take control of their own lives and take the power form the haters. It's an amazing thing to watch the awakening people are having finding their own power.
Heather Hysteric: Even the reigning Drag Superstar of America herself, Bianca Del Rio, offered you a shout out, praising your actions and your words. How did that feel?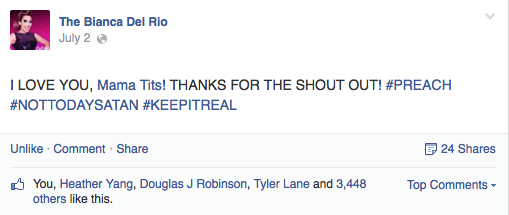 Mama Tits: It was amazing! I had hoped she would be OK with me using her tagline, of course that's why I gave her credit. It truly was perfectly fitting. I can't wait to actually meet her face to face later this month.
Heather Hysteric: I bet this Sunday's edition of "Mimosa's with Mama" at the Unicorn will be packed. Do you plan on doing something special in light of the news or will it be business as usual for you and the girls?
Mama Tits: I hope this Sunday isn't going to be too crazy, because we are DARK for the holiday weekend. My girls and I need a bit of a break after all the craziness of Seattle Pride week and beyond. We will be back on July 13th to kick off the final three performances of "The Wicked WIZ of OZ". I may have a few things up my sleeve for when we return next week, but you have to come to the show to find out! Tickets can be purchased through the "Mimosas with Mama" website.
Heather Hysteric: Speaking of "Mimosa's with Mama," you recently wrapped up gigs doing your own versions of Hairspray, Dreamgirls, and now The Wicked Wizard of Oz. What do you like most about doing those musical productions aside from having the regular drag show? What other musicals do you plan on tackling in the future? "Moulin Rouge," perhaps?
Mama Tits: The great thing about doing the mini-musicals is that NO ONE is doing what we are doing. "Mimosas with Mama" it way more than just a drag show; we are a full theatrical production that just happens to have drag queens as the cast members. Of course, we do have a taste of a traditional drag show in the mix, this is drag brunch after all, but we LOVE the creativity of creating the shows and the fun of getting to perform them. We are a family and we love what we do! As for future productions, currently in production is "Mamma Mia!" slated to open the first weekend in August. But, beyond that, you'll just have to wait and see.
Heather Hysteric: You were previously a Sister of Perpetual Indulgence. Tell me about those days and what lead you to switch gears to becoming a fierce diva of a drag queen. Would you ever do "sister face" again?
Mama Tits: I still am a Sister of Perpetual Indulgence from The Abbey of St. Joan here in Seattle and I am known as Sister Stella Standing. The Sisters taught me a lot about myself, how to be an activist and how to stand up for what I believe in, while being able to keep my message. If it wasn't for the Sisters, I do not think that I would have been able to hold it together back when I tested HIV+… they showed me love and support and helped me find my calling of HIV awareness and activism. The Sisters are a cornerstone in my existence and I am thankful for them and proud to be one. I have been on a semi-retirement for the past few years to focus on my entertainment career. I love what the Sisters stand for and what they do, it was just time for me to take the next steps in my life and career. And yes, I would manifest as Sister Stella and don the white face again were the event and timing right and I was called to do so.
Heather Hysteric: You got to host arguably the biggest party of Seattle Pride weekend, The Cuff's Block Party. How was that?
Mama Tits: Getting to host The Cuff's Block Party was a hostess's dream come true! I have been going to The Cuff and their Pride Day Street Party every year since I moved here in 2001, and to be on the stage as the hostess this year was fabulous. The staff was a dream to work with and the artists who came and performed on the stage were amazing and gracious, I even made a few new friends with Jessica Sutta, a former PussyCat Doll, and a Disco Diva!
Heather Hysteric: Not only do you clean house with bigots and protesters, but you also clean houses as a side job and manage an apartment building. Jackie of All Trades! That must be a nice change of pace from the glamour and glitter. How's all of that going and where can people go to hire you for services?
Mama Tits: To be honest, it has always been a bit crazy for me since I do not have a traditional work environment, or as they say in the industry, "you have to hustle to make it all work". I dream that one day I won't have to have so many irons in the fire and I can just focus on my drag career, but until that day arrives, I'll keep keeping on. I must say that I have some of the best clients in the world, they have always been so good to my husband DJ Klaudt and I and they always are flexible if something comes up. They have allowed me to become the performer I am while helping keep food on the table and a roof over our heads. As for taking on new clients, sorry I am happy with the fabulous clients we have right now and we are NOT taking on any new ones.
Heather Hysteric: Who was your biggest influence when starting drag and who are your hero(ines) today? Who are your local favorites?
Mama Tits: I always say if Divine, Jackie Beat and Lady Bunny had a sick and twisted love child, you would get Mama Tits. My hero(ines) are anyone who stands up for what is right, especially when it's not popular or easy. As for my local favorites, I have many. Of course, I look up to my divas at "Mimosas with Mama": Tipsy Rose Lee, Isabella Extynn St. James, Disco Vinnie, and Felix Manchild. These people work so hard EVERY week and are my family, plus they put up with my crazy! I look up to Aleksa Manila for her unwavering community commitment and poise; Jackie Hell for being an original and not giving a shit about anything, and Sylvia O'Stayformore for never getting caught up in the drama and supporting everyone unconditionally. There are so many more like BenDeLaCreme, Jinkx Monsoon, Robbie Turner, etc… I just can't name them all. As for the newer generation, there are many up and coming queens, but Jessica Paradisco stands out to me. She may be young in drag years, but she is a force to be reckoned with. Seattle is teaming with talented entertainers. GO SEE THEM!
Heather Hysteric: Someone in the comments of the E! News article made a nasty post about your drag style. Do you care when people say you only having one signature style of paint?
Mama Tits: I simply do not read the comments on those national publications, it's not worth getting myself all worked up over absolutely nothing. As for anyone who questions my signature style of paint or attire, I could care less. Look at RuPaul, Lady Bunny, and Jackie Beat. They have a very distinct style and look, and so does anyone that has become successful in the Drag world… it is called a BRAND! If you are not recognizable, what good is it?
Heather Hysteric: Will there ever be a return of The Capitol Hill Talent Show?
Mama Tits: I cannot answer that, because I never owned that show. It belonged to the Grill on Broadway and unfortunately they are no longer open.
Heather Hysteric: What's next for Mama Tits? Where do you see you and your show in 5 years? And, how would you feel about being a Grand Marshal in next year's Seattle Pride parade? Since, y'know, now you're an INTERNATIONAL drag queen.
Mama Tits: All I know is that I am on one hell of a ride and I am just holding on for dear life. My publicist, booking agent, and manager are hard at work on the next steps. I know that those will include travel, speaking appearances, and performing, but the details are still being worked out. I will be working on taking "Mimosas with Mama" to the next level. We are planning on doing large scale nighttime show called "Mayhem with Mama" hopefully to be booked into places like the Triple Door sometime next year and I just dropped my new single "Bad Girls," but I promise to keep you posted! As for being a Grand Marshal, that is not for me to decide. But, it would make hosting at the Westlake Center with Sylvia O'Stayformore a bit difficult if I am in the parade. Plus, being the hostess duo with Sylvia is a blast and I look forward to it every year!
******************************************
You can follow Mama Tits' viral antics, her show dates, and so much more by liking her Facebook fan page and by following/tweeting at her on Twitter.
Tags: Mama Tits, sgsapp, The Wall of Love