Editor's Note: Or, to be more accurate, "Mario SPOKE"; this is a rerun interview featuring a conversation between our own beloved DJ/SGS Contributor L.A. KENDALL and MARIO DIAZ, the Seattle native who jetted off to NYC and Los Angeles to become the "CLUB KING" which is coinky-dinkingly also the name of the fascinating documentary film about Mario which screens Saturday, October 11 at SIFF Cinema Egyptian as part of the 19th annual Seattle Lesbian & Gay Film Festival. In this interview, originally published in June of 2014 before Mario's appearance at the DJ Stage of Seattle Pridefest, Mario reveals the stories about his early days in Seattle and New York and his eventual conquest of the L.A. queer nightlife scene….AND, talks a bit about the film.
Check it out and ignore the references to June of 2014….IT ALREADY HAPPENED!
-MS
***********************************************************
Let's get this out of the way right now: Mario Diaz is a sexy sonovabitch! The smile, the hair, the eyes, the body. Dude has it goin' ON! This might sound strange coming out of the mind of an ol' lesbian, but it's true and undeniable. Just because I am a lady lovin' lady, does not mean I cannot appreciate. What makes all of this even better is that he's also undeniably talented, funny, and a sweet, sincere soul. He's a magic maker, a trail blazer, and a Club King.
I remember back in the early '90s when I was a young lesbian working the scene, following around the Tasty Shows crew. I'd hear Mario's name bantered about. I can't remember the first time I actually met Mario, as my 20's are a blur of party times. However, I CAN remember the first time I got to work with Mario. It was for one of the last HOT MESS parties that David Richey and I threw at The War Room (95 Slide for you youngin's). We brought him to town with JerBer Jones. I instantly loved him. Funny, lovable, handsome, talented. What's not to love? We worked together again when David and I brought Dirty Sanchez (the band he was in with Jackie Beat and DJ Barbeau) to Chop Suey a few years later. Both of my working experiences with Mario left me with an incredible fondness, and a deep respect for him.
In the sometimes irritating world of social media, where people constantly post their innermost thoughts and feelings, vent about their break-ups, or fill the feed with spoilers about the latest RPDR drama, I look forward to Mario's posts. Especially those posts where he includes pictures of what's going down at one of his regular club nights. Especially the BFD ones. There's always sexy, beefy guys, who you can tell Mario has whipped into shape with his meticulous styling. Makes you feel like you are right there in the action. So you can imagine my extreme joy when I saw that there was a documentary on Mario's crazy life.
Club King (directed by Jon Bush), is a journey behind the scenes of Mario's 20 year career. It's a dizzying journey from New York to L.A., full of candid interviews, archival footage, and cameos by LGBT legends like Jackie Beat (who happens to be one of Mario's best friends). This year, in honor of Club King, we at Qulture Qreative and Seattle PrideFest are SO PROUD to be bringing Mario and the BFD crew to headline the DJ Stage (Sunday, 6/29 3:00 – 4:30PM). You better believe it's going to be CRAZY.
Mario was kind enough to give me a few moments out of his busy schedule, and indulge me with a little Q & A for Seattle Gay Scene.
*****************************************************
L.A. Kendall: So Seattle is your hometown. When did you decide to leave Seattle and why?
Mario Diaz: Growing up in Seattle was so much fun. I feel like the nightlife, music and art scenes that came out of Seattle in those days really had a sort of organic nature about them. They weren't bogged down by expectations if that makes sense. The creativity felt less influenced by say the industry or history like some other cities. These kids were just expressing themselves freely and not trying to fit any category they felt they needed to be a part of and it wasn't about the money either. In turn there were some really fresh, freaky and amazing characters and music back in those days. I loved being a gay goth teen hanging out on the streets of the U district and on Capitol Hill. It was a great time, lots of friends and fun. We were wild, fruit looping around the streets of Seattle. I used to go to The Monastary, Scoochies and City Beat…these were my formative club years. My early days where I found my extended family and really sowed my oats. I started throwing parties while still in High School in the late 80's in fact. My first few events were some one off clubs and a few rave parties. I guess I was kind of known for merging the bar scene and the rave scene at the time. We had a blast but I always knew I'd end up in New York City…ever since I was a young boy first learning about the underground artsy gay and leather scene in NY I knew that was my destiny. And soon after I graduated High School I found my way there. But starting in Seattle was the perfect launching point in my trajectory.
LAK: In New York, you opened The Cock. Mid 90's, right? That seems like such a massive undertaking. Tell me about that experience.
MD: Well the plan was to move to NYC, wait on some tables and as soon as I found my footing, to throw a few bad ass parties. Which I did muster faster than I thought. I felt like when I got there things were already starting to change. It was gentrifying and homogenizing quickly in NY, mainly due to Mayor Rudolph Giuliani and his "quality of life campaign." Not my quality and not my life that's for sure. The decadence that I read about and the sexual freedom that was being celebrated was slipping away and I felt cheated. I've always felt, as a gay person especially, that being able to accept our innate sexuality without the shame so many of us carry with it, to be of great importance. So I made it sort of my mission to bring back the sexy, wild NYC that I moved there to be a part of. There were so many amazing clubs and parties that were a great inspiration to me at the time. Squeezebox, Jackie 60, Dean Johnson's "Rock and Roll Fag Bar." the list goes on. I started promoting my own down and dirty, dark and loud, retro porn inspired clubs that were reminiscent of the 70's gay scene that I dreamt of. I put a back room at my party. The back rooms had just recently disappeared from the nightlife in NYC. I didn't necessarily need a back room for my own uses but I always felt they deserved a place. My point is no matter what your urges, thoughts and desires were, they were OK…NORMAL. We are ALL sexual beings and it's good. Unfortunately that is not the story forced upon most of us growing up. We carry shame like a backpack and it slowly destroys us. Makes us sad, angry and delusional. So I made a point to be IN YOUR FACE nasty, but with a sense of humor and great style. I wanted our sexuality, no matter how "weird", to feel fun. Because it should be! This has been my mission ever since. I did this wild party called FOXY, probably my greatest party to date. A real amateur exhibitionist scene where we gave everyone play money or "foxy dollars" and whoever ended up with the most at end of night would be crowned "the foxiest person alive." The sexy and weird things people would do for that money on stage would blow your mind. I loved it so much…nothing has ever compared. It helps that it was just before cellphones took over so people were more free to make a dirty fool of themselves. It was hosted by many of NYC's finest. Dean Johnson, Justin Vivian Bond, Jackie Beat and the World Famous Bob were a few of my regulars.
Sorry…I've gone off point. So yeah…this party is what finally led me to open THE COCK. There was a little bar in the east village and I needed a place to throw Foxy since it had been kicked out of it's then 3rd venue for one thing or another. The owner was very impressed by my ability to bring people and we soon after became partners in the business. I was given free range with the venue, which at the time had non painted dry wall and no customers, so I was working with a blank slate. I called it THE COCK, I promoted 7 nights a week, booked amazing talent, staffed it with all my friends and we painted it midnight blue…blew glitter everywhere and the rest is history. It was GANG BUSTERS every night for years. If those walls could talk you probably wouldn't understand their drunkin' babblings. It was a special time in naughty New York history and I'm blessed to have been a part of it.
LAK: What led you to L.A.?
MD: I always knew my time at The Cock had a shelf life. I mean how long could I go that hard? Not to mention that my then "silent partner" was a shady bastard and I knew eventually would be an issue. So after a few years, when it wasn't fun anymore, I left. I've always been a performer and acting was my path of study and true dream, so Los Angeles seemed the obvious place to make a living as an actor. Plus I LOVE the sun and it's in abundance here. I wanted to move to LA, get some TV roles, get a dog and buy a house. And that's what I did. Not to mention my Tranma, Jackie Beat, had moved here to write for a TV show. She's my wife for god's sake…can't really live without her. LA has a bad reputation and many cities love to trash talk it but I couldn't be happier here. I love it. The amount of creative brilliance here is astounding and I get to have coffee on my sunny deck with my Joanie every morning. She's my terrier dog and my girlfriend.
LAK: When did you throw your first party, and what was it like?
MD: I was in high school and it was called "Mario's Beer Bath." I did it at a club called The Underground….I think. I had shows pop up everywhere without any announcements, "fashion police" running around writing people bad fashion tickets, a drag fortune teller, "peachy Puff Girls" running around giving out candy grams, body painted go-go dancers. I just knew I could throw a better party than the ones I was going to so I did. And I made a SHIT LOAD of money. Then I was hooked.
LAK: You currently have several parties that you work on. Full Frontal Disco, Brutus, and BFD. Tell me a little about these parties. What makes them different? How long have you been throwing them?
MD: Full Frontal Disco has been going for over 5 years and was inspired by the New Disco sound. I wanted to be one of the first to bring that style to LA. It's a mixed monthly dance party and I showcase some of the most amazing local choreographers and bands. The shows at Full Frontal Disco are what makes it particularly special in my eyes. Dance has been a great passion of mine and being able to bring it to the nightlife scene and show these kids how many brilliant, inspired artists that are creating work here is a pleasure. Brutus is my monthly man party at Silverlake's Faultline, a leather bar. Lots of adorable beards and sexiness. My hosts are some of LA's finest queens and super chicks such as the incomparable MATHU ANDERSEN, Raja, Detox and Vicky Vox…to name a few. And then there BFD (or Big Fat Dick) "LA's longest running weekly boy party" I've been throwing it since I moved here. Every Thursday night at Fubar for OVER 12 YEARS and counting….and it's still a blast! It's really all about the music and the hottest go-go crew in town! I style them all myself. Oh and we do a weekly photo contest where we hang pictures of your naughty parts on a clothesline and at end of night…the crowd picks a winner. It's real sexy n fun.
LAK: What's your goal when you are planning one of your events? What are the top marks that you try to hit when booking DJ's, talent, go go dancers, performers, etc?
MD: It's simple. I try and throw the party that I want to go to. It seems to have worked so far. I've been doing this for over 20 years for goodness sakes. Damn I feel old now. Thanks a lot.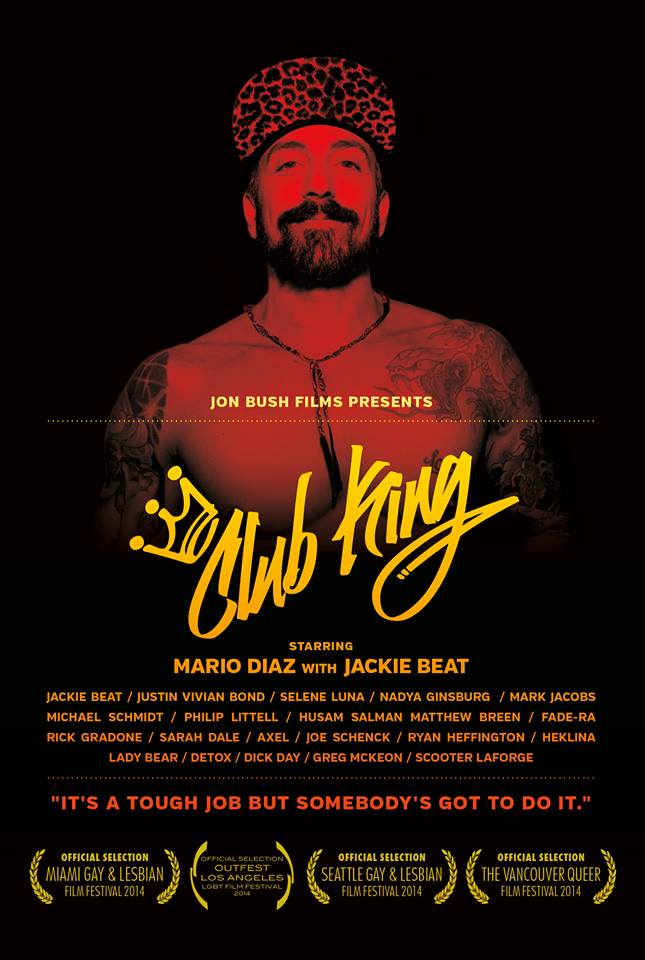 LAK: Oh honey, aging like a fine wine. Not old! How did Club King come about?
MD: I was approached by this guy and he wanted to sit with me to discuss a "reality show" project. I have always had an aversion to the idea of a reality show and have been asked in the past, but this guy, whom I knew of, seemed to have a real smart and artistic perspective. His partner at the time, not so much. I was hesitant but took the meeting none the less. It quickly became clear that the director was the one I should work with so that's what happened. The reality TV guy was no longer in the picture and Jon Bush, the director of Club King, took on the project by himself. Thank goodness for that. We have become good friends and now have a feature film that I'm the subject of. It's the strangest and most amazing thing. I was resistant and wasn't sure I was worthy and now feel so blessed to have what I think is the most amazing scrap book of my life I could dream of.
LAK: I've only seen the trailer, and can't WAIT to see the full thing! You recently attended the world premier in Miami – what was the reaction to it?
MD: The reception was amazing. It was my first time seeing the film with an audience and they really liked it. The Q and A after was filled with some really heart warming sentiments. What I think many thought was going to be some fluffy, maybe sexy movie about nightclubs and go-go boys, although it is, has a much more honest and real story. I'm really proud of it.
LAK: The movie debuts to L.A. audiences in July…now THAT is going to be a party! Any special plans you care to share? Are you SO excited?
MD: I'm thrilled to be screening at OUTFEST! So many of my friends and family will be there. It may be one of the most special nights of my life. To be able to share some more of myself and my history, both family and work related, means a lot to me. I can't wait!
LAK: We are beyond happy to be bringing you and B.F.D. to the DJ stage at Seattle PrideFest this year. I know what to expect – but for those NOT in the know, what can they expect?
MD: I'm so psyched to come back to Seattle for Pride! I'm bringing some of my BFD crew with me. Two of my star dancers Dick Day, Jonny Tattoo and one of my favorite adorable DJs James Cerne. Basically we plan on putting on our polka dot speedos and making out with each and every one of you! My home town! Let's do this.
All Hail the Club King!
**********************************
MORE about the Divine Mario Diaz at his website, MARIO DIAZ PRESENTS.
Check out MORE from the equally Divine L.A. Kendall at Qulture Qreative and Kendall's DJ & Event!
**********************************
Editor's Note II: a few tickets remain for the Seattle screening of CLUB KING; snatch them HERE! You have the option to buy film screening/party tickets which will also gain you entrance to the hella cool after party at Re-bar featuring Mr. Diaz, film director Jon Bush, DJ L.A. Kendall and all sorts of naughty fun surprises and entertainments…. See you there!

-Strangeways
PS: Check out our interview with Club King director Jon Bush, HERE!
(Visited 1 times, 1 visits today)