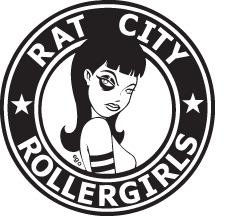 Folks, even if you don't get the rules of roller derby, you have to admit that it's THE SHIT. Even if you're the most flaming anti-woman gay guy out there, you have to admit that watching an awesome sport where women create badass/funny nicknames and kick each other"s asses is one of the most amazing things you'll see in your lifetime. 
The first RCRG bout happened in 2005. Since then, it virtually skyrocketed in popularity, bolstered by the free beer offered at said first bout. The team quickly expanded, and soon grew national attention with its all-star team. Now, ten years after the initial organization by the founders, Rat City Rollergirls has found a place at the Museum of History and Industry. And where better? MOHAI is home to everything you need to know for the condensed history of Seattle, including civil rights movements and our culture.
I went to see the new exhibit on Thursday (First Thursday in the museum/art world), and what I saw was pretty cool. To celebrate, there was a table where people could design their own derby helmets, a screening of a documentary, and from 5pm-8pm was supposed to be an autograph signing with the Rollergirls themselves! Gasp! I didn't stay for that, but I did see the first half of the documentary, Blood on the Flat Track: The Rise of the Rat City Rollergirls. It was plenty fun to see the actual founders and derby players discuss what it was like in the beginning, and to see how they perceive each team themselves. Like the Socket Wenches are the pretty and nice moms, the Throttle Rockets are the bad girls, Derby Liberation Front are the scrappers who fight and drink, and Grave Danger (my fave) are the undead, skinny goth chicks. Even during the screening of the film, fans couldn't hide their claps and boos during mentions of one team or another. That's how awesome the fans are. Makes me wish I'd seen more of this past season.
As a museum, MOHAI is pretty awesome but still has room for more. But it does a pretty great job of distilling Seattle's entire history of innovation and society. So far, the RCRG exhibit is literally one display case full of merch, skates, and posters. It's up to you and the league to help it grow! Because, yanno, derby is the most badass game out there. Duh. What other sport do you see where the entire track of players takes a knee when one teammate is injured? The sportsmanship and camaraderie among everyone is second to none. And that's why I love it. That, and the chicks kicking each other's asses.
P.S. I'm just going to leave this right here:
(Visited 1 times, 1 visits today)